COVID-19: The Coverup, The Cure, and Key Evidence
The coverup of an early cure for COVID-19 didn't begin with the viral videos of America's Frontline Doctors, but they sure did bring the message home, and exposed one of the most orchestrated and targeted attacks on subverting life-saving drugs, while everyone watched this cyclone in real time. Within 24-hours all major social media platforms, mainstream news, Bill Gates, Dr. Anthony Fauci, and politicians tried to kill the message, but not before it had already reached over 17 million people. America's Frontline Doctors' website was even removed in its entirety by Squarespace, and they had to quickly rebuild it on another host site. This was not just an attack on the doctors, this was an attack on the American people to subvert critical information on hydroxychloroquine that has proven to treat COVID-19 in the early stages. Why would they want to do this? Why would they want to hide a cure from the American people?
Wrap your head around this 24-takedown of a drug that's been around for over 65 years with little to no side effects, only 20 deaths worldwide, and proven to work on COVID-19 patients. Tylenol results in 500 deaths annually in the U.S. alone, and it's sold over the counter. Does this equate? Next, review the evidence they claim doesn't exist, and why Remdesivir is the drug of choice, along with the push for a vaccine.
The fear is worse than the virus, and the damage it is doing has far surpassed COVID-related deaths. CDC Director Robert Redfield recently stated "We're seeing, sadly, far greater suicides now than we are deaths from COVID. We're seeing far greater deaths from drug overdose that are above excess that we had as background than we are seeing the deaths from COVID." Sadly, teenagers are among the highest.
America's Frontline Doctors are a group of doctors who have been working on the front lines treating COVID-19 patients with great success. It was founded by Dr. Simone Gold who has worked as an emergency room physician for 20 years and is also an attorney. They called for a press conference and a 2-day summit to bring the truth to the forefront and teach Americans about the disinformation campaign, hydroxychloroquine (HCQ), masks, fear, impacts on children, and other key aspects.
Their press conferences and full Summit can be viewed on America's Frontline Doctors website. Below are the two press conferences.
The Full Scope
This report will cover:
• Videos of both press conferences by America's Frontline Doctors
• The targeted takedown timeline and important key facts and players
• The facts about the FDA on HCQ and misreporting by almost every news source
• Evidence and the battle between HCQ and Remdesivir
• The fear is worse than the virus – statistics and data matter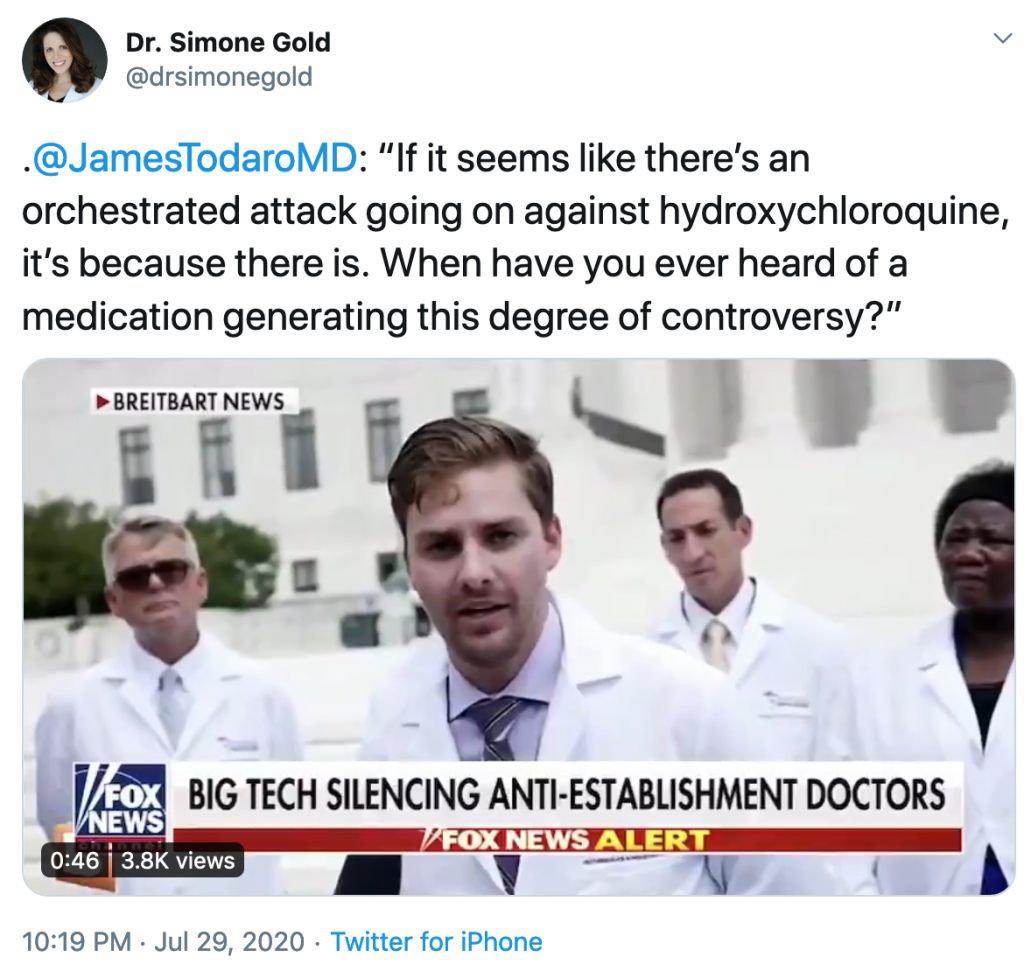 America's Frontline Doctors' Press Conferences
45-Min Press Conference Leading up to Summit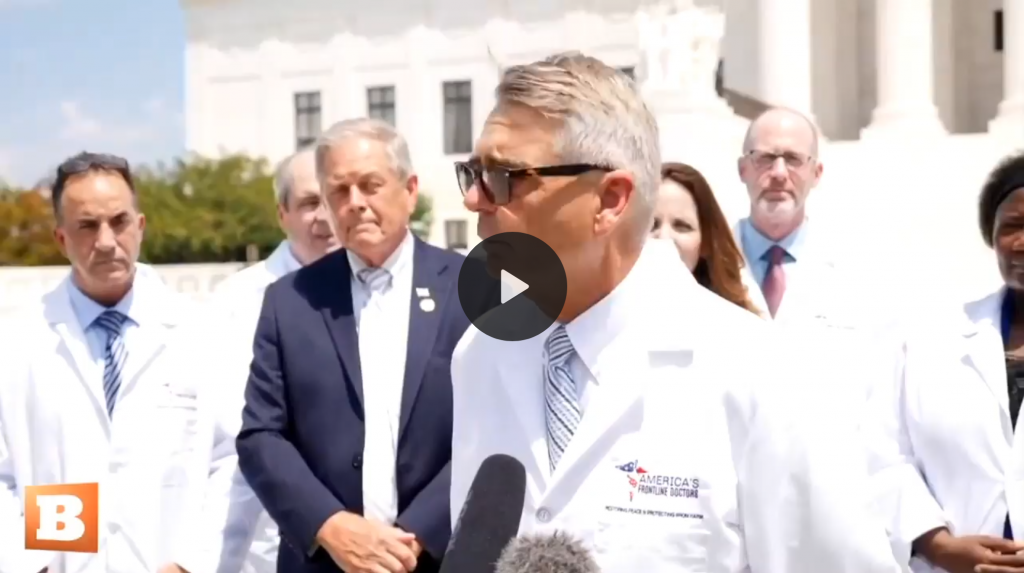 Day 2 Press Conference After Censoring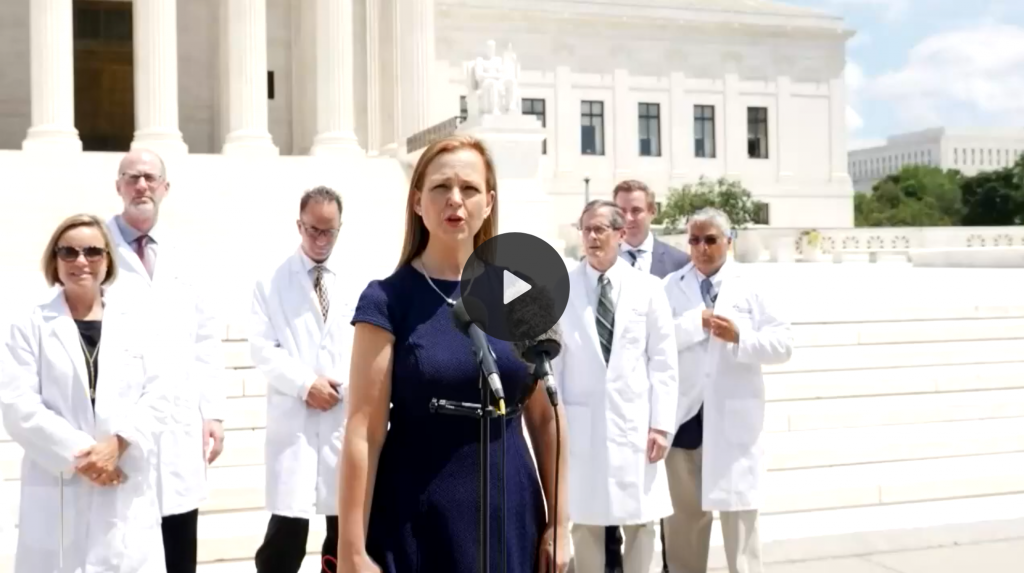 Timeline of Targeted Attack
It's very important to review the timeline of this specific targeted attack, because there has been a political attack on hydroxychloroquine since President Trump first mentioned it. This was one of the most expeditious, well-orchestrated takedown that millions of people observed in real time, but likely missed some key points.
Breitbart went live with America's Frontline Doctors' press conference about hydroxychloroquine curing early stages of COVID-19 the morning of July 27, which was followed by a 2-day summit. Watch what happened next.
Immediately, Attorney Sidney Powell was censored by twitter, followed by Donald Trump, Jr. and hundreds of others who dared to share the viral video, including Robby Starbuck who President Trump had retweeted. Facebook and Google/YouTube removed the videos as fast as people were trying to archive them.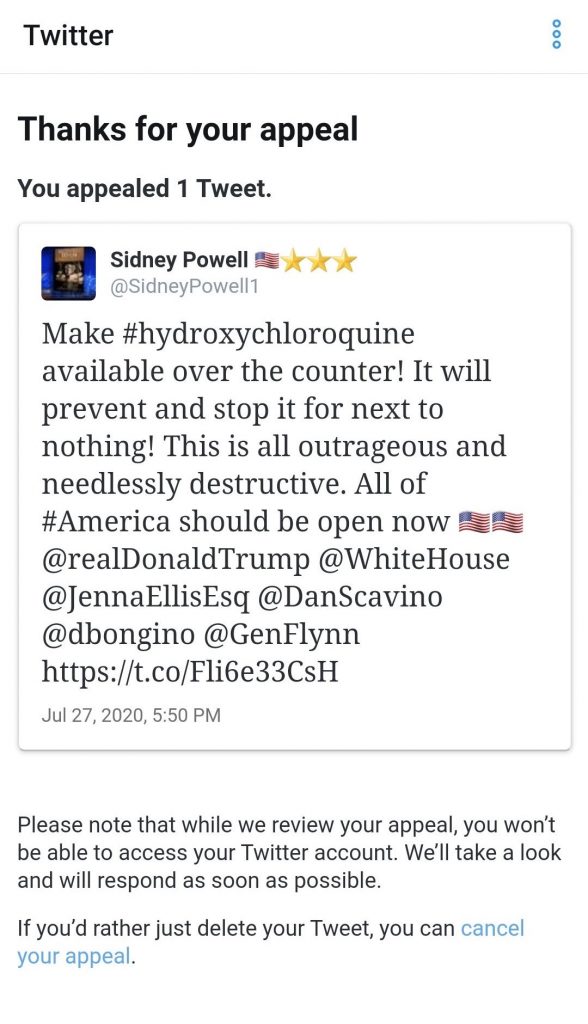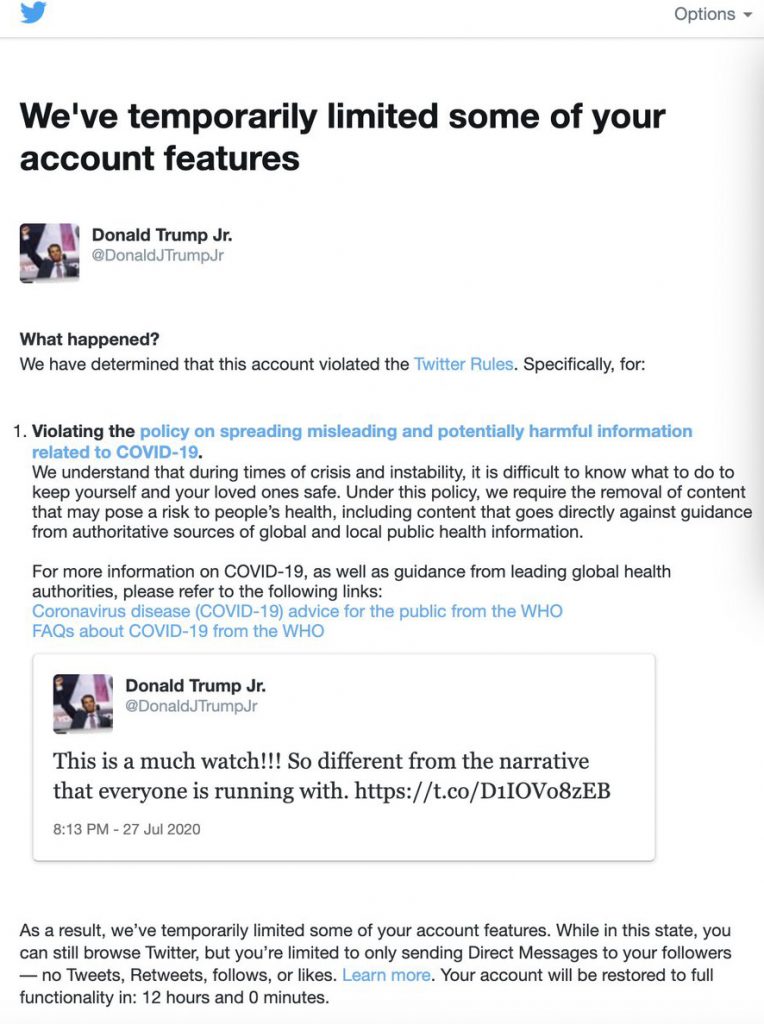 In early July, former CIA and current CNN contributor Jake Tapper tweeted out a study that found hydroxychloroquine helped coronavirus patients survive better. Twitter certainly didn't suspend Tapper for sharing this information. Isn't that interesting?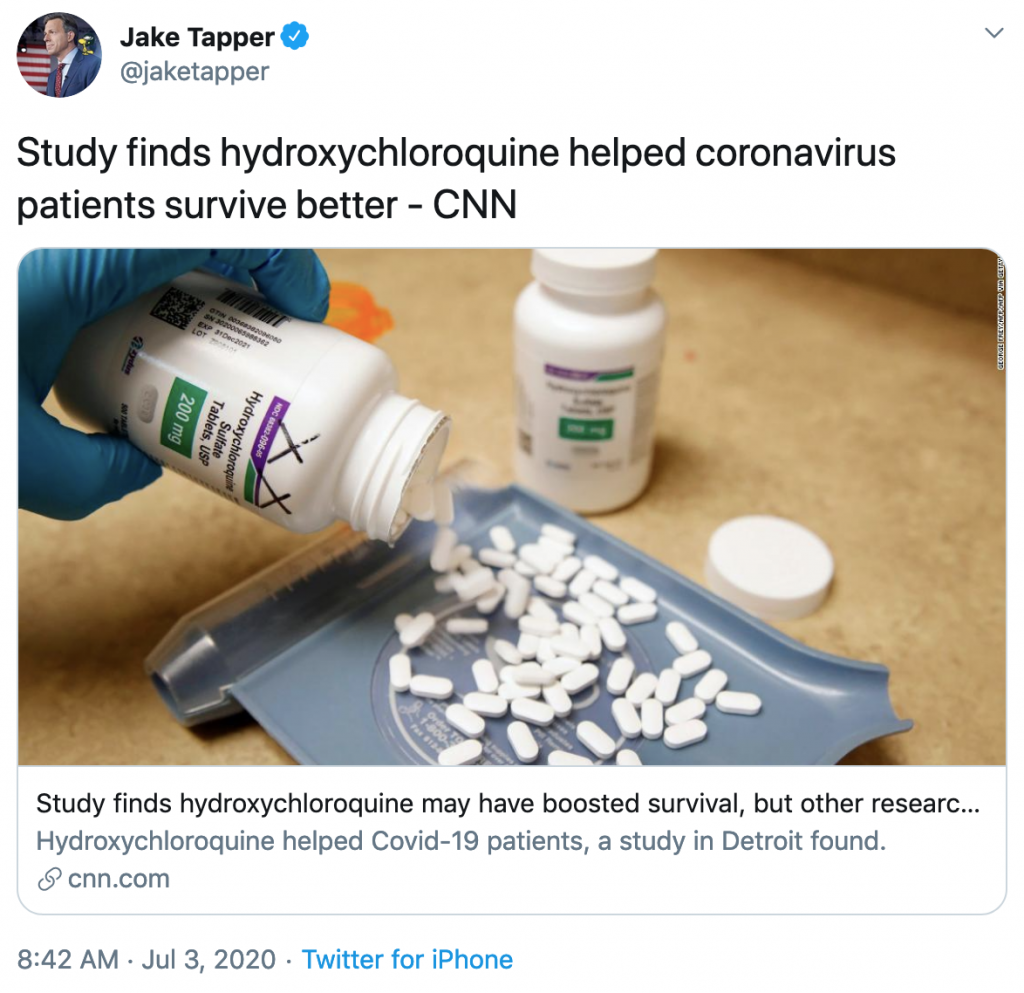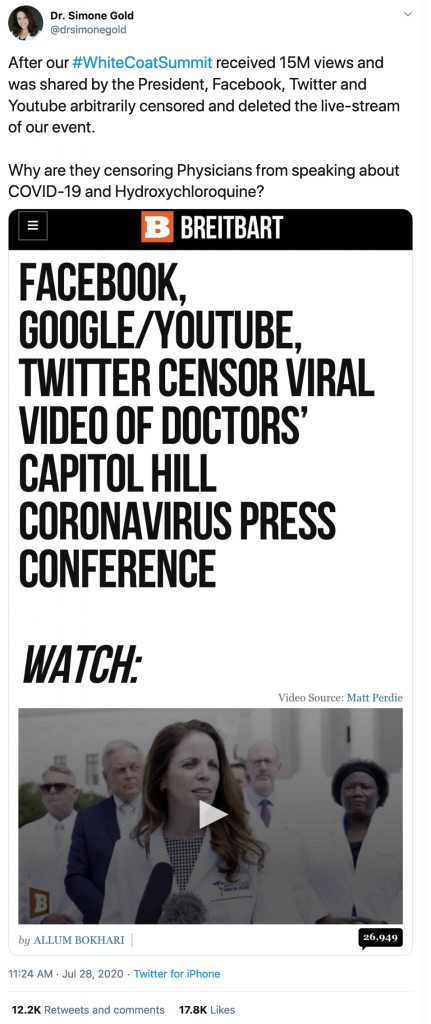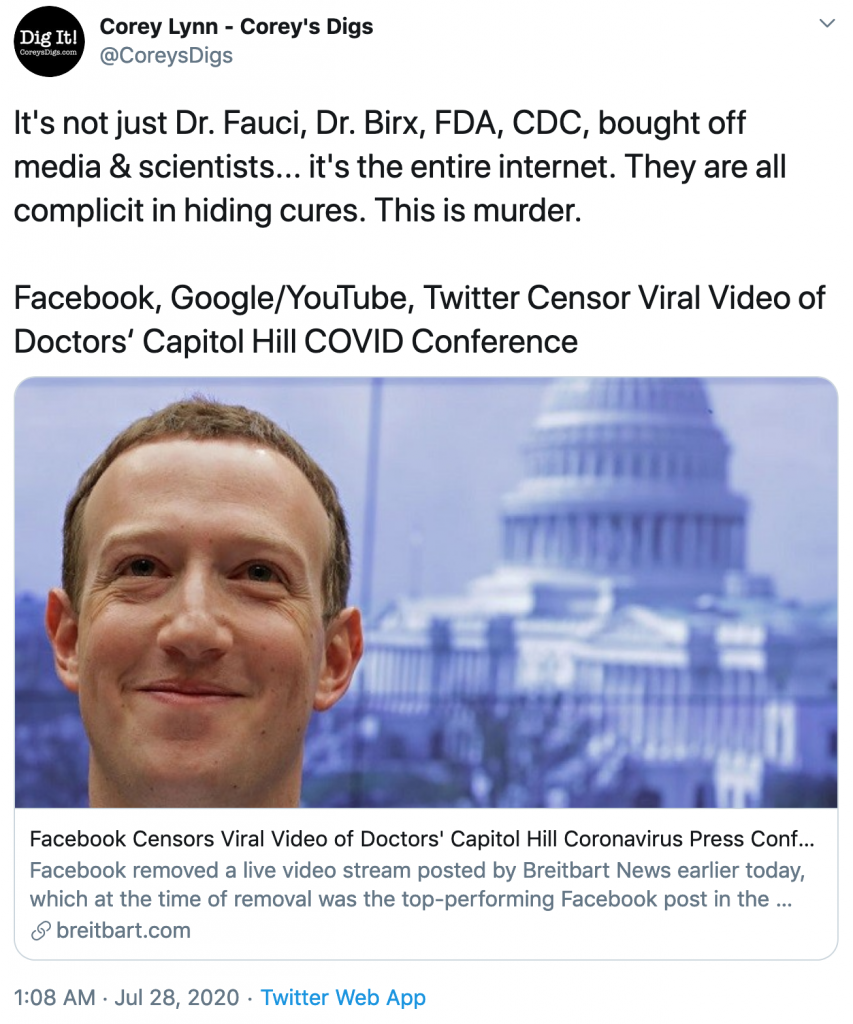 As twitter began censoring people and trying to block the sharing of the press conference and summit, they decided to create a "COVID-19 LIVE" banner in their top right news column, stating "Hydroxychloroquine is not an effective treatment for COVID-19, according to the FDA."

When one clicks on the link, it takes you to a page filled with old information that the FDA put out on June 15, yet they created an image of it with the word "LIVE" to give the false impression it is "new" information. IT IS NOT. In fact, the FDA removed their "emergency use authorization" on hydroxychloroquine that limited the use to hospitals and allowed for distribution in interstate commerce, but this was misreported by nearly every news source out there. It's understandable how it was misreported, because the FDA did a fine job of writing it up in a confusing manner.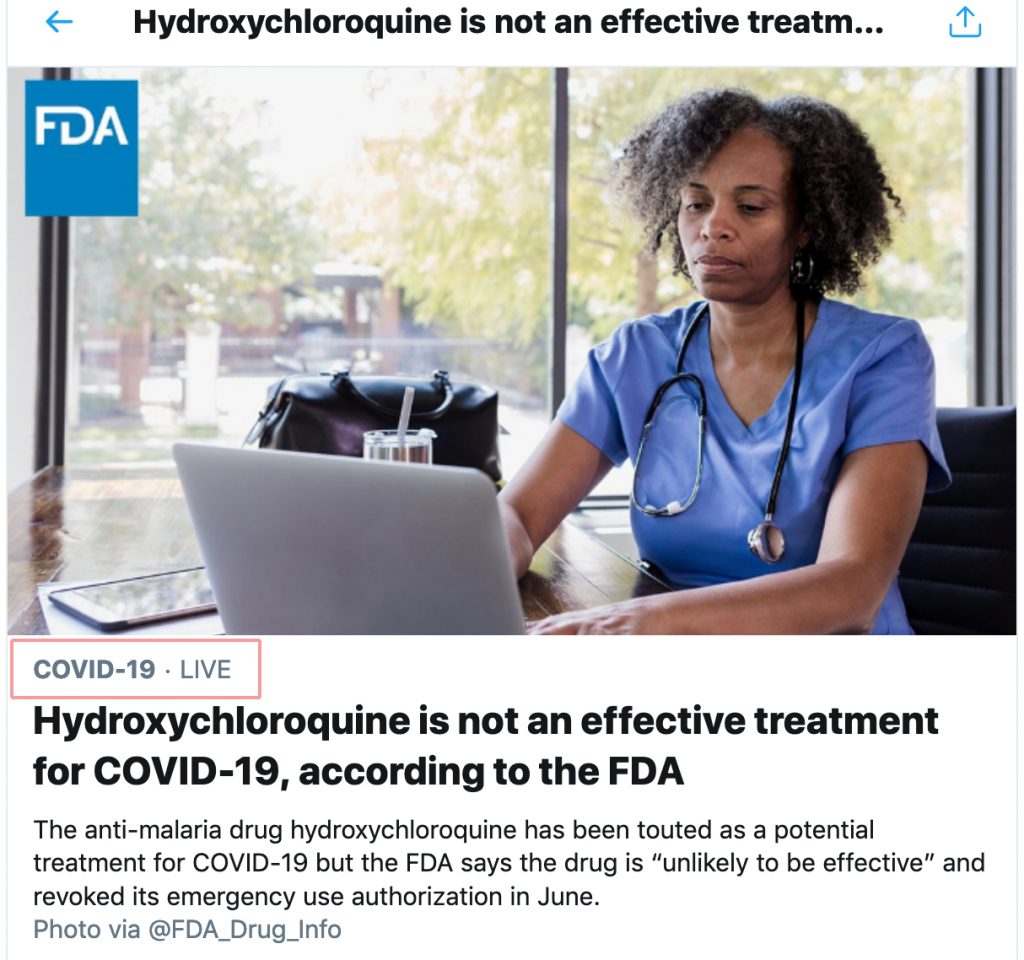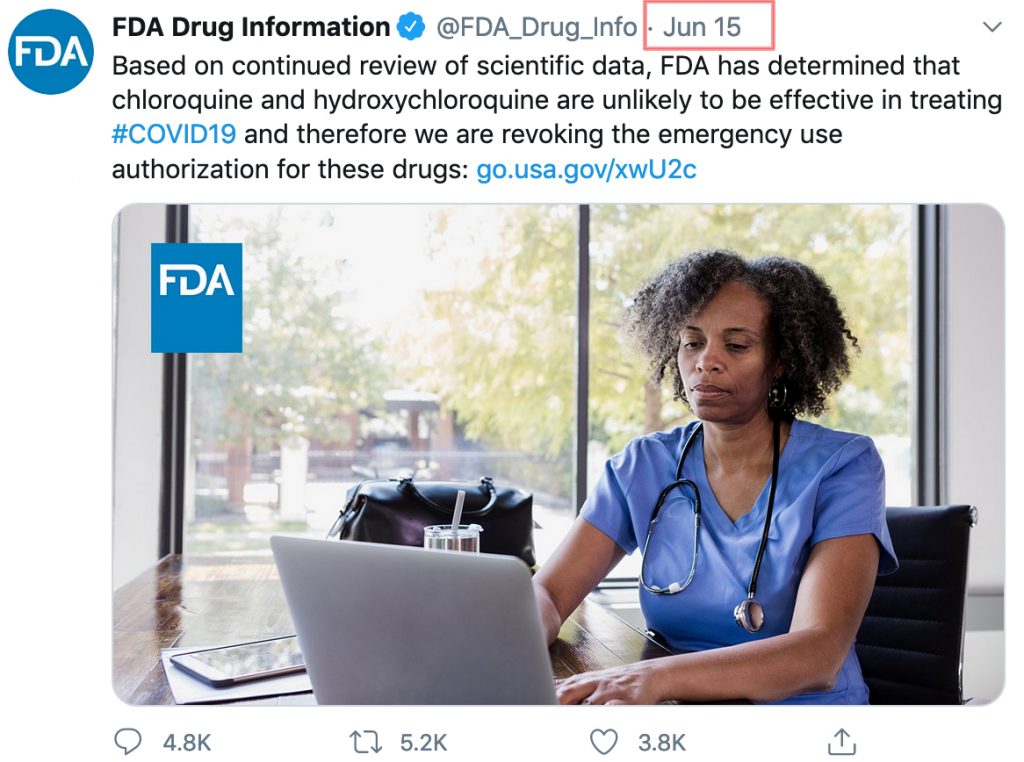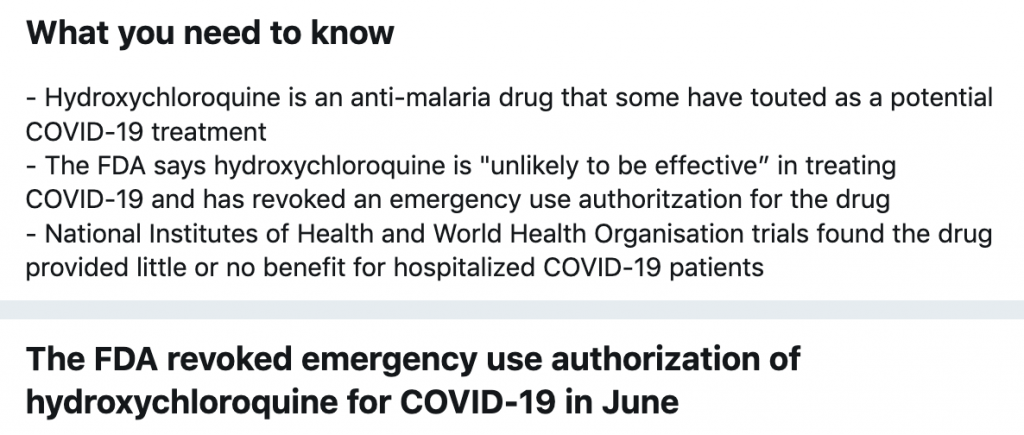 Twitter went so far as to insert "what you need to know" bullet points from June, twisting the narrative. This twisted narrative that was reported by nearly every news source brought so much confusion to the medical field that many doctors believed they shouldn't prescribe it. State medical boards and pharmacy boards clamped down on doctors and many pharmacies were instructed not to fill prescriptions by doctors. Of course, several governors were making a play to shut it down as well. Make no mistake, there is corruption in the state medical boards, with many serving big pharma. Here's a perfect example of what one of the doctor's is currently dealing with, which can be seen in the full summit videos.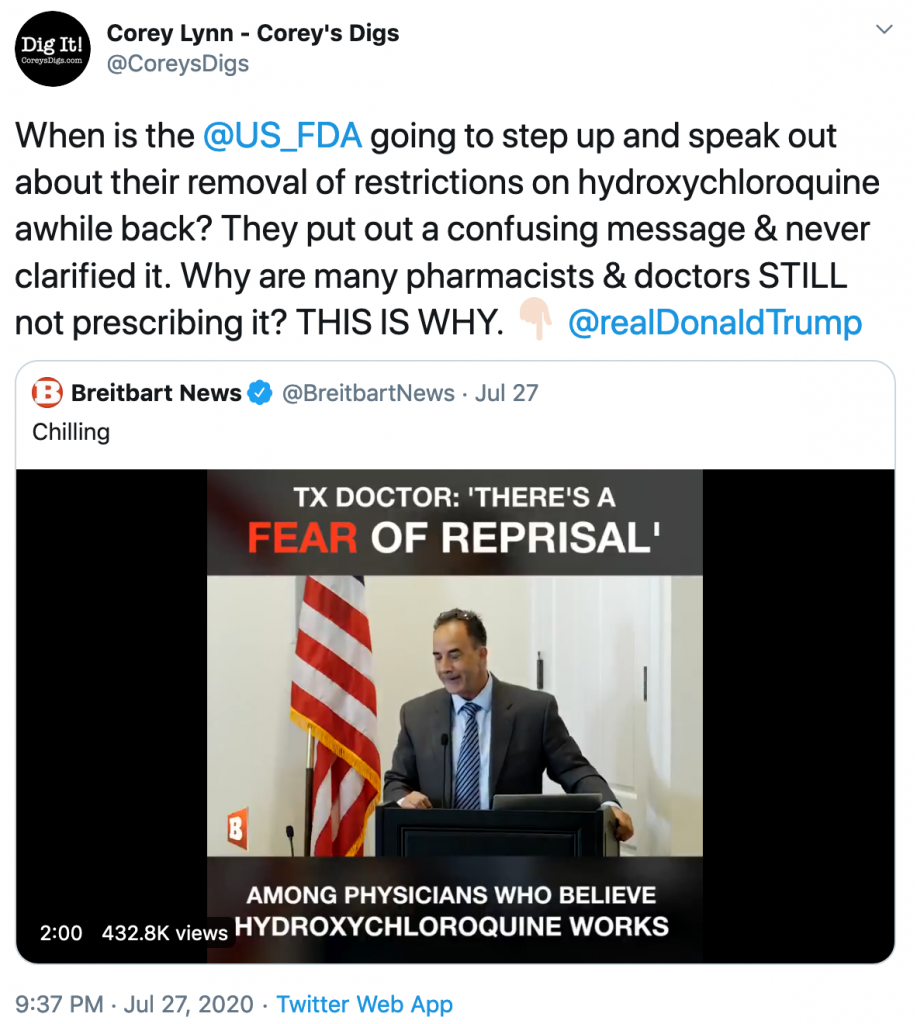 So what's the real narrative? Corey's Digs reported on this back in June, immediately after this information was released, to try to raise awareness that the FDA had in fact REMOVED the restrictions. It was incorporated into the report on 'Historical Hypocrisy & Psychological Warfare.'
On June 14, reports came out that The Association of American Physicians and Surgeons (AAPS) sued the FDA for "irrational" interference of access to life-saving hydroxychloroquine, and the very next day the FDA removed the emergency use. Till this day, as mentioned above, news sources are still misreporting this. Since then, the AAPS submitted additional evidence in a new court filing.
On June 15, the same day this information came out by the FDA, HHS Secretary Alex Azar had to clarify the use of hydroxychloroquine to the press. He clarified that it is NOW approved for use in hospitals, outpatient, and at home by prescription from a doctor. The FDA's removal clears up the confusion that it could only be used in a hospital setting, when in fact it can be used everywhere. The data doesn't support hospital based use for extreme cases, so they removed that restriction.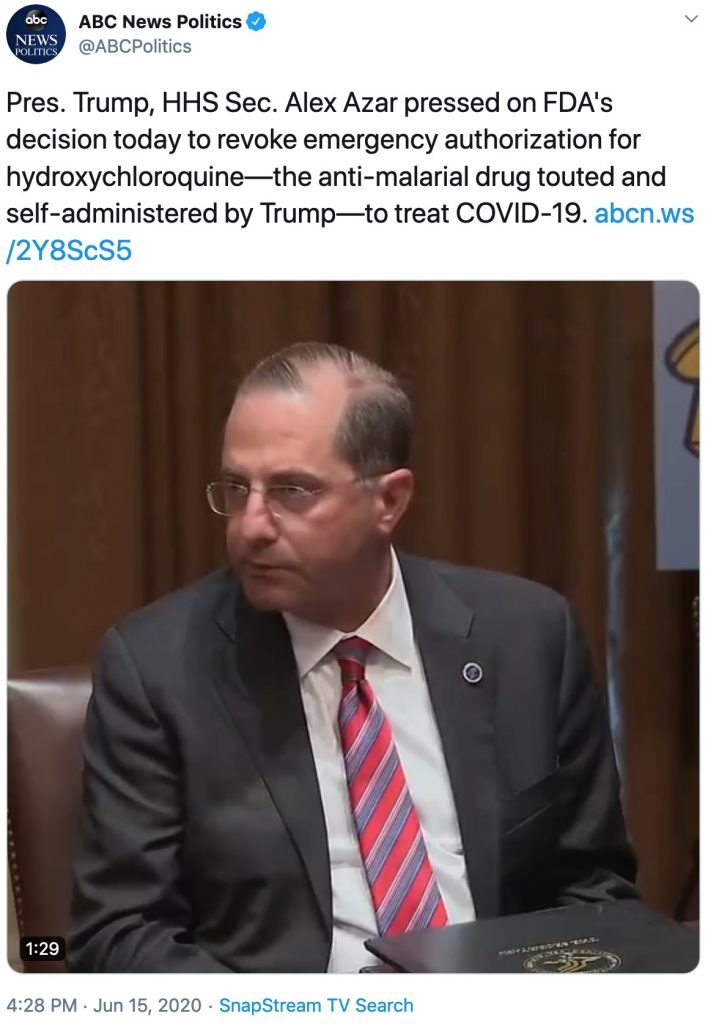 President Trump, many politicians, and frontline workers all take hydroxychloroquine as a prophylactic. In fact, Trump has been outspoken about hydroxychloroquine since the beginning, which is when it spiraled into a political battle targeting Trump, while ultimately putting Americans at risk by publishing bogus studies demonizing hydroxychloroquine, only later to be retracted.
July 28 – The Morning Following The Viral Press Conference & Summit
The following day, at the crack of dawn, Dr. Anthony Fauci went on Good Morning America to try to debunk hydroxychloroquine once again. He pointed to the FDA, who long ago removed the restriction, as well as trials that have been retracted. So the "overwhelming clinical trials" he speaks of are BUNK, and he is fully aware of it. He also knows chloroquine works because of the 2005 study by the NIH. Now he suggests people may need to wear goggles. He's off his rocker.
"I go along with the FDA. The overwhelming prevailing clinical trials that have looked at the efficacy of HCQ have indicated that it is not effective in coronavirus disease," said Fauci.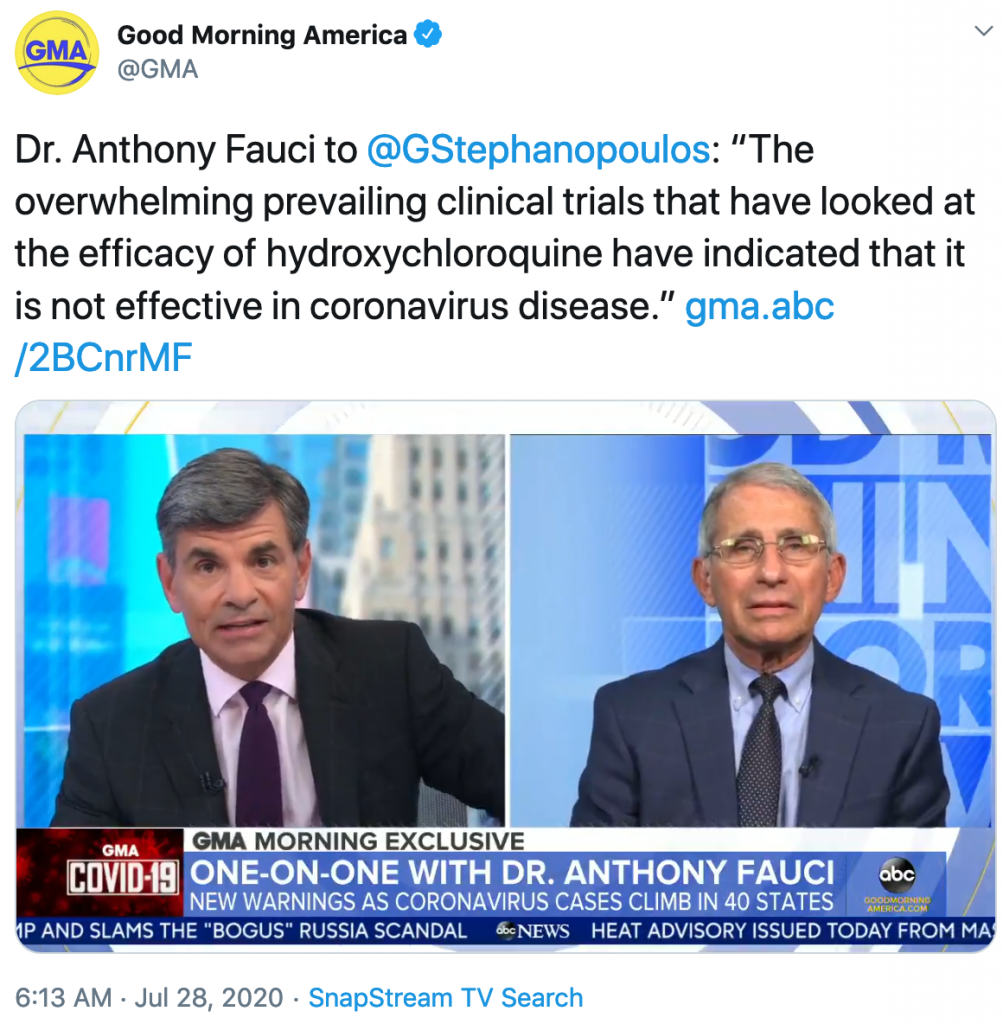 On July 29, they even got Scott Gottlieb, the former FDA Commissioner to tell MSNBC that "hydroxychloroquine definitively does not work as a coronavirus treatment."
If you recall, in February 2019 it was Gottlieb that threatened to take action at a federal level if states did not adjust "lax vaccine exemption laws." Ironically, he "stepped down" from his position the following month. He is also currently a contributor to CNBC, and a member of the board of directors of Pfizer, Inc. along with the senior advisor and board member of the Bill & Melinda Gates Medical Research Institute. Cozy.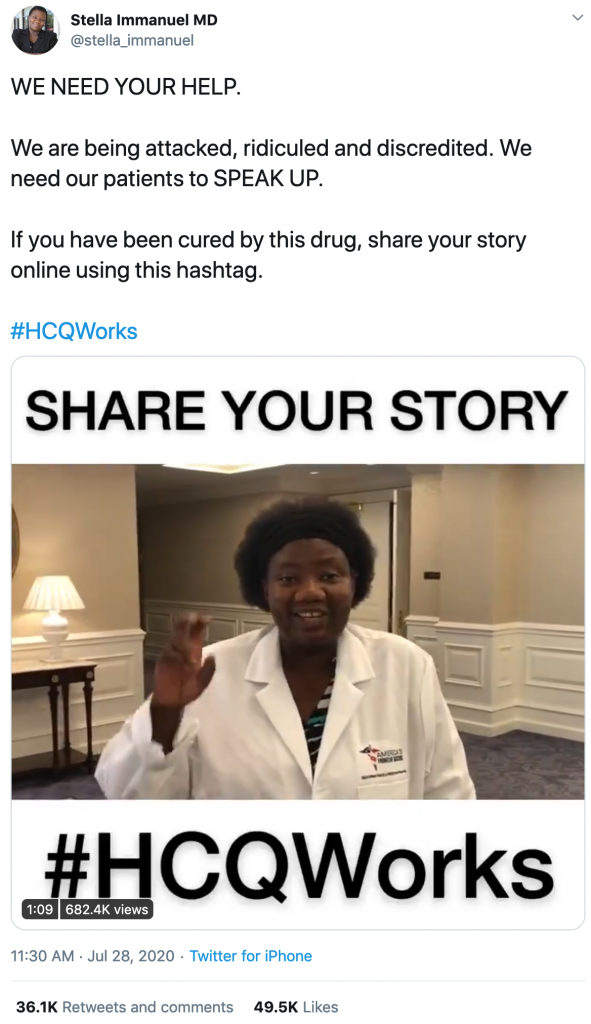 Dr. Stella Immanuel stole the hearts of many with her passion and courageous statements on the effects of hydroxychloroquine working as both a prophylactic and treatment in curing early stages of COVID-19. She herself has treated 350 patients with HCQ, zinc and azithromycin with great success, stating that everyone healed quickly and she has not lost a patient yet. She also called on Dr. Fauci to take a urine test because she believes he is taking HCQ as a prophylactic like many others who have access to it.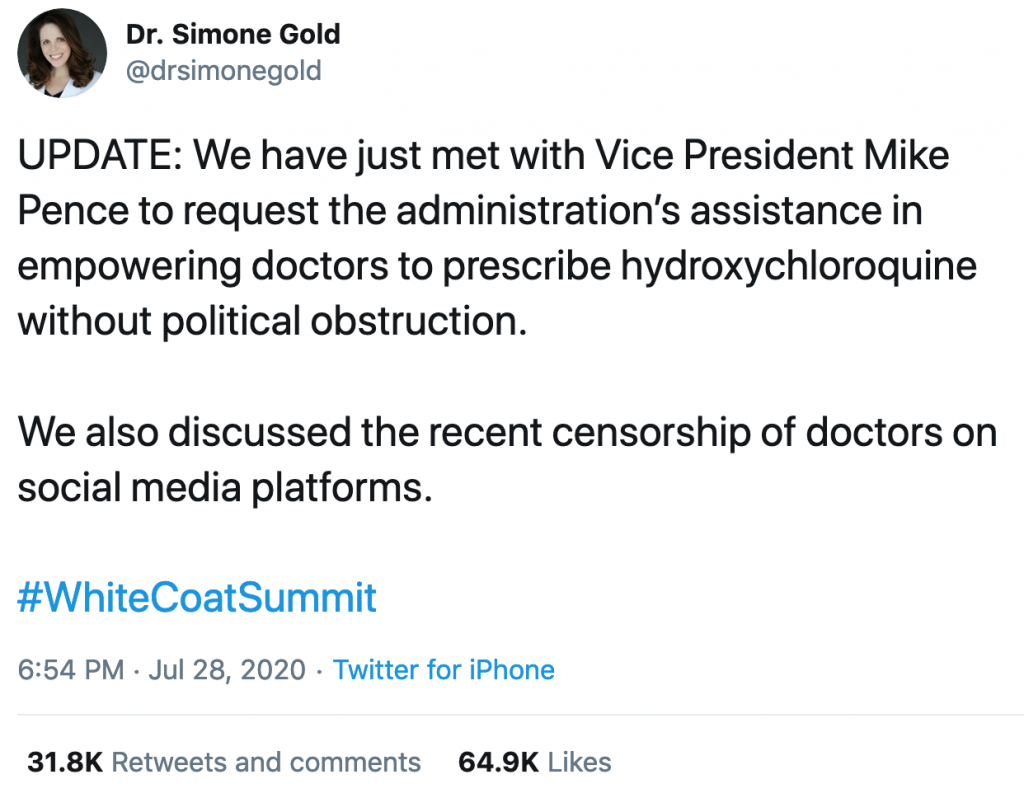 In an amazing turn of events, on July 28, the Founder, Dr. Simone Gold, made everyone aware that their group had met with Vice President Mike Pence to request the administration's assistance in empowering doctors to prescribe hydroxychloroquine without political obstruction, and discussed the recent censorship of doctors on social media platforms.
Millions of people who have been working hard to get information out on HCQ, and were ecstatic to see these doctors speak out, are anxiously hoping that the Trump administration is going to take more action. President Trump was one of the first to speak out about hydroxychloroquine, and made sure we had 90 million pills stored, but the media and powers that be have done everything to shut it down. After all, at only $10, it's hardly profitable for big pharma and their investors.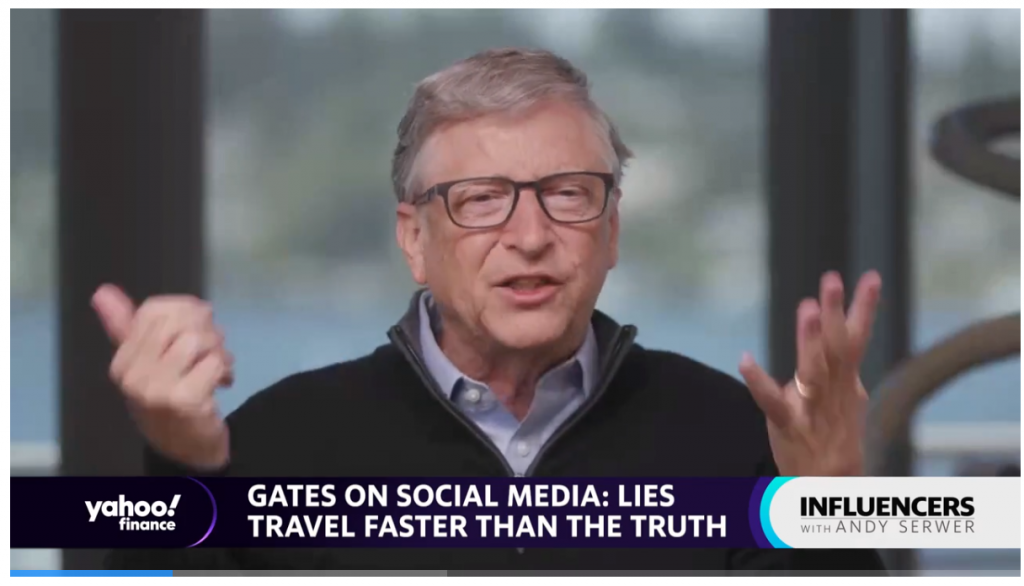 On July 29, Bill Gates went on Yahoo Finance with Andy Serwer to explain how "conspiracy theories… these lies, travel faster than the truth, particularly on social media." He went on to state that "this outrageous hydroxychloroquine anti-mask thing spread so fast….. this hydroxychloroquine thing, this is nutty stuff. I mean, we're supposed to be a developed country that uses science. Oh my God, it's really hard to believe that that's what's being retweeted."
Essentially, Bill Gates, who is neither a doctor or a scientist, is calling this group of well-established doctors "nutty" despite the fact they have been treating COVID-19 patients successfully for months now. Furthermore, hydroxychloroquine is sold over the counter in Latin America, Indonesia, Iran, France, Mexico, and parts of Africa, where Bill Gates focuses most of his attention, so he knows darn well there's nothing "nutty" about the science, especially considering the CDC says that "hydroxychloroquine can be prescribed to adults and children of all ages. It can also be safely taken by pregnant women and nursing mothers." Oops – science.
The former head of WHO's malaria program, Dr. Artara Kochi said it best in 2008 when he raised serious concerns about the Gates Foundation undermining scientific creativity that "could have implicitly dangerous consequences on the policy making process in world health." He went on to state, "Gates has created a 'cartel,' with research leaders linked so closely that each has a vested interest to safeguard the work of others. The result is that obtaining an independent review of scientific evidence (…) is becoming increasingly difficult."
On July 30, FDA Commissioner Stephen Hahn went on NBC's "Today" show, who cleverly posted a banner stating "debunked video" which made no sense with the overall conversation. Nonetheless, Hahn made clear "we had data that when this drug was combined with others, there was some risk associated with that. But the question you're asking me is a decision between a doctor and a patient. A doctor and a patient need to assess the data that's out there. The FDA does not regulate the practice of medicine, and that in the privacy of the doctor-patient relationship is where that decision should be made…. these drugs have been approved for a number of years for other indications by the FDA. We know that they are safe in their settings," while assuring everyone that the FDA will not cut corners on a vaccine.With the way the FDA has handled this thus far, cutting corners, suppressing information, and putting out confusing information seem to be commonplace.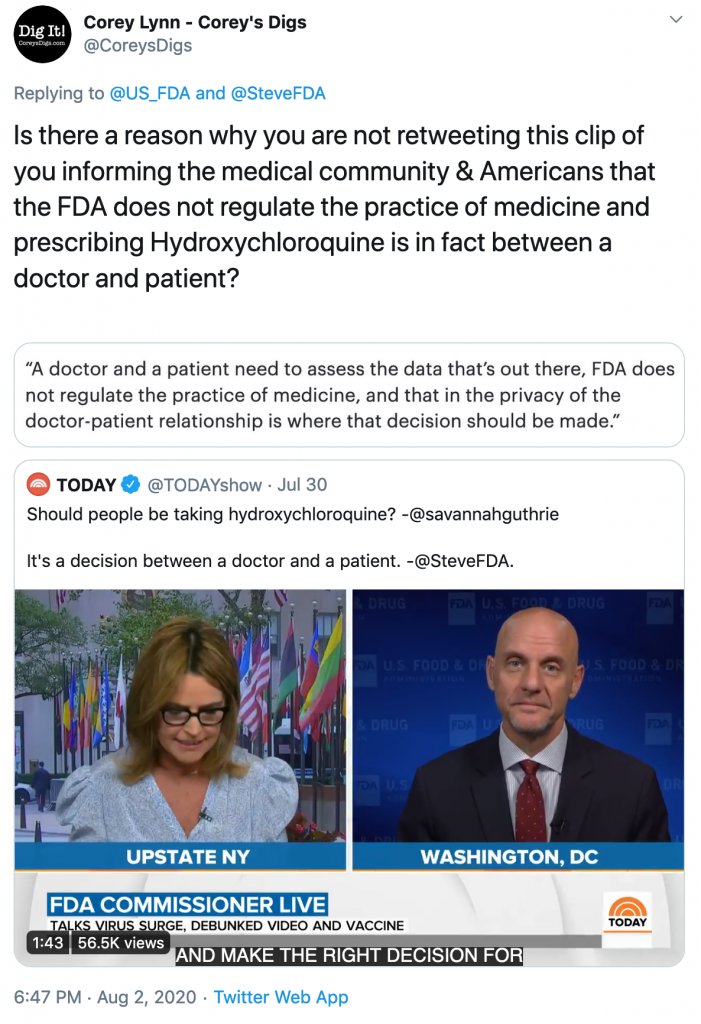 The very next day the "Today" show published an article titled 'Hydroxychloroquine for COVID-19: Scientists say it's time to stop promoting the drug,' just to cover their bases. They quoted Dr. Carlos del Rio saying "there is no reason to keep talking about hydroxychloroquine for COVID-19… It does not work for treatment or for prevention. I have no idea why there is still talk about it, but it's wrong." It's important to note that Dr. Rio holds several positions with Emory, including co-director of the Emory Center for AIDS Research and has been involved with AIDS, antivirals and vaccines for decades, which is Bill & Melinda Gates biggest focus and the AIDS agenda would appear to be a slush fund derived in part by billions in taxpayer dollars.
Who funds Emory University's many divisions?
The Bill & Melinda Gates Foundation and Dr. Anthony Fauci's NIH. Below are just two examples.
In 2012 – $6 million to develop a vaccine for HIV/AIDS from Bill & Melinda Gates Foundation and $7 million from NIH.
In 2020 they funded Emory a hefty amount for research at the Emory Vaccine Center for long-lasting immunity against HIV.

Who is Dr. Rio loyal to? The $10 hydroxychloroquine his funders Bill Gates and Dr. Fauci shun, or the $3000 Remdesivir, along with a vaccine they can all benefit from? Del Rio made that quite clear in March.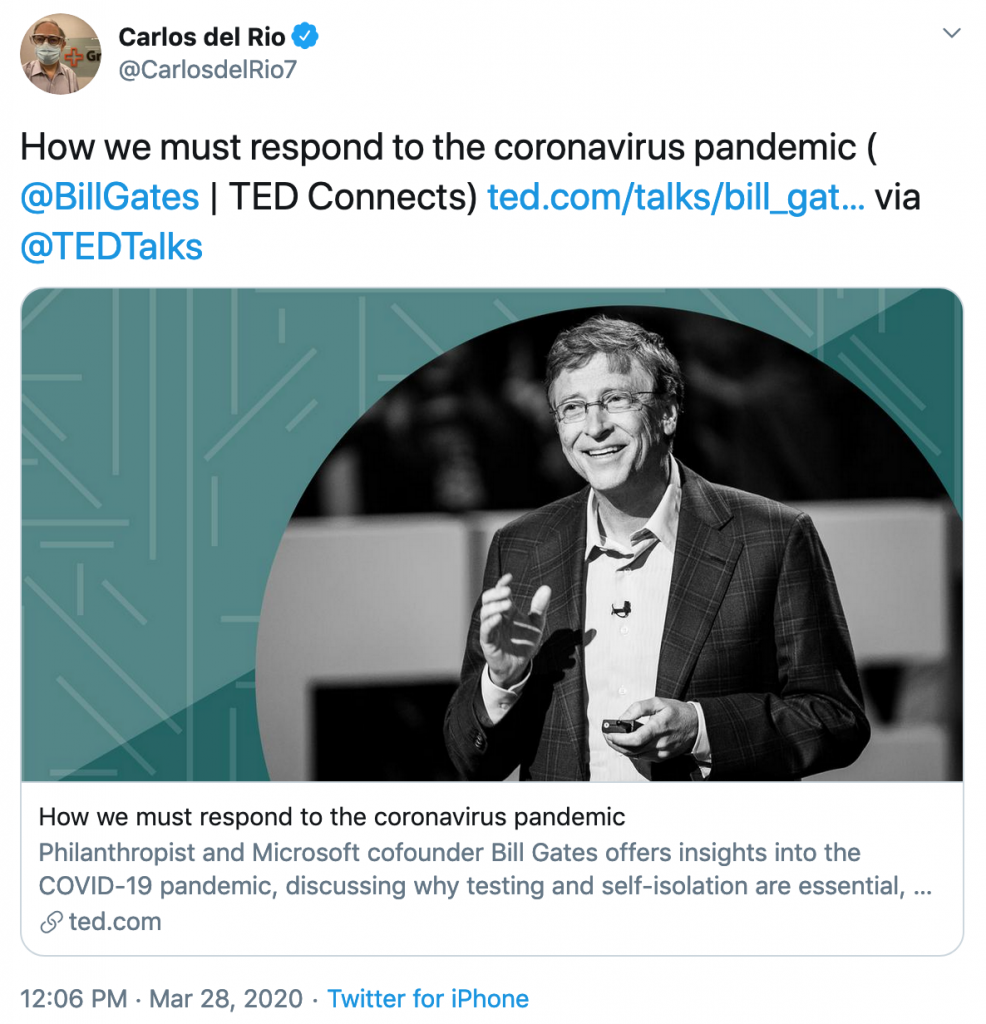 Sadly, on July 30, Dr. Simone Gold announced she was fired from her position after 20 years as an emergency room physician, for appearing at the White Coat Summit. She has stated that she has retained the services of Attorney Lin Wood.
On July 31, the Washington Post ran an article alleging "fringe doctors spouting dangerous falsehoods about hydroxychloroquine as a COVID-19 wonder cure." Why is the Washington Post referring to a group of well-established doctors has "fringe doctors," and why are they deeming hydroxychloroquine to be a dangerous falsehood? Perhaps they too should check in with the CDC, the FDA, and numerous countries that sell it over the counter.
By August 3, nearly every major news outlet was doing damage control, trying to create doubt in Americans, alleging these were "individuals" in white coats and that it is all fake news, and very dangerous. USA Today took the cake by rolling out an op-ed by a very young Dr. Thomas Lew from Hospital Medicine at Stanford Health Care, who is giddier than a kid in a candy store to be printed in the paper, tweeting (Look, Ma, I'm in the paper!)
Hydroxychloroquine vs Remdesivir
• Remdesivir is a drug originally produced for Ebola by Gilead Sciences and was never approved by the FDA. It runs $3000, is still in trial stages, and comes with serious negative side effects. They are still working on it. More on Remdesivir below.
• As Director of NIAID since 1984, Dr. Fauci knew about chloroquine being a potent inhibitor of SARS coronavirus infection and spread, back in 2005
• White Paper on hydroxychloroquine by Dr. Simone Gold, MD, JD
• Compendium of hydroxychloroquine Studies
• Articles and research supporting prophylaxis and early treatment with hydroxychloroquine
• Newsweek: The Key to Defeating COVID-19 Already Exists. We Need to Start Using It (HCQ) – by Harvey A. Risch, MD, PHD, Professor of Epidemiology, Yale School of Public Health
• 66 hydroxychloroquine COVID-19 studies (40 peer reviewed). Analysis of 66 global studies showing high effectiveness for early treatment. PrEP – 100%, PEP – 100%, Early – 100%, Late – 62%
• In a 13-min interview by Sebastian Gorka, Dr. Gold pointed out that "there is a financial incentive for hydroxychloroquine to be discredited as an effective treatment for Covid-19. If hydroxychloroquine was labeled as a first line treatment, emergency use authorization for competing products would cease to exist."
Dr. James Todaro compiled the number of deaths by hydroxychloroquine versus Tylenol, prior to COVID-19, dating back to 1963. Whereas Tylenol results in 500 deaths each year in the U.S. alone, there have only been 20 deaths resulting from hydroxychloroquine, worldwide. This raises the question – why are Bill Gates, Dr. Fauci, a select handful of doctors, and mainstream news, all selling "danger, danger" if someone were to take hydroxychloroquine in early stages or as a prophylactic, but are ok with Tylenol being sold over the counter? Does this seem odd?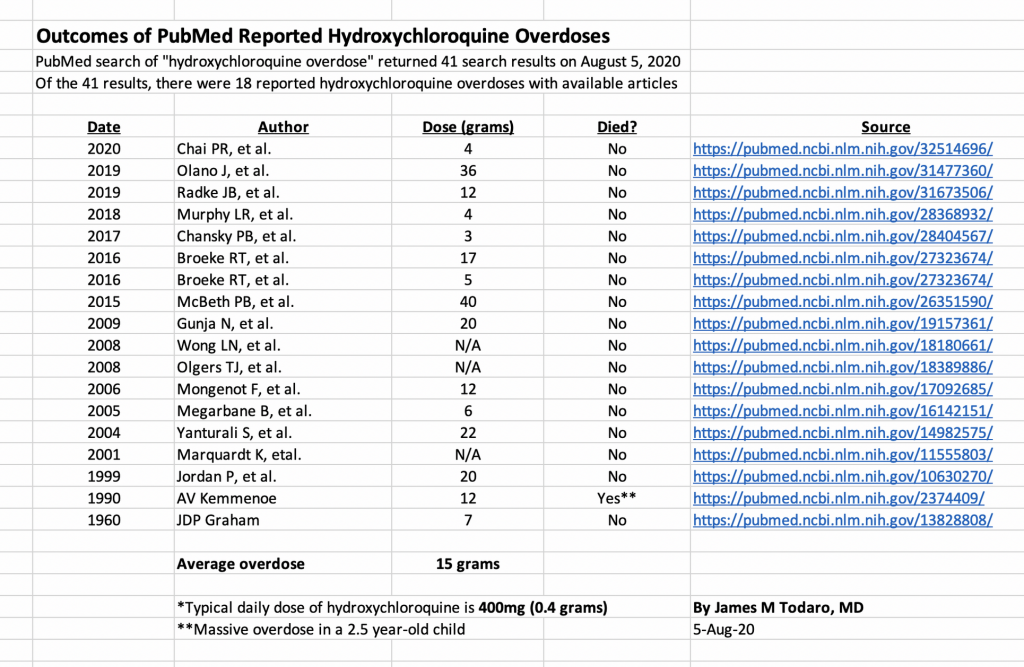 Dr. Todaro also brought attention to an article published in Pediatrics: "COVID-19 Transmission and Children: The Child Is Not to Blame" The article states "almost 6 months into the pandemic, accumulating evidence & collective experience argue that children…are far less important drivers of SARS-CoV-2 transmission than adults."
The CDC says that "hydroxychloroquine can be prescribed to adults and children of all ages. It can also be safely taken by pregnant women and nursing mothers." How can it be so safe, if those on the Remdesivir wagon keep calling it "dangerous?"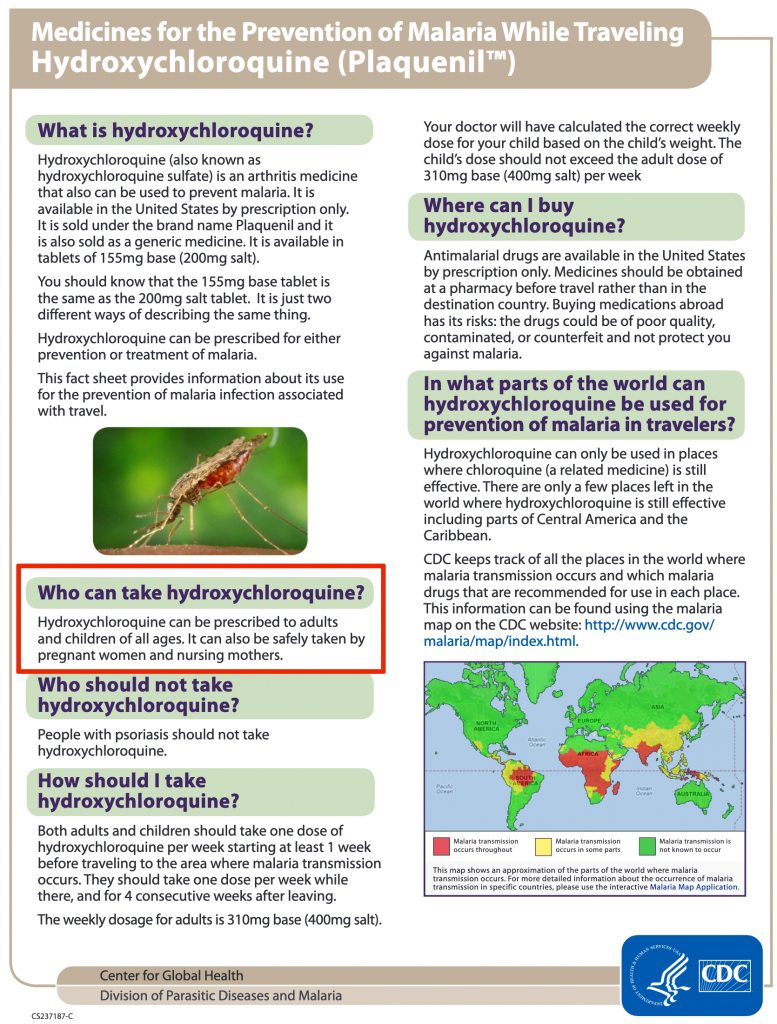 Retracted Hydroxychloroquine Studies
The original study that was published by The Lancet and used by media sources, politicians, the WHO, Dr. Fauci, Bill Gates, and many others, to allege that hydroxychloroquine was dangerous and did not work in treating COVID-19, was later retracted by The Lancet as a bogus study, but the damage had already been done. The WHO and many others had refused to run clinical trials because of "safety concerns" since The Lancet study set the stage.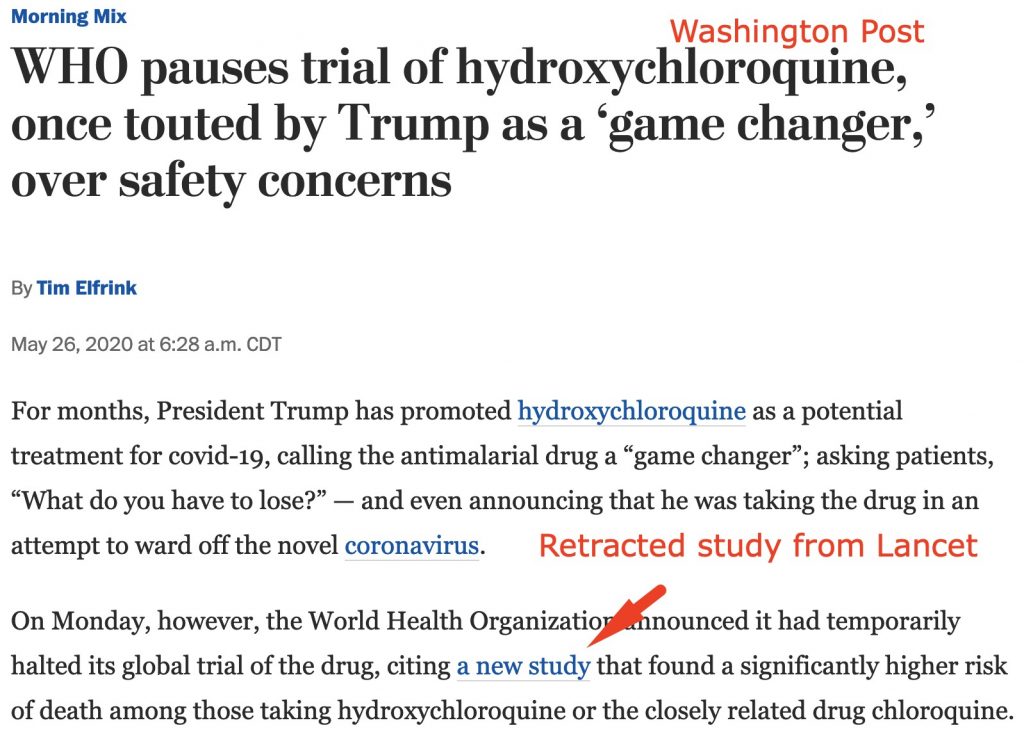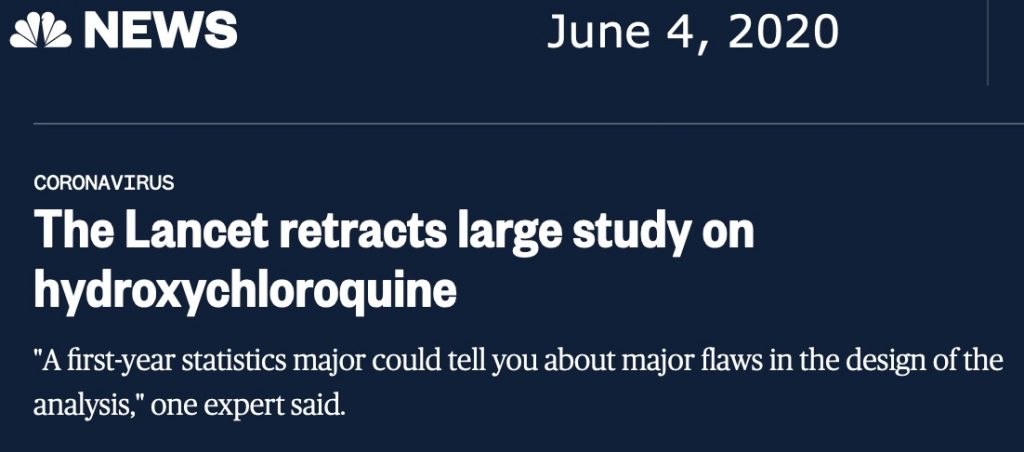 Hydroxychloroquine is a very inexpensive drug that has been used for 65 years in treating malaria and lupus. It is FAR SAFER than Tylenol and is sold over the counter in Latin America, Indonesia, Iran, part of Africa, France, and Mexico, to name a few. It has safely treated COVID-19 positive patients in early stages, when prescribed with zinc and Azithromycin, quite possibly saving many lives. It is also working efficiently as a prophylactic, according to many taking it who have never contracted COVID-19. To the contrary, Remdesivir, a drug originally produced for Ebola by Gilead and never approved by the FDA, runs $3000, is still in trial stages, and comes with serious negative side effects.
Investigative Journalist Sharyl Attkisson did an excellent report on both hydroxychloroquine and Remdesivir back in May. Her 10-minute video report is a must watch. Attkisson interviewed Biomedical Scientist Dr. Steven Hatfill, who worked on Ebola and studies pandemic responses and medicine. Hatfill says that there is an unwarranted campaign against hydroxychloroquine and believes that lives were lost because of it.
Attkisson looked into financial ties "among experts on the government panel devising coronavirus treatment guidelines which had the effect of dialing back hydroxychloroquine use and giving an edge to Remdesivir."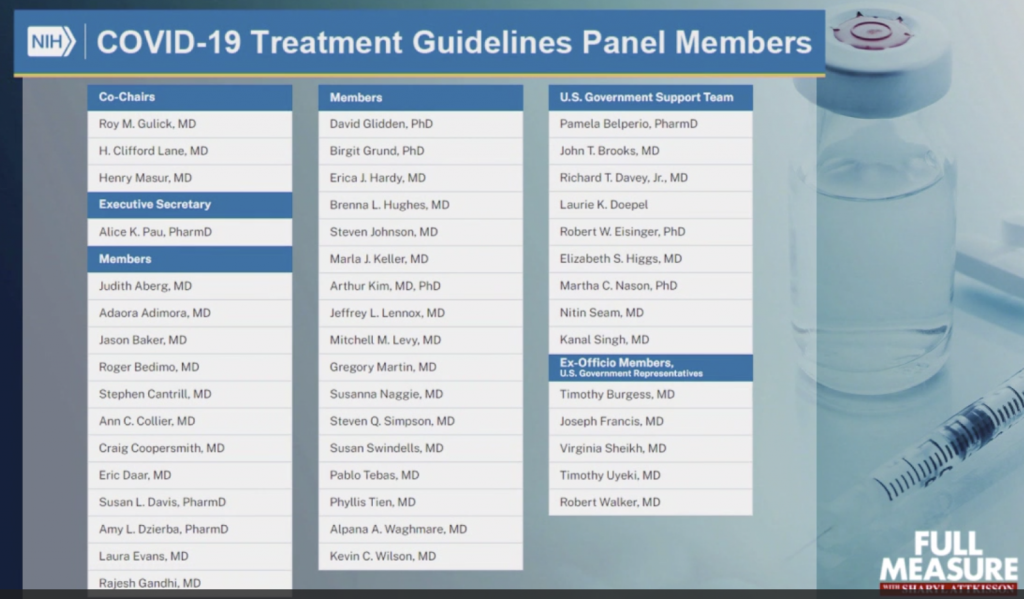 Attkisson found "that of 11 members reporting links to a drug company, nine of them named relationships to Remdesivir's maker Gilead. Seven more, including two of the committee's leaders, have ties to Gilead beyond the 11 months they had to disclose. Two were on Gilead's advisory board. Others were paid consultants or received research support and honoraria. Nobody reported ties to hydroxychloroquine which is now made by numerous generic manufacturers and is so cheap, analysts say even a spike in sales would not be a financial driver for the companies."
Despite USA Today publishing a fact-checking article claiming that Bill Gates doesn't stand to profit from Remdesivir, according to Bill & Melinda Gates Foundation Trust's 2018 tax returns, they held over $1.3 million in common stock, and $3.3 million in corporate bonds, in Gilead Sciences, Inc. at that time. So the fact that Bill Gates has partnered with a group of companies, including Gilead Sciences, to accelerate research on coronavirus and quite possibly still has over $4 million in stocks and bonds with Gilead, sure sounds like a solid investment with a potential profit. And though Gates may not have funded the development of Remdesivir specifically, he has partnered with and funded Gilead Sciences over the years on other research and development. It's the equivalent of saying, "I went out to dinner with them but I didn't pay for the appetizer, I only paid for the main meal, therefore I didn't really take them out and wine them and dine them." Surely no one is profiting from this "humanitarian" effort. In addition to this, there are currently talks about AstraZeneca, who is manufacturing experimental coronavirus vaccines developed by Oxford University, merging with Gilead Sciences. Coincidentally, AstraZeneca already has big deals signed with the Bill & Melinda Gates Foundation.
The Fear is Worse Than the Virus
COVID-19 has a 98.6 percent recovery rate, and in all likelihood, that percentage is much higher considering the fact that Dr. Birx, mayors, governors, and the CDC have stated that they are documenting "cause of death" as COVID-19 on those who tested positive, despite comorbidities or actual cause of death, in addition to 40 percent of the deaths taking place in nursing homes – no thanks to Gov. Cuomo.
On July 14, during a Buck Institute webinar, CDC Director Robert Redfield stated "We're seeing, sadly, far greater suicides now than we are deaths from COVID. We're seeing far greater deaths from drug overdose that are above excess that we had as background than we are seeing the deaths from COVID." Why isn't Redfield screaming this from the rooftops? He has not published this to the CDC website, held a press conference, or gone on mainstream news programs to get this information out. Sadly, this spike in suicides is highest among high school students. While many children remain stuck at home, child abuse has been on the rise as well. It's truly tragic.
Only 86 children have allegedly died from novel-coronavirus in the U.S., whereas 500 children die annually from the seasonal flu – yet they won't open schools in most areas and they want the children wearing masks all day long if they do, despite evidence that they can cause harm. The unwarranted damage this is doing to their mental and physical health will be seen for years to come. It would seem that homeschooling co-ops may be the better option and give the ability to teach a curriculum that gives children the opportunity to expand their minds rather than indoctrinate them.
Many small business have permanently closed, and nearly 16,000 restaurants have been put out of business due to COVID. The abrupt closures, extreme restrictions and guidelines, and repeated shutdowns wiped them out, as well as many other businesses. Millions of people are suffering from the inability to feed their families or put a roof over their heads, while many remain on unemployment.
In addition to anxiety and depression affecting nearly everyone in the country, they've gone so far as to not allow funerals or only a small number can attend, while thousands of people have died alone in hospitals because their families were not allowed in. Countless elective surgeries and treatment were postponed for very sick people, including cancer patients. How many people died because they couldn't get the help they needed while hospitals sat empty over a potential COVID influx? Roughly 40% of Americans have postponed getting medical care due to the coronavirus outbreak. That number has stayed around 40% in all 12 weeks of the Census Bureau's Household Pulse Survey.
Over 250,000 people die in the U.S. each year due to medical errors, but does that stop everyone from going to doctors or getting surgeries? Last year 38,800 people died in car accidents. Is everyone going to stop driving? An estimated 88,000 people die annually from alcohol-related causes. How many people quit drinking? Heart disease is the leading cause of death in the U.S., accounting for 647,000 people in 2017 alone. How many people have changed their diets and exercise habits, or quit smoking? Is this not alarming? Has there been a nationwide campaign over concern for everyone's health, whereby they are drilling it in everyone's heads day and night everywhere you go, because they are so concerned about your health? NO. Why is that? It's more than four times the threat of COVID. Yet, people have become terrified to go anywhere without a mask on, or resume any sense of life due to 150,000 COVID-related deaths in which nearly all of them had comorbidities, over 40% are linked to nursing homes, and there is a treatment for early stages. So people are unwilling to work on their health to avoid dying from heart disease, but they are willing to give up their jobs, finances, housing, freedoms, children's schooling, and wear a mask out of fear of getting a novel coronavirus with a 98.6 percent recovery rate, whereby only 50 percent of people even have symptoms? Does something feel a bit off?
What is truly tragic about all of this is that none of it had to happen. They didn't just shut down the economy, they shut down everyone's lives with fear and intimidation tactics. And long after the numbers have proved them all wrong, they still keep pushing for shutdowns and extreme restrictions that are unwarranted.
All the while, there was a little pill called hydroxychloroquine, that if taken early on, along with zinc and Azithromycin, could have prevented much of the fear from escalating, but they shut that down too. Ask yourself WHY? They are warning against a drug that's been around for 65 years with billions of doses going out in multiple countries, many of which make it available over the counter, a drug that has seen only 20 total deaths worldwide since 1963 – but, a vaccine for a virus, which has never been able to be produced to date, is being rushed with no long term clinical trial, and that's not dangerous? Put that in perspective.
The ultimate question is this – if all of these individuals and agencies were willing to go this far to keep Americans from having access to hydroxychloroquine, and flat out lie about it being "dangerous," how far have they gone with other drugs that could have cured cancer or other life-threatening diseases? It's quite clear that money plays a very big factor.
Yale University recently completed a study on 4,000 volunteers, titled 'Persuasive messages for COVID-19 vaccine uptake," and it's nowhere as innocent as it may sound. These vax zealots are trying to put their message in a bottle by manipulating people's minds through guilt, fear, embarrassment, anger, and not being "brave" enough. They all work together to "flood the message" to coerce the population into buying what they are selling. For those unaware, there have been $4.1 billion in injury and death claims against vaccines, to date. And based on evidence thus far, a vaccine is not needed.
America's Frontline Doctors are bravely risking their careers to get this important information out to the public, trying to help make hydroxychloroquine available to the public, to put an end to the fears, and to stop this avalanche from proceeding beyond the destruction it has already created. They are currently raising funds toward the following goals:
Dr. Immanuel stated on twitter that they have networked with doctors across the country who are using their treatment and prevention protocol and are not afraid to see patients. Those who are seeking a physician in their area can search their network here.
The bottom line is, if you had never been told about COVID-19, you likely never would have been aware it even existed, and life would have resumed as normal. The fact is 98.6 percent of people recover from it, 50 percent of people don't even have symptoms, and over 40 percent of those that did die were in nursing homes with comorbidities. Everyone would have assumed it was simply the flu. It is important that we were made aware of it, especially since drugs such as hydroxychloroquine can potentially stop it in its track in the early stages, but this virus has been so incredibly politicized and was used to shut down our economy and our lives. Was it worth it? Certainly not for the thousands who died from not being able to receive treatment for other deadly issues, or for those who committed suicide. Prayers go up to everyone who have lost their lives during these tragic times.
It's time to get back to work, get back to life, get back to joy, and inform your neighbors, doctors, state reps, and governors that you demand our country open back up, mask-free, children get back to school, and hydroxychloroquine be made available to all Americans.
It's time to live again. It's time to take back your freedoms, your life, and your happiness.