BlackRock CEO Larry Fink's Family Tree Was A Mystery Until Now
It's very likely that only a small percentage of people even know who BlackRock is, despite the fact that they are the world's largest asset management company with over $9 trillion in assets, is one of the top two shareholders of over 1,600 American firms, was involved in the clean up of the 2008 financial meltdown, pulled off the biggest scandal in history with the Federal Reserve last year, and is changing the way banks and financial institutions monitor your money while creating a new climate scoring system as another way to control your funds. Their finger isn't just on the pulse, it's on the lever.
BlackRock was founded by Laurence (Larry) Fink in 1988 under the corporate umbrella of The Blackstone group, later split from Blackstone in 1994, and went public in 1999. If Larry Fink isn't on your radar, you better start paying attention. Familiarize yourself with what BlackRock is behind, what they've already done to negatively impact you and our economy, and what's coming down the pike so you can stay ahead of it. Here are a few very important reads:
Going Direct Reset Summary
Financial Takeover & Your Bank Account
Who Owns Big Pharma & Big Media?
Larry Fink's 2021 Letter to CEOs on Net Zero Commitments
Since BlackRock's "Going Direct" reset was voted on August 22, 2019, BlackRock stock has outperformed the U.S. stock market by double.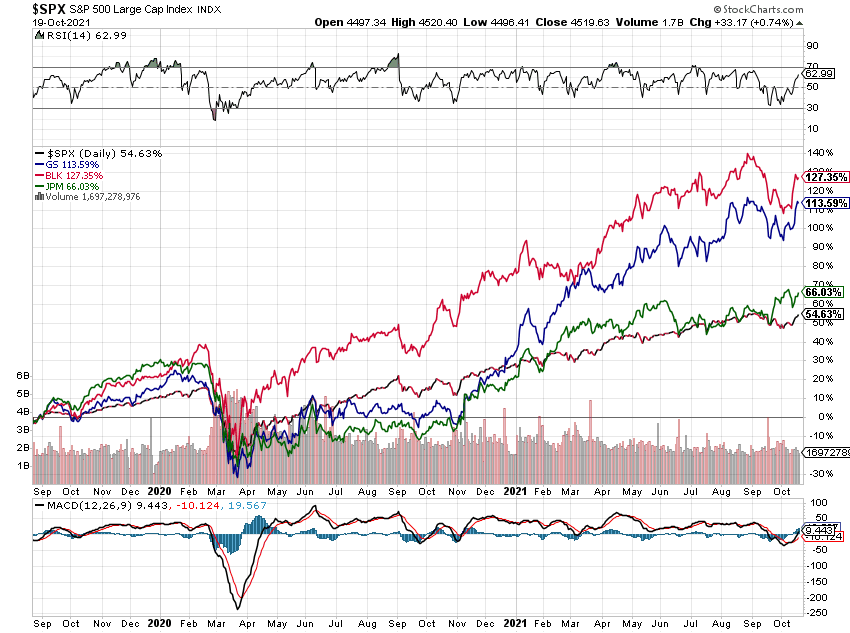 When a financial titan makes moves against citizens of an entire country, those people have a right to know who this man is, where he comes from, and what his motivations and intentions are. After all, Fink wants full transparency of us, so why shouldn't that be a two-way street?
It's no mystery that there are no articles in existence stating the names of Larry Fink's parents or family members, aside from his son Joshua, with exception of one 2012 article by Forbes they must have forgotten to scrub, which includes an interview with Fink's brother Steven. Any articles, including Wikipedia, that do mention Fink's parents or siblings all state the exact same thing, which is an excerpt from Fink's own writing about the lesson he learned from his parents.
"My father owned a small business – a shoe store – and my mother taught English at a local university…….I remember all the times my brother and sister and I would ask our parents whether we were saving for a bigger house or a new car."
That is the extent of what media has been allowed to disclose about Fink's family throughout the years, or at some point along the way were told to scrub everything. However, through an exhaustive amount of digging and cross-referencing through obituaries, old newspaper records, Ancestry, websites, and social media sites, there was enough information in open-source documents to put together a portion of Fink's family tree. After scanning countless Fink obituaries in California, his parents names could be discovered, and the rest of the dots connected. Ancestry kept several portions of family members segregated or unlisted so people couldn't make the connections, but thanks to Mark Zuckerberg, Facebook accomplished that final task.
All photos used throughout this article are from public sources; Wikipedia, Ancestry, Facebook, and yearbooks. If they are not from public sources, they are not utilized here, and instead are linked directly to the source where the photo can be viewed.
This information is for research purposes and some family members connected to Larry Fink may not be involved in "the family business" of destroying the U.S. economy, so please be respectful. Any current identifying addresses have intentionally been left out of this report.
Some Branches of The Fink Family Tree
Other family members not shown in this diagram are revealed in the content below, though this still only represents some of the branches of their family tree. There are over 30 family members listed here, not including spouses.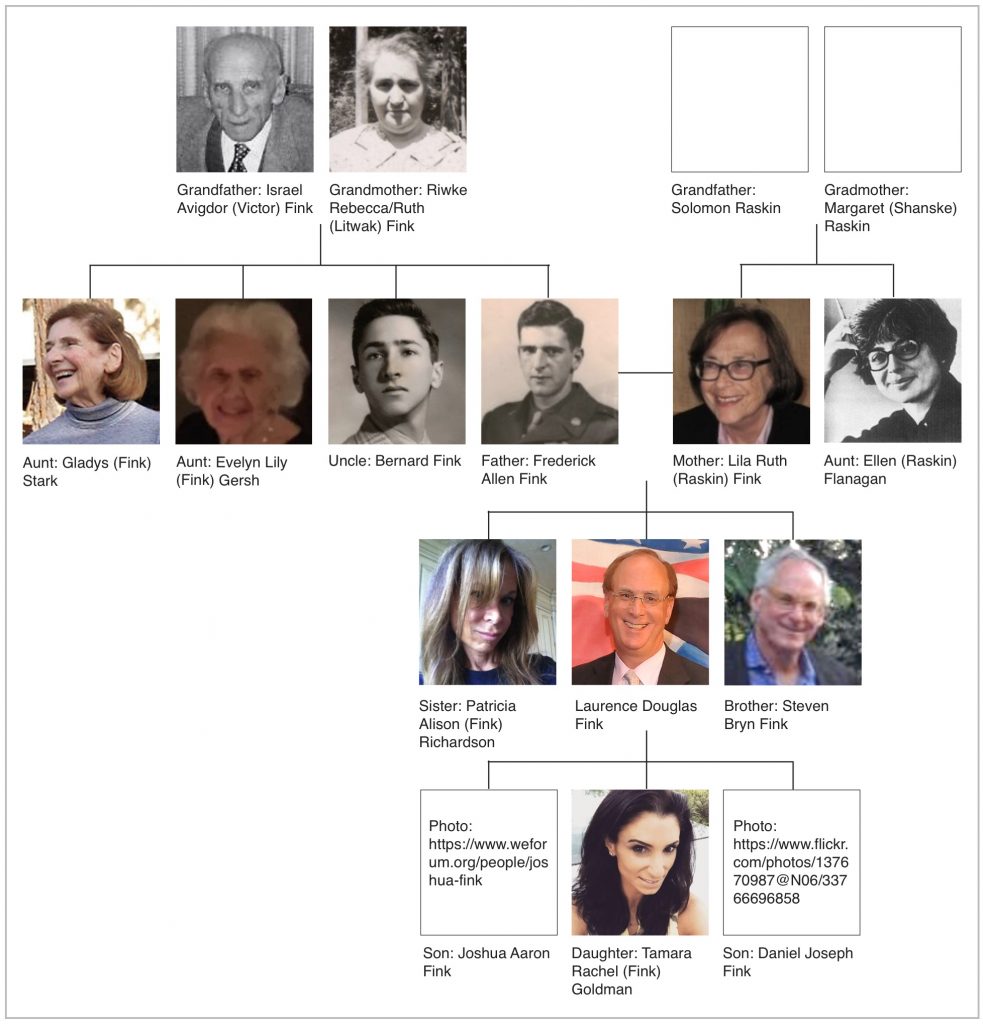 Fink family on paternal side, beginning with Larry's grandfather, Victor Fink
Israel Avigdor (Victor) Fink & Riwke Rebecca/Ruth (Litwak) Fink
Gladys (Fink) Stark & Marvin Stark
Susan (Stark) Scher & Jerry Scher
Jacqueline Scher
Jonathan Scher
Mia Scher
Richard Stark & Annarosa Tomasi
Rebecca Stark
Michael Stark
Evelyn Lily (Fink) Gersh & Sidney Gersh
Joe Gersh & Susan (Drook) Gersh
Zachary Gersh
Dylan Gersh
Monica Love
Eileen (Gersh) Stein & Aaron Stein
Liz Stein & Gal Feinstein
Rebecca Stein & Ian Hantman
Bernard Fink & Lillian (Heisler) Fink
Linda J (Fink) Weckstein
Frederick Allen Fink & Lila Ruth (Raskin) Fink
Patricia Alison (Fink) Richardson & Dennis Richardson
Jessica Richardson
Catie Richardson
Laurence Douglas Fink
Joshua Aaron Fink & Filipa (Perovic) Fink
Tamara Rachel (Fink) Goldman & Darius Joseph Goldman
Daniel J. Fink & Erin Marie (McEllin) Fink
Steven Bryan Fink & Catherine Mary (Furkioti) Fink
Jeremy Benjamin Fink
Alexandra Nicole (Fink) Phoenix & Viktor Phoenix
(Plus great grandchildren mentioned in Frederick Fink's obituary: Caleb, Eve Lilah, and Jonah, and any additions since 2013.)
General Information on Some of The Family Members
This is certainly not an exhaustive list of information on all of the family members, but rather some general information on some of them. Others have been listed in their respective sections below, but there may not be a lot of detail on them.
Laurence Douglas Fink
(cliff notes)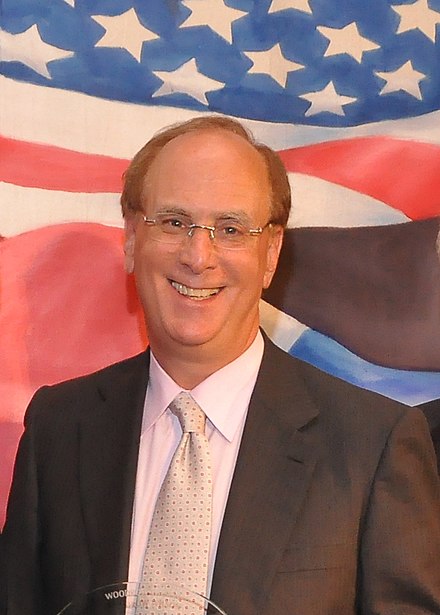 Born: November 2, 1952
• Father deceased 2013: Frederick Allen Fink
• Mother deceased 2012: Lila Ruth (Raskin) Fink
• Siblings: Steven and Patrica
• Wife: Lori Jean (Weider) Fink
• Children: Joshua Aaron Fink, Tamara Rachel (Fink) Goldman, Daniel Joseph Fink
• SS# issued in 1969 – California
• Grew up in Van Nuys, Los Angeles, CA
• Bachelor's degree from UCLA and M.B.A. from UCLA Anderson School of Management
• 1974 – Married Lori Weider
• 1976 – Joined First Boston
• 1988 – Founded BlackRock
• 2008 – Endowed UCLA Anderson $10 million to establish the Fink Center for Finance and Investments
• 2016 – Received a medal from UCLA in recognition of his service to the community and his career in business and finance. UCLA Anderson Dean July Olian stated, "He is admire by the global financial community as much for his analytical brilliance as for his integrity, which are the reasons this award is most deserved." That same year, Bill Gates gave $100k to Quinnipiac University, and two years later, Olian became president of that university. In May 2019, alumni William and Barbara Weldon gifted $15 million to the university to build "inclusive excellence," while William chaired the board after retiring as the chair and CEO of Johnson & Johnson. In August 2021, Quinnipiac became the first university to demand all students to adhere to their strict Covid-19 testing and jab policies or lose internet access and be fined up to $2,275. They run in tight circles.
• Member of UCLA Anderson Campaign Committee, Board of Trustees for New York University, Co-chairman of NYU Langone Medical Center Board of Trustees, New York Museum of Modern Art Board Member, Council on Foreign Relations Board Member, Robin Hood Organization Board Member, Partnership for NYC Executive Committee Member
• Implemented the "Going Direct Reset" in March 2020 with the Federal Reserve, when the Fed created new reserves in the wholesale monetary circuit to effect the parallel creation of new bank money in the retail circuit, to the tune of $3.5 trillion." The Fed appointed BlackRock to assist them in executing the $3.5 trillion plan – the plan that was devised by BlackRock in August 2019, four months before the virus was announced to have hit the U.S. When reviewing the Going Direct Reset timeline alongside the so-called pandemic, it's a real eye-opener.
• Laurence D. and Lori Weider Fink Children's Ambulatory Care Center at Hassenfeld Children's Hospital at NYI Langone.
• Laurence D. and Lori Weider Fink Pediatric Intensive Care Unit at Tisch Hospital.
PARENTS
1940 Population Census: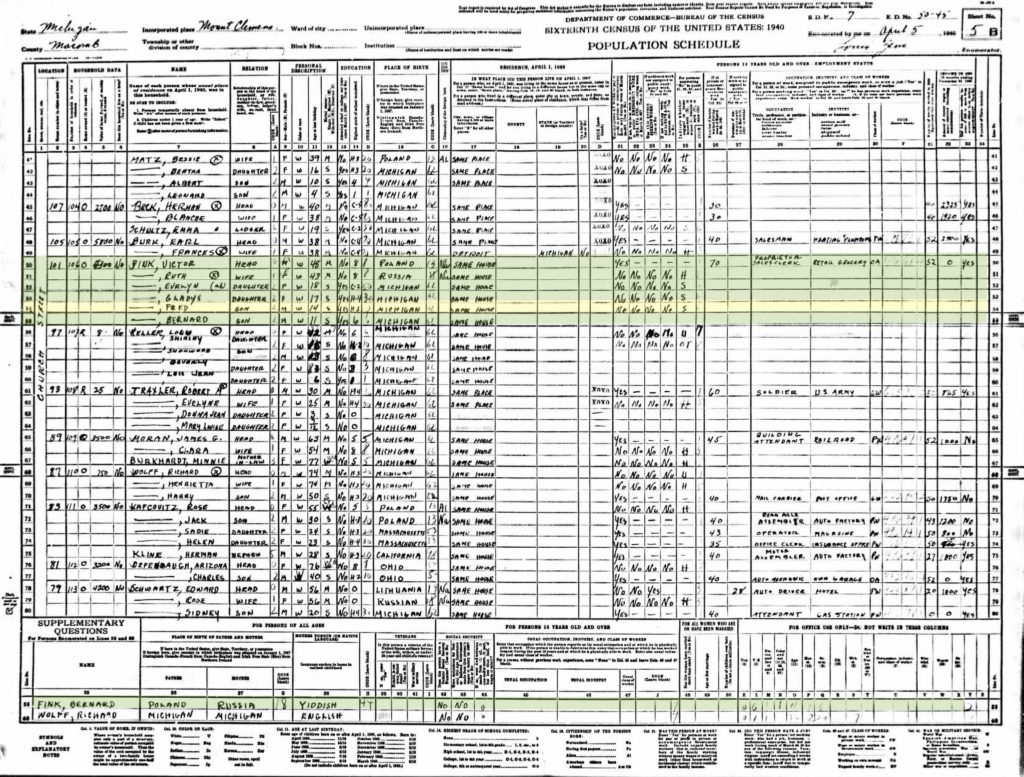 FATHER: Frederick Allen Fink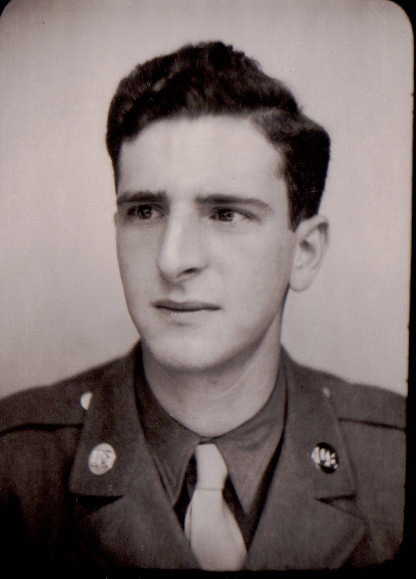 aka: Fred, Fredrick, Frederck
Born: June 18, 1925
Deceased: March 17, 2013 (obituary)
Place of Birth: Mt. Clemens, MI
• Father: Israel Avigdor (Victor) Fink
• Mother: Riwke Rebecca/Ruth (Litwak) Fink
• Siblings: Gladys, Evelyn, and Bernard. However, his obituary states that he was preceded by his sisters Gladys and Evelyn, but they chose not to mention his brother Bernard
• Children: Steven, Laurence, Patricia
• 1941 – He made the honor roll in high school and graduated mid-year in 1943
• Allegedly graduated UCLA – yearbook reflects him as being there in 1948-1949
• August 8, 1949 – married Lila Ruth Raskin
• Raised family in Van Nuys, Los Angeles, CA
• Member of the Century Club after visiting over 100 countries
• Allegedly owned a shoe store
• According to his obituary, he was a member of the "Bloody Bucket Division" during WWII with action in the battles of the Ardenne Forest and the Bulge. This battle took place between December 16, 1944 – January 25, 1945. The 'Bulge" was known as the largest and bloodiest single battle fought by the U.S. in World War II, and the third deadliest campaign in American history.
WWII draft card was registered on June 18, 1943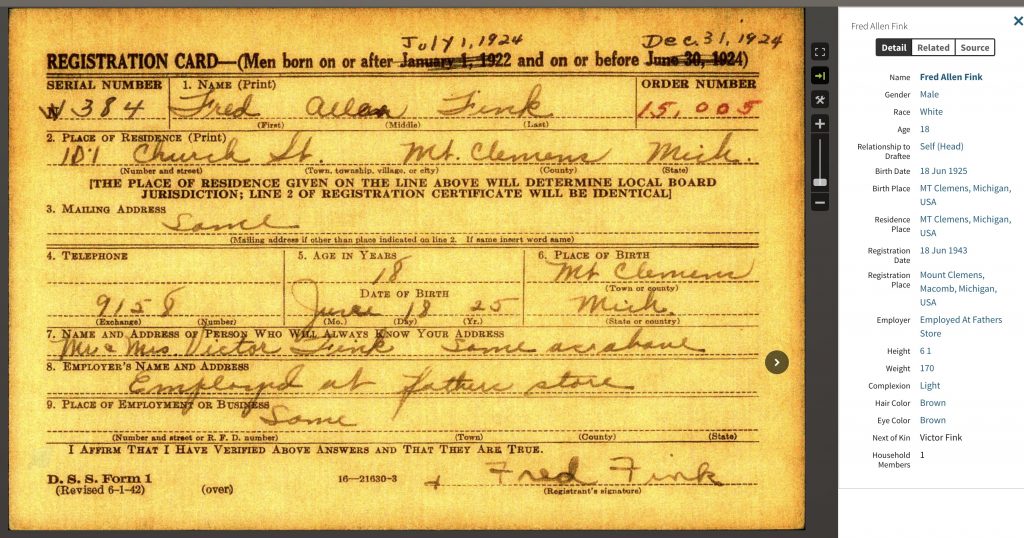 Newspaper archive
The "Bloody Bucket Division" is the 28th infantry division, which is known as the "Keystone Division" with an insignia of a red keystone. It is now known as the "Iron Division."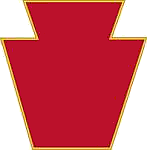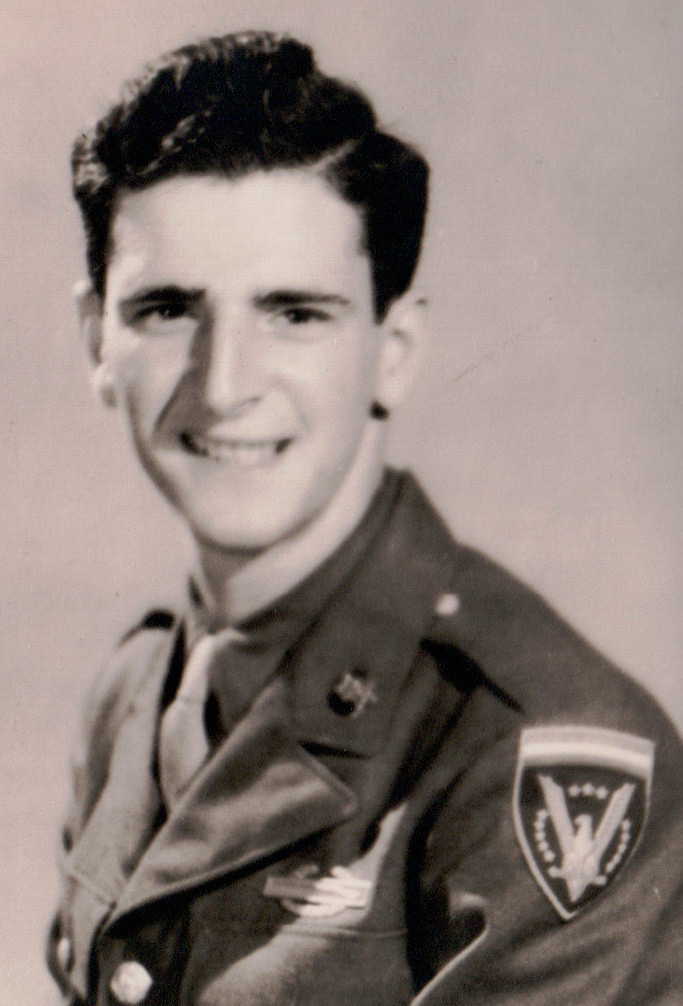 The patch on Fred Fink's arm is ETO HQ:
European Theater Operations, United States Army – responsible for directing US Army operations through the European theatre of World War II from 1942 to 1945. The badge on his chest is the Combat Infantry Badge.
According to a November 1, 1944 operation order by the south bombardment squadron office of the operations officer for US Army, Frederick A. Fink was listed as a 1st Lt at that time.
Side Note: There are two Fred Fink's that served in WWII, not to be confused with one another.
Photos compliments of Ancestry.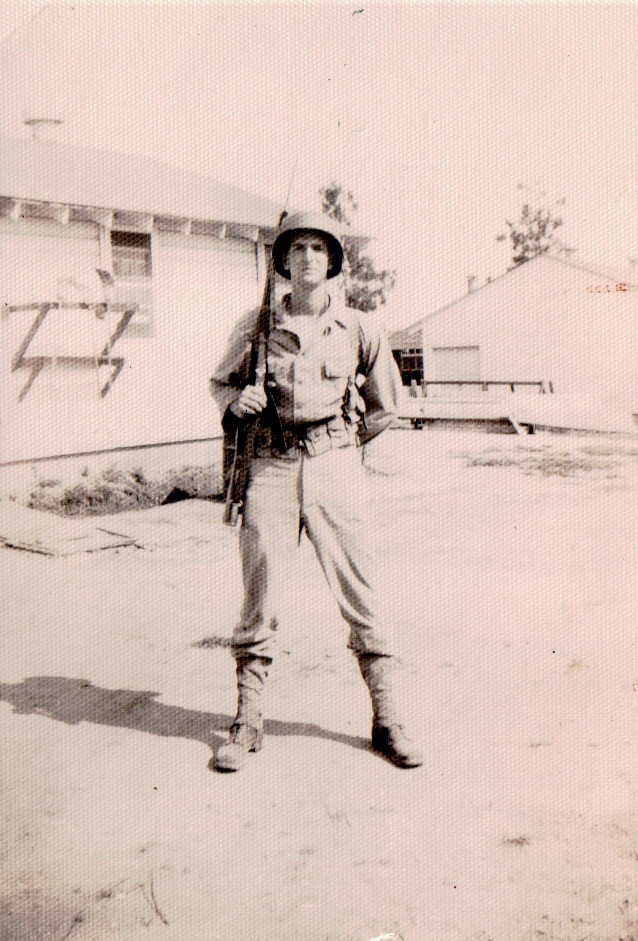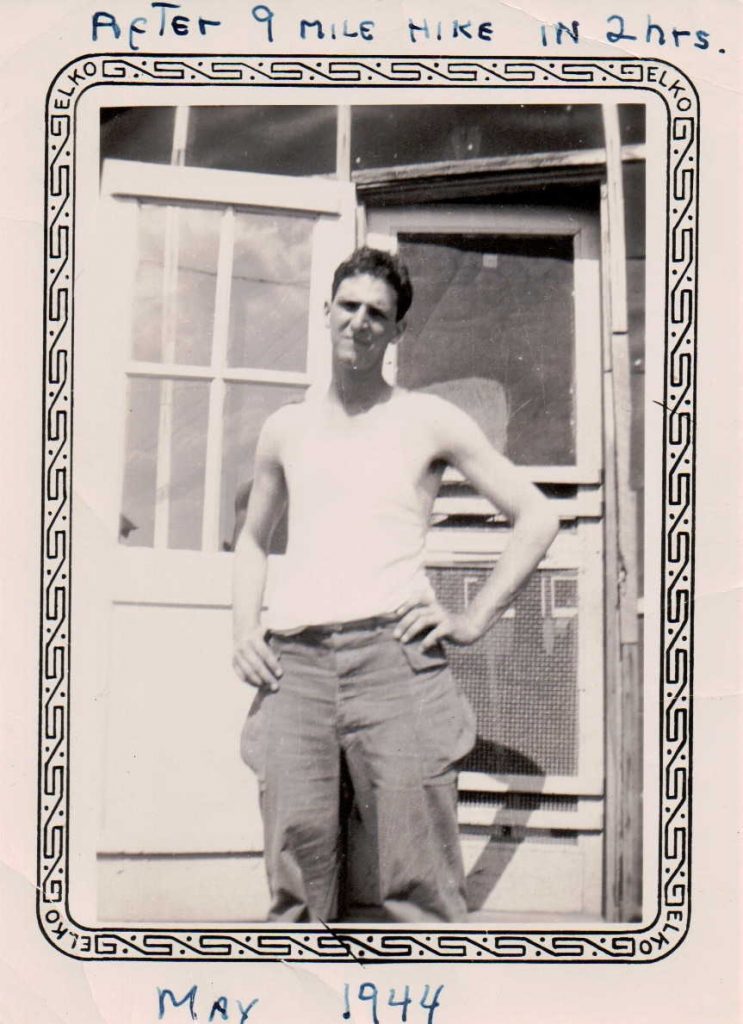 On March 18, 1946, he departed Le Havre, France on the USAT George Washington, arriving at the port of New York, New York on March 26th, with his last U.S. departure listed as September 25, 1944.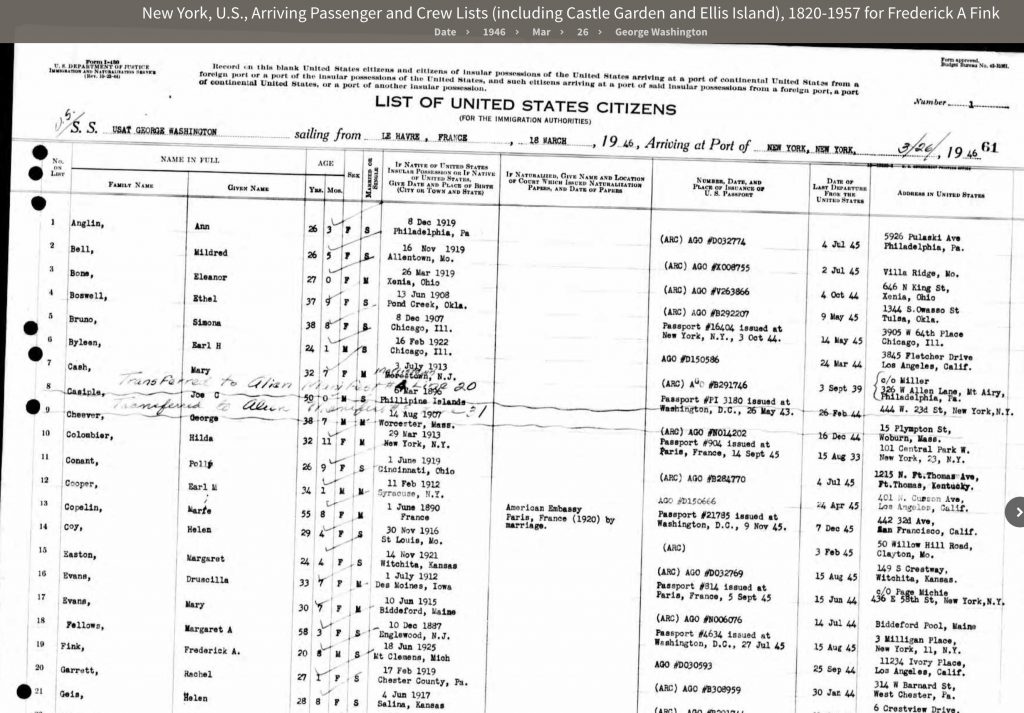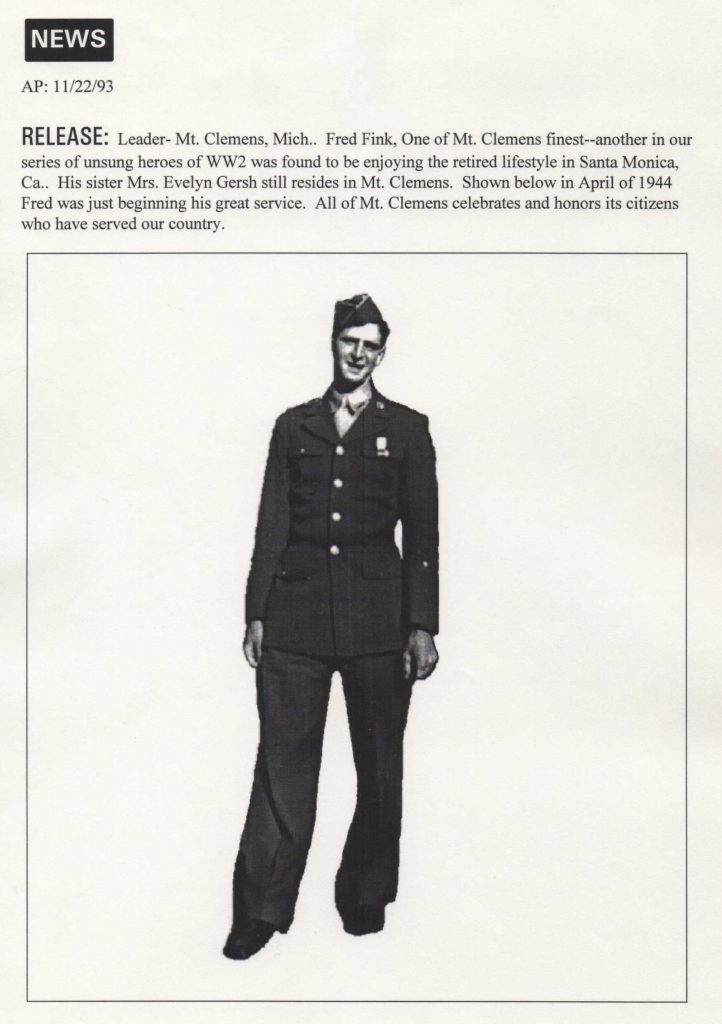 According to NARA records, on June 4, 1994 while residing in Santa Monica, CA, Frederick and Lila Fink received a small business loan for $21,000 under the program titled "physical disaster loans." The project description of this type of loan reads as follows: "To provide loans to restore as nearly as possible the victims of physical type disasters to predisaster conditions."
After searching through the UCLA yearbooks, Fred Fink can be found in both the 1948 and 1948-1949 books. It states in the yearbook that Fink and others created the first Phi Epsilon Pi chapter at UCLA, however, that fraternity doesn't appear to be recognized as a chapter under the UCLA's main website, nor is it mentioned here. What's even stranger is that the 1948 book jumps from page number 383 to 385 but has five pages in between, placing their Phi Epsilon Pi page after all other fraternities, out of alphabetical order, and without a page number, as though it was added after the fact. In 1948 his name is spelled as Fredrick Fink, missing an "e." In the 1948-1949 book, his name is spelled Fred Fink.
Photos from public yearbook. Frederick Fink is on the far right.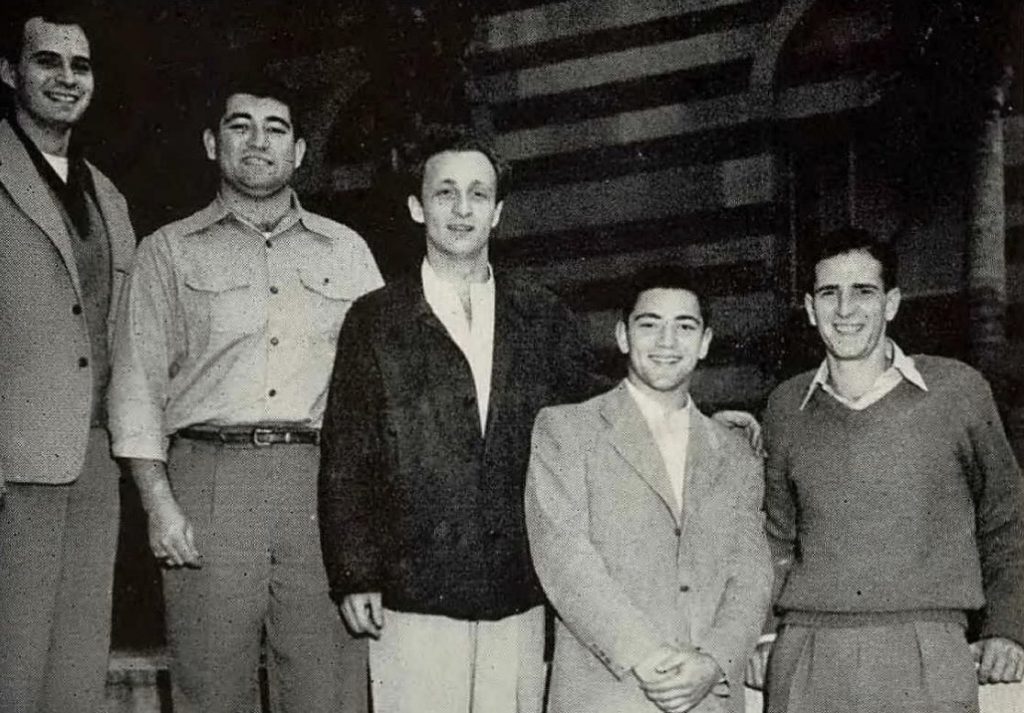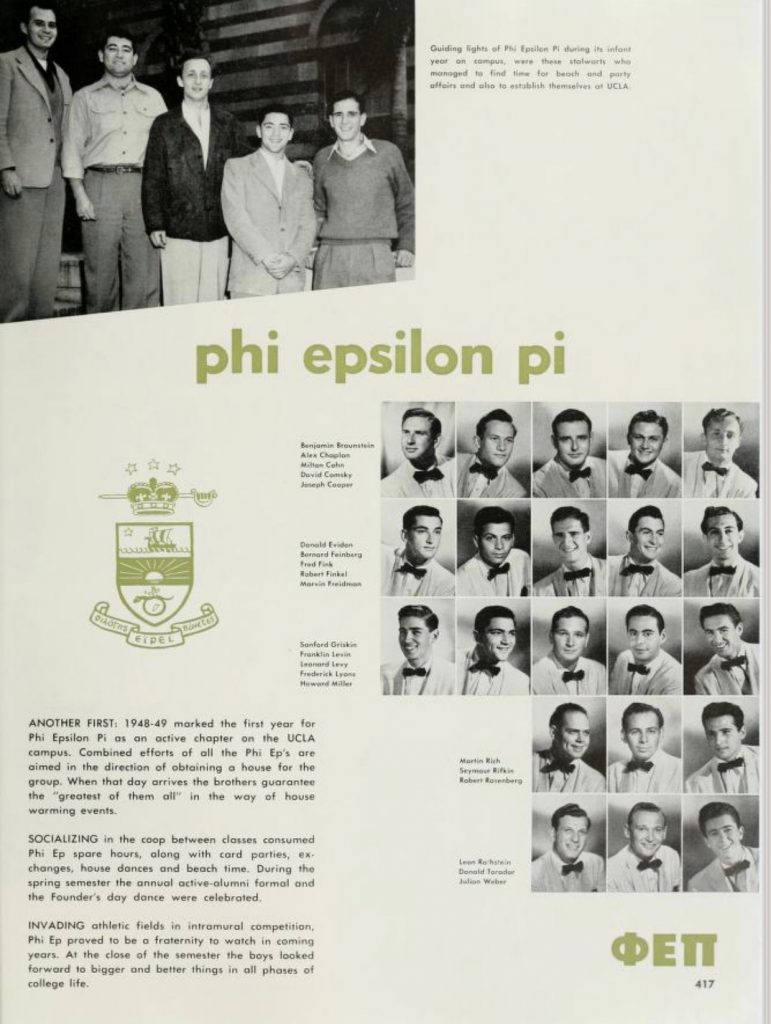 After going through numerous registered shoe stores in California between the 1940s – 1960s, no records could be found with Fred Fink or Lila Fink's name on them, unless it was registered under another name. There are no other photos, articles, or documents even mentioning him after UCLA, with exception of the 1993 AP release, the 1994 NARA document, and that one staple sentence used throughout media, penned by Larry Fink himself…that "dad owned a shoe store."
According to his obituary, he was a war veteran who shortly after returning, graduated from UCLA, met his wife and raised 3 kids, opened a shoe store, and traveled to over 100 countries.
MOTHER: Lila Ruth (Raskin) Fink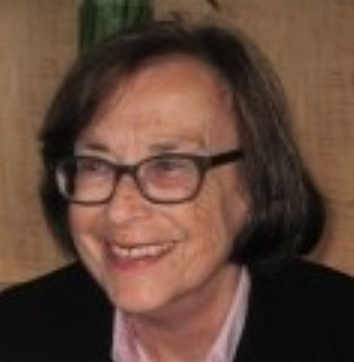 Born: April 30, 1930
Deceased: April 20, 2012 (obituary)
Place of Birth: Milwaukee, WI
• Father: Solomon Raskin (aka: Salamon, Sal, Sol)
• Mother: Margaret (Shanske) Raskin
• Sibling: Ellen Raskin, however, they chose not to mention her in Lila's obituary
• Children: Steven, Larry, Patricia
• Her father Sal was a pharmacist at Mount Sinai Hospital in Milwaukee
• Her sister Ellen passed away in 1984. (Obituary) She was a famous writer and illustrator of children's books, having sold over a million copies. She was married to Dennis Flanagan, editor-emeritus of Scientific America, and had previously been divorced. She had a daughter, Susan Metcalfe.
• More on Ellen here
• Lila received a Ph.D. in English Literature from USC
• Professor at Cal State Northridge
• Taught at Pepperdine and East L.A. College
• Visited over 100 countries with her husband
• Received a teaching degree in 1970, at 40-years-old, when Larry was 18-years-old, as reported in the August 26, 1970 issue of the San Fernando Valley State College Summer Sundial paper.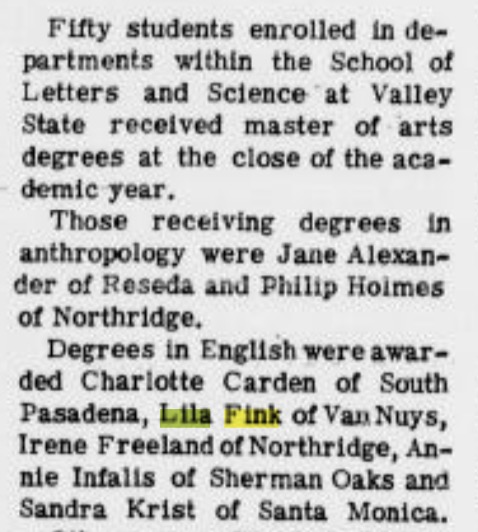 Public photos from Ancestry:
Photo of Lila Ruth Fink and Frederick Allen Fink on their wedding day.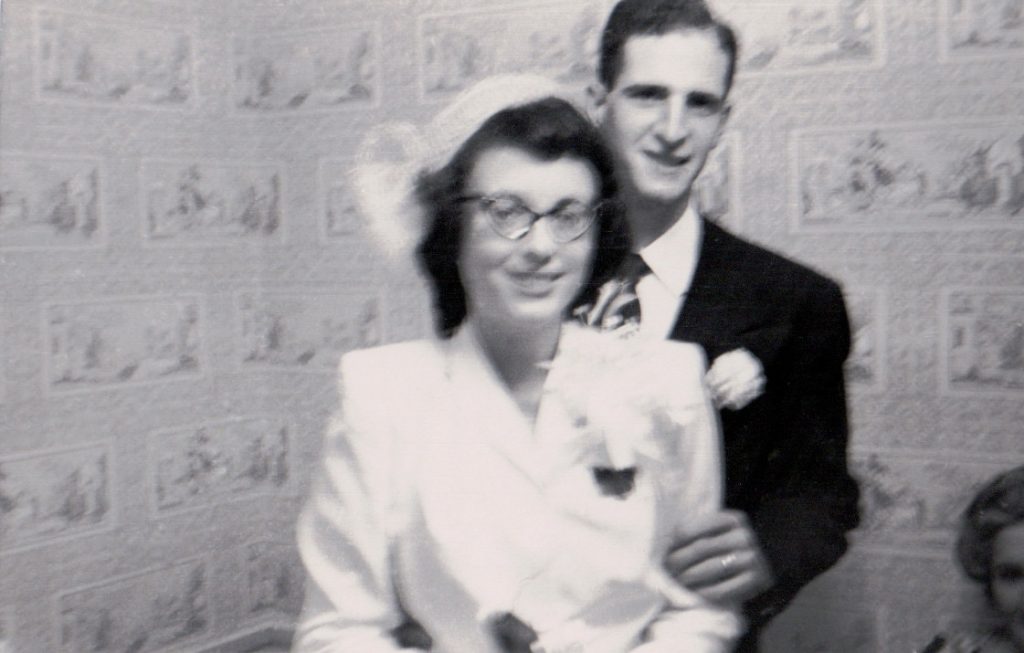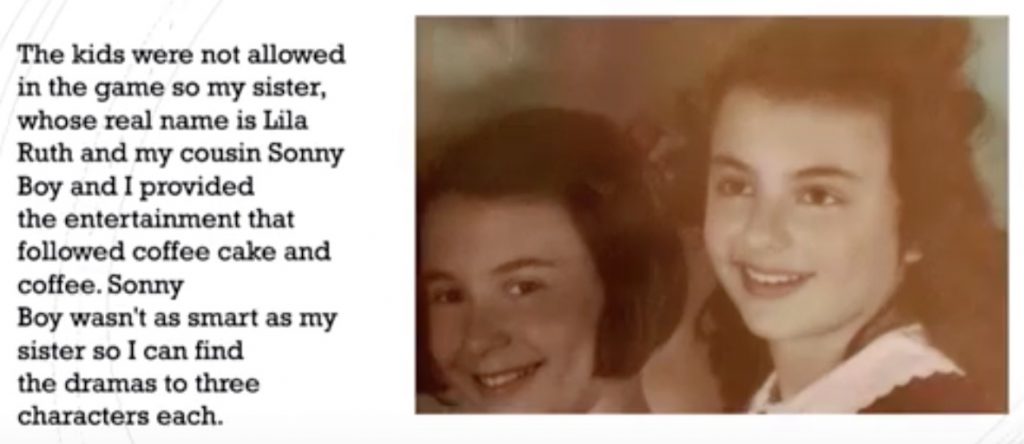 Photo from University of Wisconsin-Madison – Ellen Raskin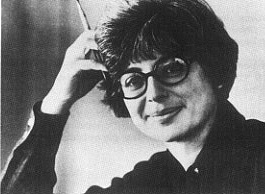 Lila and Ellen Raskin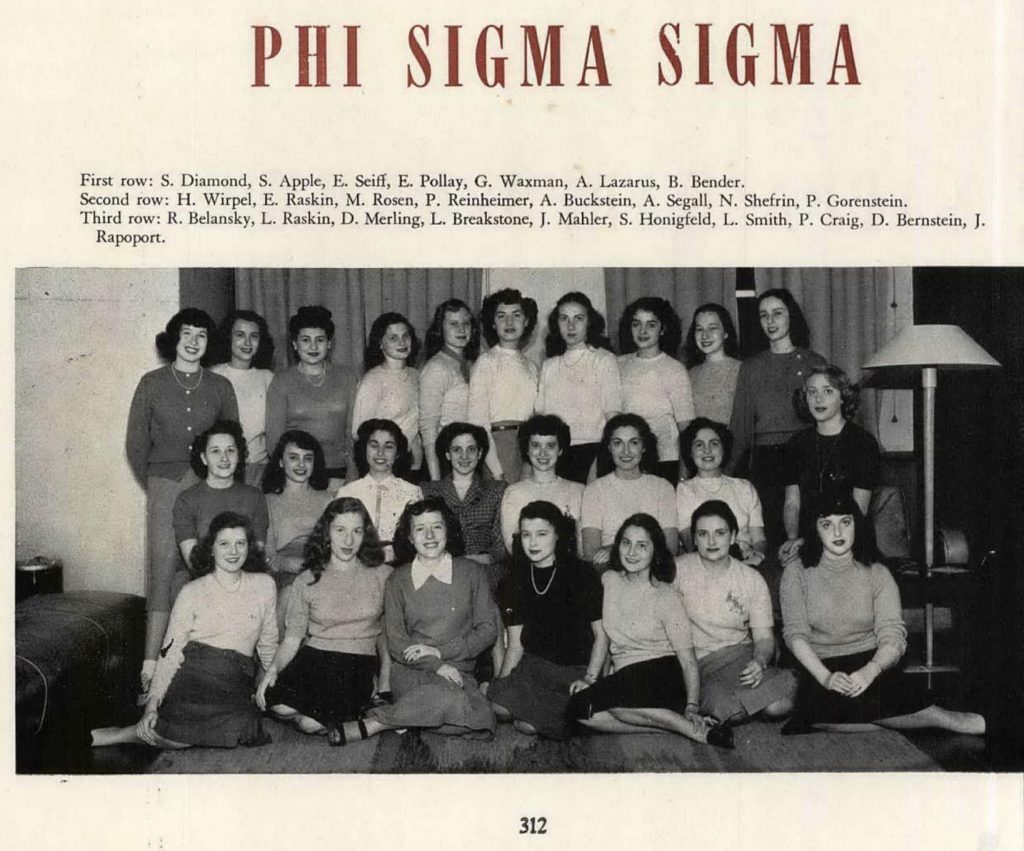 GRANDPARENTS
PATERNAL GRANDPA: Israel Avigdor (Victor) Fink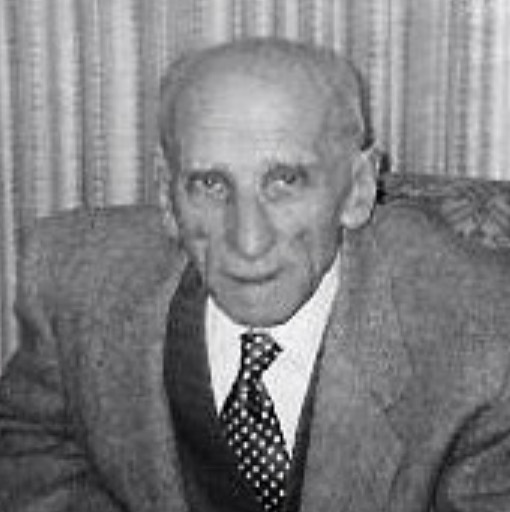 Born: April 12, 1892 – also documented as April 15, 1892
Deceased: May 9, 1976 (gravesite)
Place of Birth: Krynki, Poland
• Father: Israel Fink from Krynki, Poland, deceased in 1891/1892
• Mother: Dyna Cohen from Bialystok, Podlaskie, Poland, deceased June 27, 1941
• 1919 – Moved to Detroit, MI
• 1920 – Married Riwke (Rebecca/Ruth) Litwak
• 1924 – Purchased property to operate Fink's Grocery store in Mount Clemens, MI. Fink is listed as the proprietor of a grocery store in the 1930 and 1940 federal censuses.
• The Finks sold the property on land contract in 1945.
WWII draft registration card: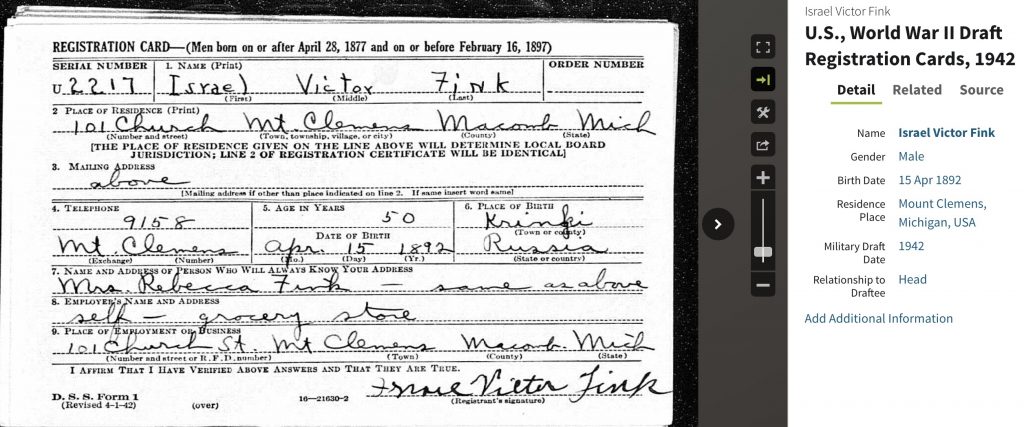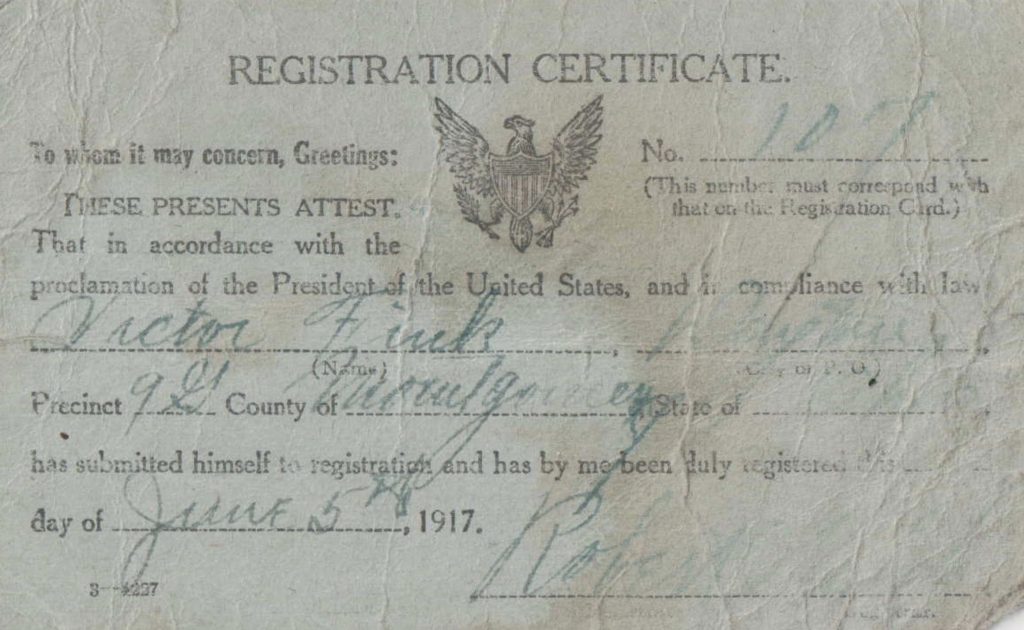 PATERNAL GRANDMA: Riwke Rebecca/Ruth (Litwak) Fink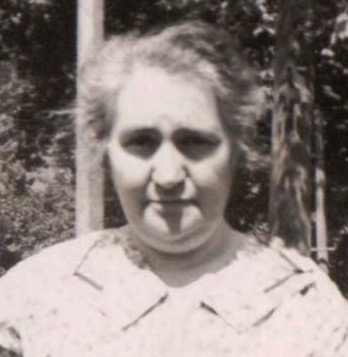 Born: July 27, 1896
Deceased: July 26, 1977
Place of Birth: Chernigov, Russia
• Father: Modukh Mottle (Max) Litwak
• Mother: Esther (Ita-Leya) Babushkin
• Siblings: Malke, Berke, Roschel, Roisse, Boruch, Feige, Arthur
PATERNAL AUNTS & UNCLES
Bernard Fink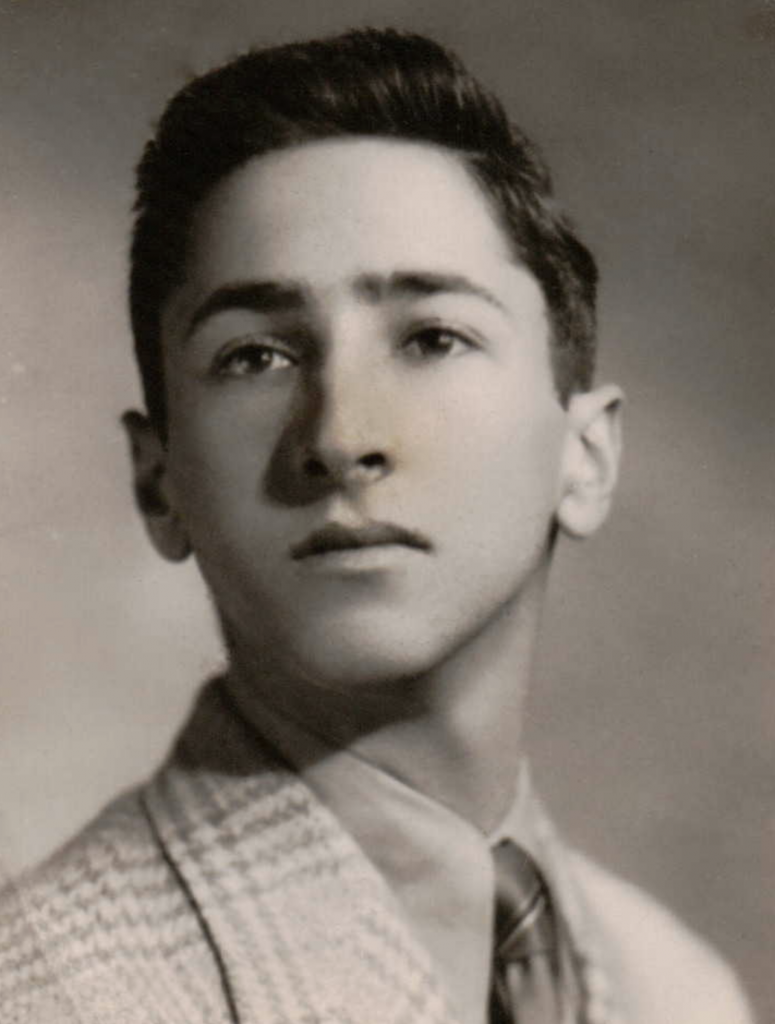 Born: July 19, 1928
Deceased: June 10, 2001
Place of Birth: Mt. Clemens, MI
• Wives: Elisa (Goldsweig) Fink and Lillian (Heisler) Fink
• Children: Linda J Fink, mother: Lillian Heisler
• WWII draft card was registered on July 19, 1946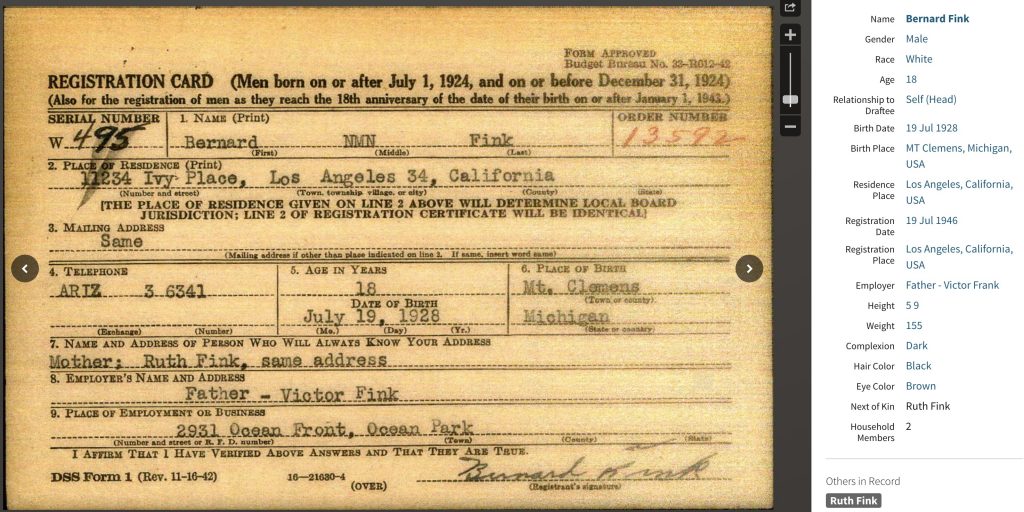 • He was on the junior tennis team in high school
• In 1948 his occupation was listed as insurance broker in Los Angeles
Much like his brother Frederick (Larry's father), there is little to no information on Bernard Fink, not even an obituary, that could be found thus far.
Evelyn Lilly (Fink) Gersh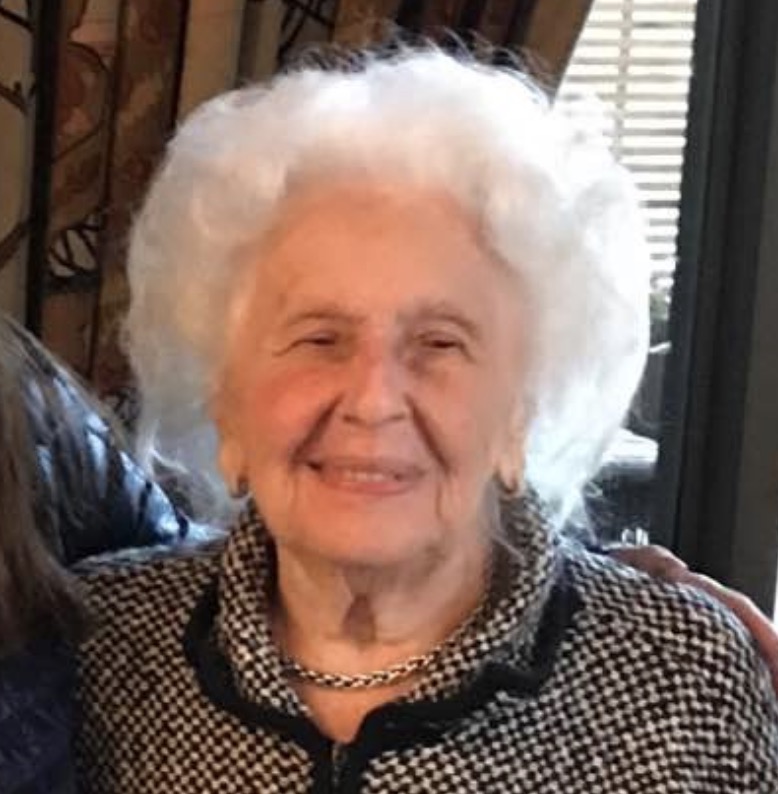 Born: May 14, 1921
Deceased: May 29, 2020 (obituary)
• Husband: Sidney Gersh
• Children: Joe Gersh (Sue Drook), Eileen Gersh Stein (Aaron Stein)
• Grandchildren: Liz (Gal) Feinstein, Rebecca (Ian) Hantman, Zachary Gersh, Dylan (Monica Love) Gersh
• 1943 – Married Corp. Sidney Gersh, son of Mr. and Mrs. Morris Gersh, brother to Marian Gersh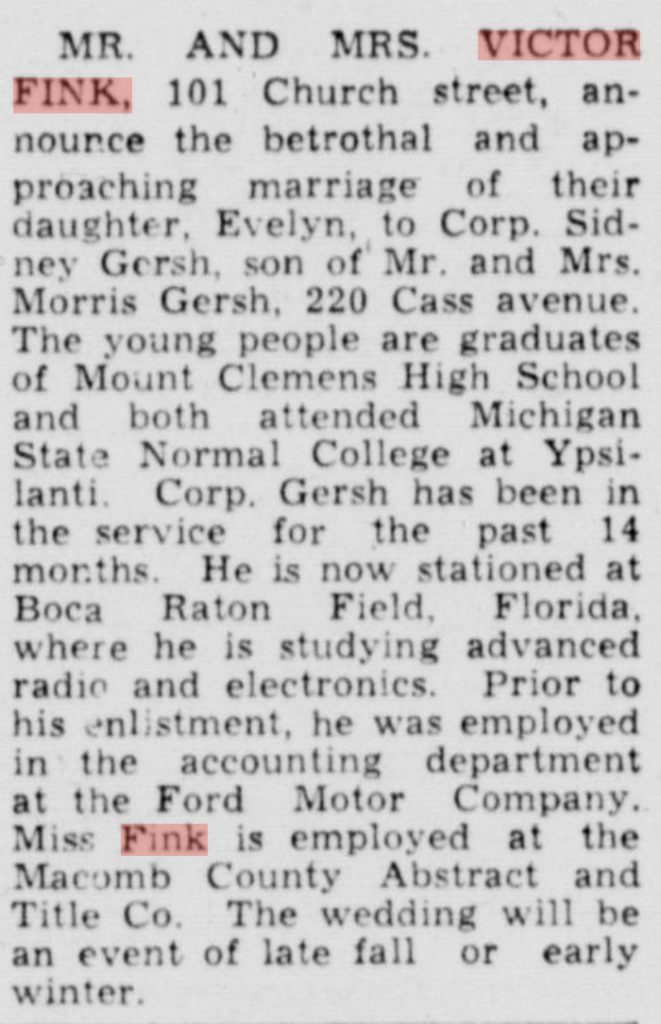 1943 Newspaper archive
Gladys (Fink) Stark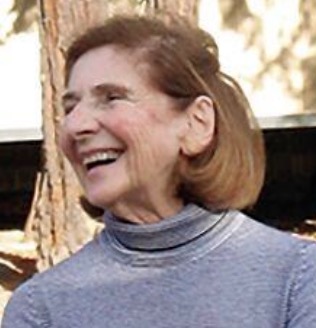 Born: December 27, 1922
Deceased: October 13, 2020 (Obituary)
Place of Birth: Detroit, MI
• Husband: Marvin Stark
• Children: Susan Stark (Jerry Scher), Richard Stark (Annarosa Tomasi)
• Grandchildren: Jacqueline Scher, Rebecca Stark, Jonathan Scher, Michael Stark, Mia Scher
• 1943 – Married Marvin Stark who became a second lieutenant in the US Army during World War II
• They moved to Los Angeles and attended UCLA
• Gladys became a teacher
• Marvin attended dental school at UCSF, and a fellowship at Harvard
• Founding members of Congregation Beth AM in Los Altos Hills, CA
• 1967 – Marvin took a position with Project HOPE and moved the family (3 children) to Cartagena, Columbia where Marvin led their dental team and Gladys taught English at a local school
• Gladys became a foreign student advisor at Santa Clara University and an ESL teacher at Evergreen Community College
1943 Newspaper archive

SIBLINGS & COUSINS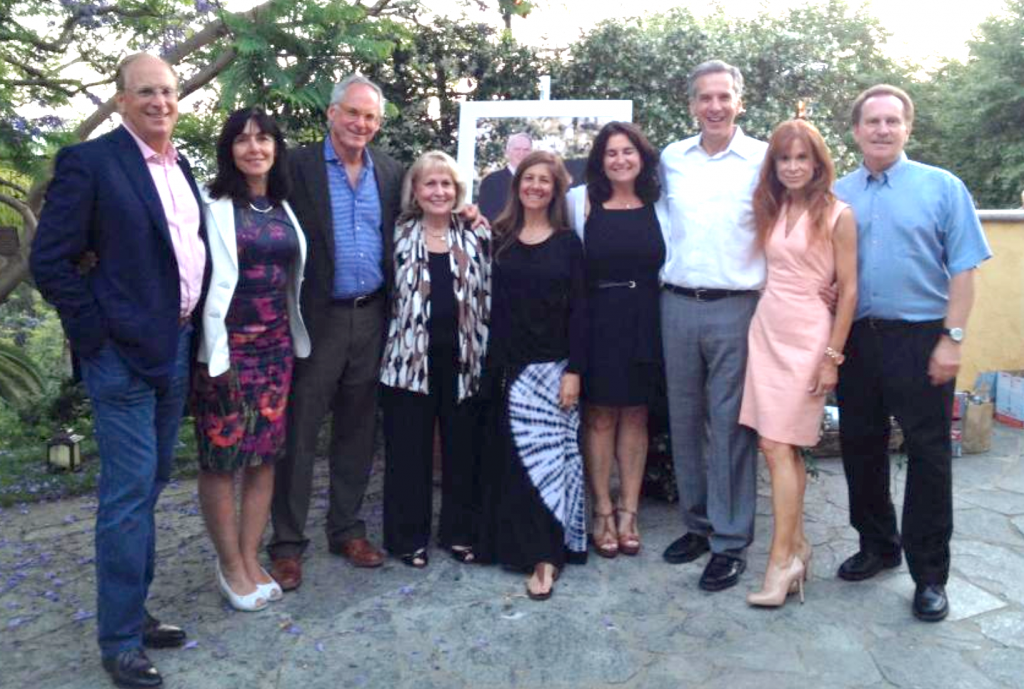 SISTER: Patricia A. (Fink) Richardson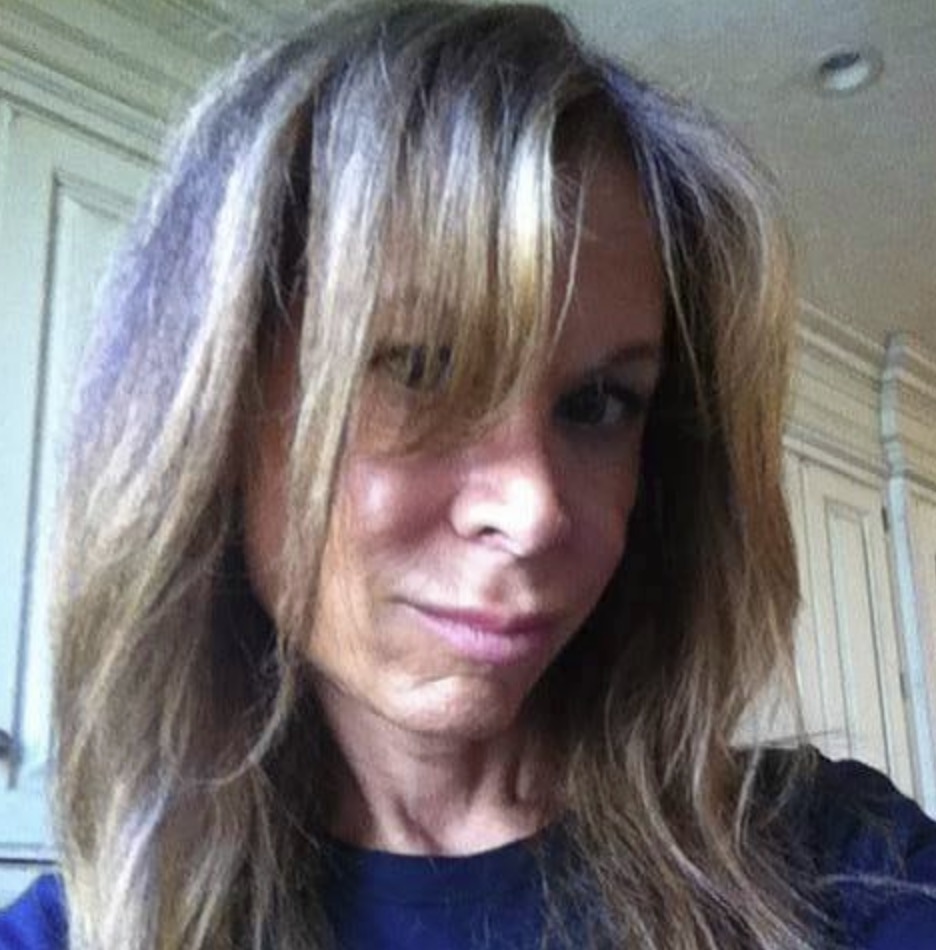 Born: August 7, 1958
• Husband: Dennis A. Richardson
• Children: Jessica Richardson and Catie Richardson
• Facebook
• Her daughter Jessica was recently employed by Federation Bio Inc., who received $50 million in funding in 2020. One long-time investor and original supporter is Venrock, which was founded by Laurance Rockefeller and his siblings in 1969 as the venture investing arm for the Rockefeller family. Emily Drabant Conley was appointed CEO of Federation BIO in 2020. She was previously vice president of business development at 23andMe.
Laurence Fink of BlackRock and Laurance Rockefeller of Venrock had much in common, and the Rockefellers are close with Fink. In fact, Fink was just in conversation with Gregory J. Fleming, President and CEO of Rockefeller Capital Management, at the Uniquely Rockefeller Special Client Event – Larry Fink, in 2021.
BROTHER: Steven Bryan Fink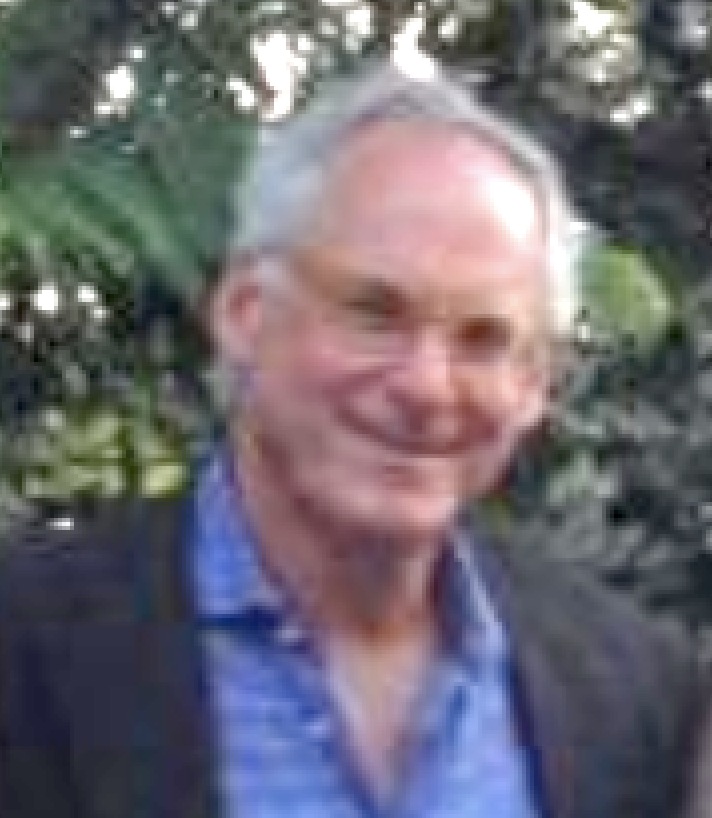 Born: January 18, 1951
• Married to: Catherine Mary (Furkioti) Fink, married in 1975
• Children: Jeremy Benjamin Fink, Alexandra Nicole Fink
• Facebook
• Work history consists of: operations, financial oversight, audit committee oversight, risk oversight, governance
• BS in psychology from UCLA, JD and LLM from NYU
• 1999-2009: Director of Leapfrog, Inc.
• He is listed as an officer on Mounte LLC, a Michael Milken company founded in 2006
• 2000-2008: CEO of Lawrence Investments, LLC (owned by Larry Ellison of Oracle)
• He has served as chairman and CEO of Anthony Manufacturing, chairman and managing director of Knowledge Universe (a Milken/Ellison company), chairman of Lexecon, chairman of Pillar Data, chairman of Life Storage, chairman and CEO of Nextera Enterprises, and has served on the board of the Herb Ritz Foundation, The American College of Physicians Foundation, and Stephen S. Wise Temple
• Deputy chairman of Heron International – a British property development company founded in 1957 by the Ronson family, came to prominence in the 1980s as the UK's second largest private company. It looks like they may have a division in Texas.
• Member of Getty Photographs Counsel
• Former National Museum of American History board member
• CEO of Malibu Ventures
• Fink joined as a director of K12 virtual charter schools (a Stride company) in October 2003 and currently serves as Chairman of the Audit Committee and is member of the compensation committee.
• Stride photo/bio here
• K12 Inc. was founded by Ron Packard, former Goldman Sachs executive, and William Bennett, former U.S. Secretary of Education, in 1999. Michael Milken invested $10 million out the gate. Larry Ellison was also an investor. They went public in 2007.
• In early 2020, after Covid hit the U.S. and virtual schooling became a thing, shares increased: Feb 3rd priced at $16, Aug $50, now trading around $30. On December 16, 2020, K12 Inc. became Stride Inc.
• One of the virtual schools is called "The Keystone School," in NY, which utilizes the same insignia as shown above under his father's section
• Under Stride's latest events and presentations, they hosted a Morgan Stanley Retail Meeting on June 23, 2021
• June 28, 2021: Founded Pedregal Vineyard LLC
Forbes 2012 article on Steven Fink that they failed to scrub:
Since there is a very good chance that the Forbes 2012 article on Steven Fink will be scrubbed, and the archive may also be removed, below is a screenshot of the full article. For the record, everything in this document, all links and sources have been archived, screenshot, and backed up. This particular article is very significant, so the full screenshot is displayed below.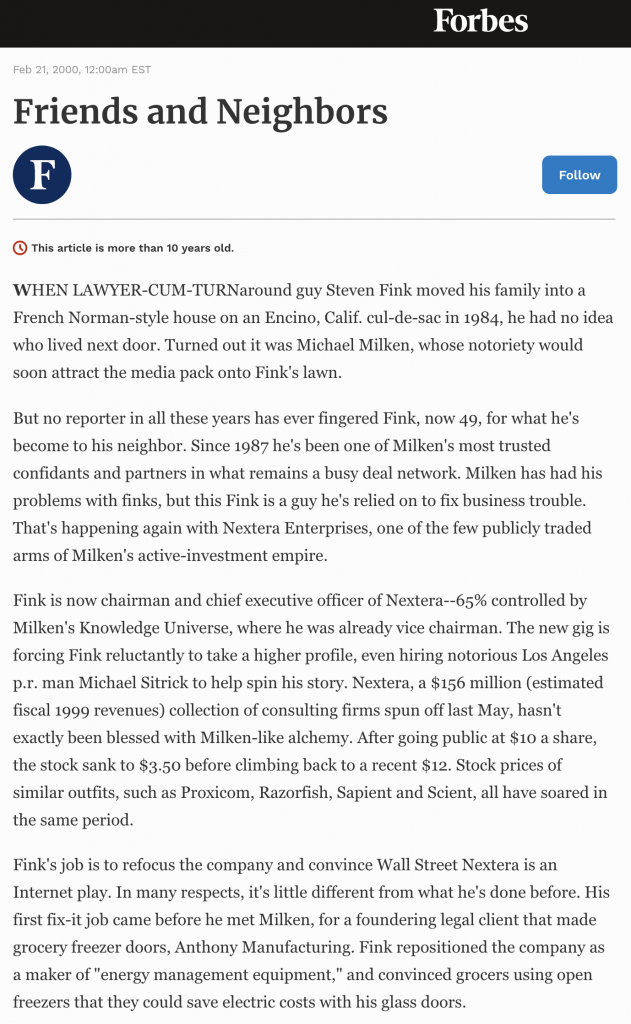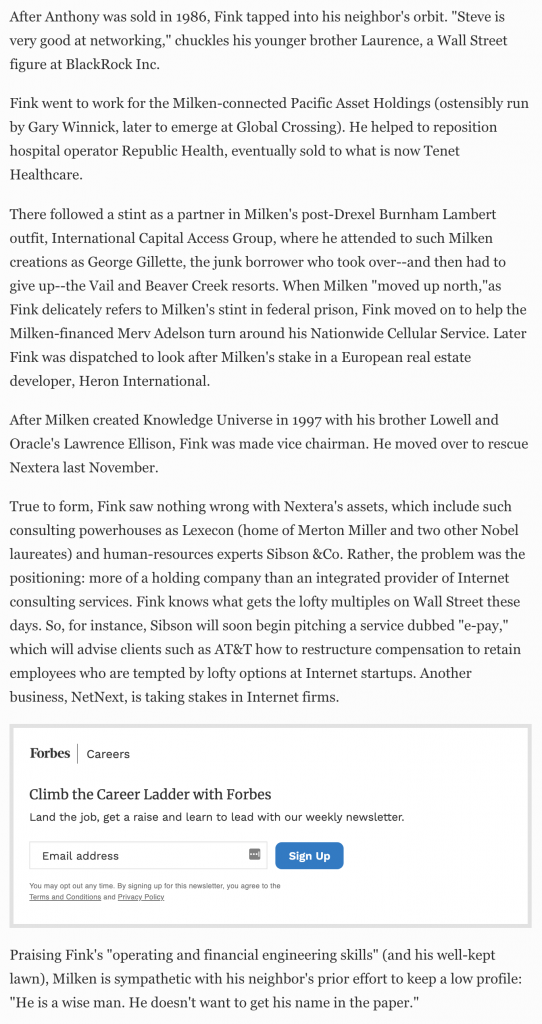 WIFE
Lori Jean (Weider) Fink
Born: September 7, 1954
• Father: Louis Weider, deceased June 26, 2016 (obituary)
• Mother: Bernice (Karpel) Weider
• Siblings: Deni, Daryl, Larry
• Children: Joshua, Tamara, Daniel
• Photo of Lori here
• 2009 – Named Chair of the board of directors of The Cancer Institute at NYU Langone
CHILDREN
SON: Joshua Aaron Fink
Born: February 20, 1978
Wife: Felipa (Perovic) Fink
The only family member that makes it into the spotlight, with exception of Larry Fink's wife Lori, is his son Joshua, and that's only because he's in the financial business.
• Photo and bio of Joshua here at the World Economic Forum's site
Articles and Info on Joshua Fink:
• 2011 – Wild Thing – Forbes
• 2012 – Larry Fink's Son Has A Cringe-Worthy Track Record As A Hedge Fund Manager – Business Insider
• 2012 – A Fink-ing Mess! – CNBC
• Computehealth co-Chief Executive Officer
DAUGHTER: Tamara Rachel (Fink) Goldman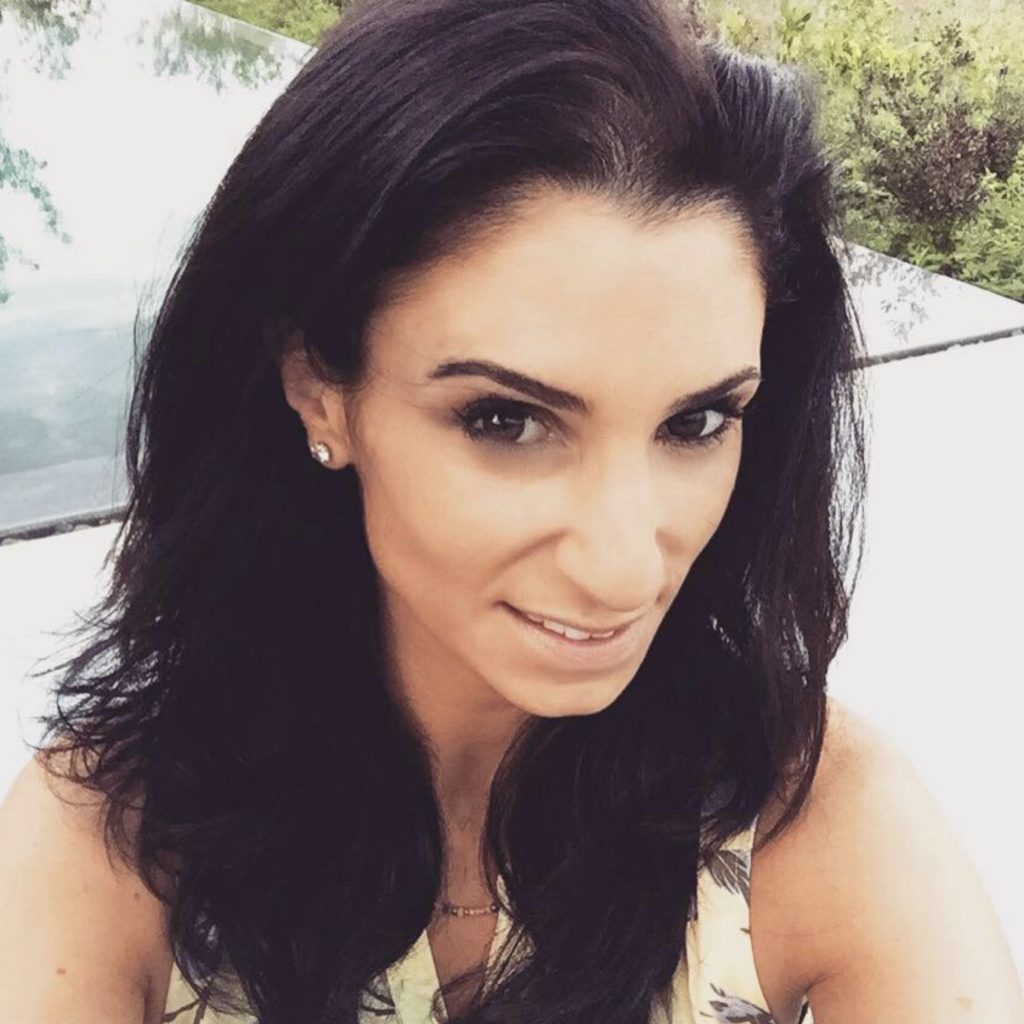 Born: February 28, 1980
• Husband: Darius Joseph Goldman, born January 4, 1978
• Facebook
SON: Daniel Joseph Fink
Born: August 15, 1983
• Wife: Erin Marie (McEllin) Fink
• Photo of Daniel here
Copyright Disclaimer Under Section 107 of the Copyright Act 1976, allowance is made for "fair use" for purposes such as criticism, comment, news reporting, teaching, scholarship, and research. Fair use is a use permitted by copyright statute that might otherwise be infringing.
This report was sponsored by The Solari Report.

Subscribe to Corey's Digs so you don't miss a Dig!