Attorneys Fight for Constitutional Rights Against Tyranny
First, they wanted everyone masked and stocked up on hand sanitizer, then came the toilet paper mania, and in short time states were mandating stay-at-home quarantines and "non-essential" business closures due to COVID-19. What began as a two-week quarantine, turned into weeks and months, and by May they had crashed the entire economy. Everything was blown out of proportion, including the potential death rate, sending a lightning bolt of panic through the country. With each week, more freedoms were stripped away, people's constitutional rights were stomped on, unjustified fines and arrests were being implemented against people who couldn't wear masks, those who attempted to open their business so they could feed their families, or those who wished to pray at church. In a matter of a few short months, the country was turned upside down and governors were abusing their authority.
Eventually, class action suits began in multiple states, citizens organized protests only to have their 1st amendment rights shut down due to "health concerns," by the same governors who promoted and attended George Floyd protests. Hundreds of other class action lawsuits against companies for committing fraud, failure to refund tickets, impact on voters rights, impact on employees, business interruption, impact on legal rights, schools, homeowners and other cases during COVID-19 were also filed. It is a lengthy list, well worth reviewing. In Western Pennsylvania, Giant Eagle supermarket is facing over 30 lawsuits for not allowing shoppers to enter who are not wearing masks due to disabilities. Lawsuits are likely to continue for months to come, as more and more people stand up for their rights.
Corey's Digs has reported extensively on the COVID-19 situation since it began:
COVID-19: Inside The Hospital & Why The Lockdown?
When The Masks Went On, Their Masks Came Off
Investigations & The Battle for a Vaccine: Where is This Headed?
PIH, Bobby Roush, and The Truth Behind Contact Tracing Surveillance
Protesters Provide Cover While The Country Bleeds
Historical Hypocrisy & Psychological Warfare
LAW & ORDER
In April 2020, Attorney General Barr said that the DOJ would support legal action if governors' restrictions go too far, and setup a hotline for people to report violations of civil rights: 866-720-5721, press 1. "We're looking carefully at a number of these rules that are being put into place, and if we think that goes too far, we initially try to jawbone the governors into rolling them back or adjusting them. And if they're not and people bring lawsuits, we file statement of interest and side with the plaintiffs. As lawsuits develop, as specific cases emerge in the states, we'll take a look at them" Barr said.
Aside from the hundreds of class action suits taking place, with or without the support of the DOJ, there are attorneys and state reps fighting for people's constitutional rights, that unfortunately don't seem to make it in the headlines. It's important that people spotlight these cases, especially those setting precedent, support those fighting for justice, and be aware that there are many avenues and resources for standing up for your rights. Submitting to fear and following the herd is not one of them.
CALIFORNIA
National Committeewoman of the Republican National Committee for California Harmeet Dhillon, refers to herself as a COVID-19 litigation warrior in her twitter profile. Founder of Dhillon Law Group, with offices in San Francisco and New York, Dhillon's focus is in employment law, first amendment rights, election law matters, and commercial litigation. There is a dedicated COVID-19 litigation page on her website, with 16 cases challenging Gov. Newsom, many of which are partnered cases with the Center for American Liberty and other law firms.
Dhillon Law Group website.
FLORIDA
Rep Anthony Sabatini, Florida state representative for District 32, has filed lawsuits in St. Johns County, Hillsborough county and Orange county for unconstitutional mandatory mask ordinances. He believes that making masks mandatory violates the law.
On July 3rd, Sabatini tweeted "If you are arrested or fined for not wearing a mask – call me and I will represent you for free.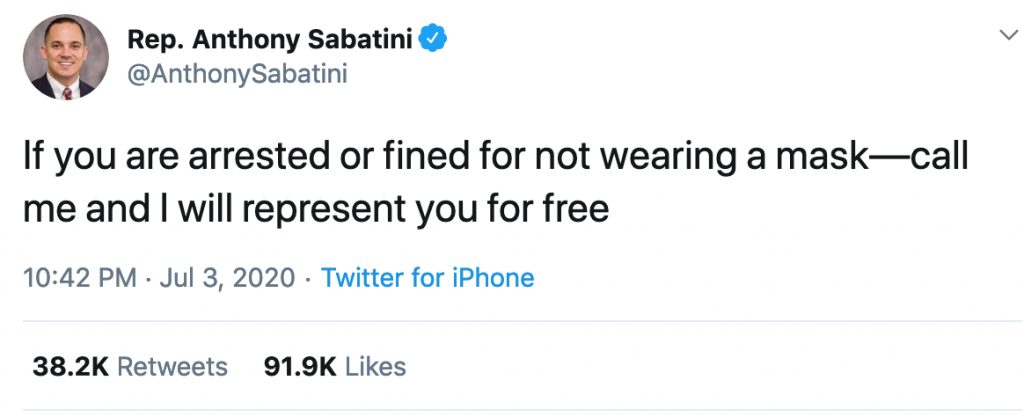 Sabatini can be contacted through the Florida House of Representatives contact page, or reached at 352-989-9100.
---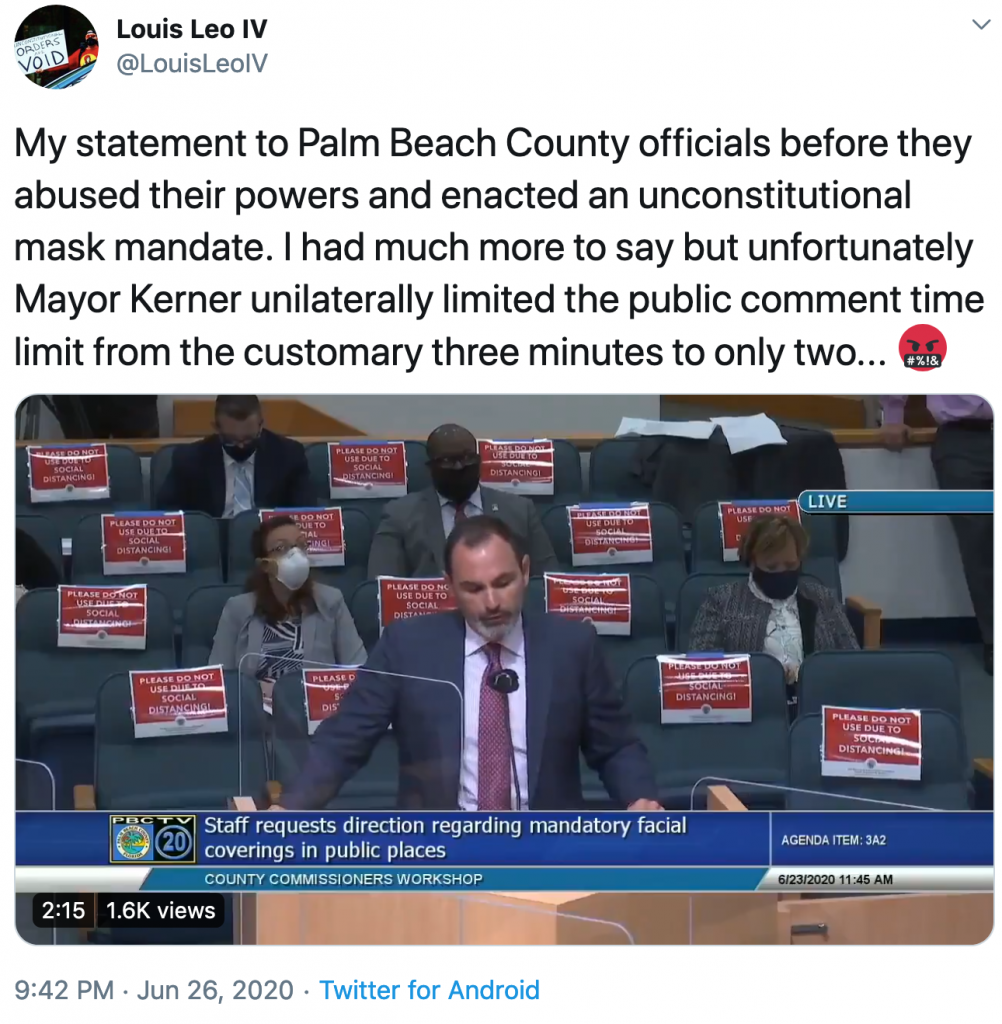 Founder of Florida Civil Rights Coalition, trial lawyer Louis Leo IV is representing residents in Palm Beach County Florida who are suing county commissioners for mandating masks that they allege have well-known risks and potential for serious injury and death. Leo believes that people need to be educated on pseudoscience, and has said "it's coming largely from unethical organizations who profit from sickness and eliminating, not just civil rights, but human rights under the guise of disease prevention. You know what you're doing is wrong."
In June, Leo and other attorneys successfully won their case against Miami-Dade County who had arrested and charged over 50 people for enjoying the beach while COVID-19 unconstitutional county emergency orders were in place. All charges were dropped against the defendants.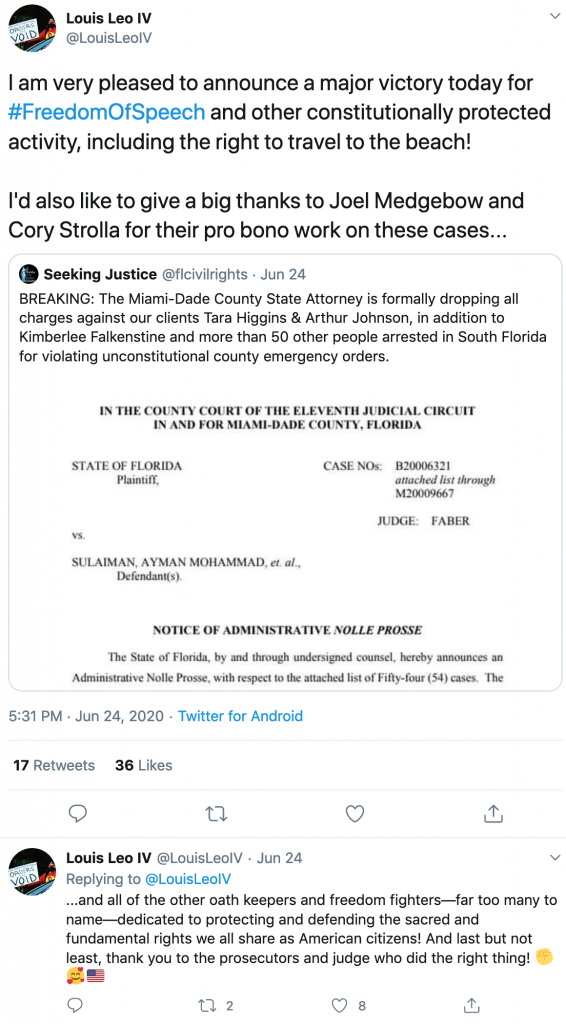 INDIANA
Arie Lipinski of Noel Law seeks to represent individuals who have been subject to fines and arrests over mandatory masks and other restrictions due to COVID-19, as well as small businesses and churches that have suffered due to shelter-in-place orders. Lipinski offers flexible fee arrangements, including contingency fees, and has worked pro bono on some cases pending circumstances.
Arie J. Lipinski
NOEL LAW
Carmel, Indiana
[email protected]
(317) 975-9754
TEXAS
Texas State Rep. Briscoe Cain has also stepped up to offer his services, tweeting out if you "get fined for not wearing a mask, I will gladly represent you. FOR FREE."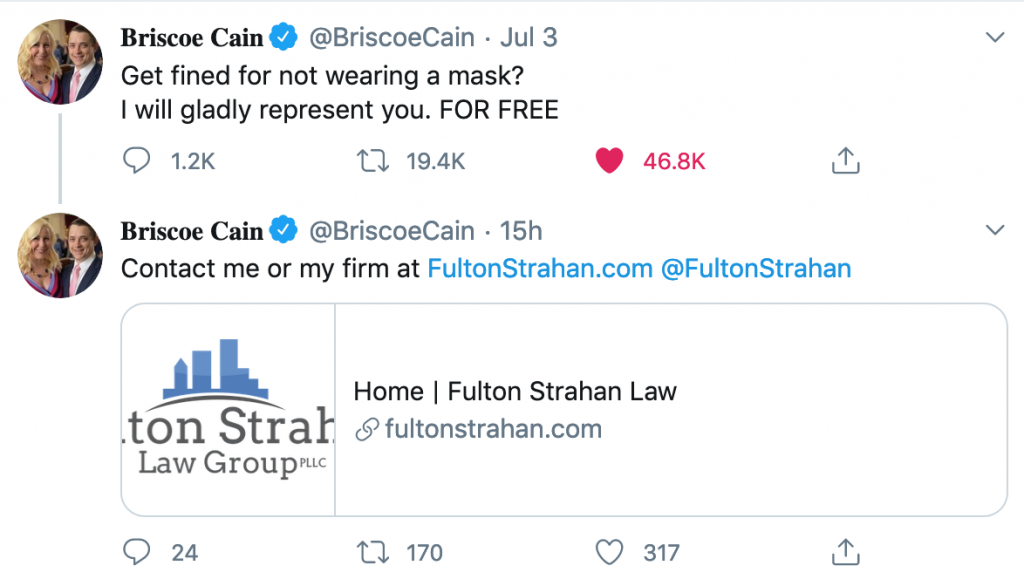 Cain can be contacted at his firm, here.
Several other attorneys have stated that they wish to help people, many for free, but are in the process of formulating an action plan, and have requested to be published in a future article once that is finalized.
If you are an attorney or state representative fighting for our constitutional rights against this tyranny, by fee or pro bono, please contact Corey Lynn to be included in future publications, so we can continue to challenge these injustices.
Know Your Rights & Powerful Tools
When it comes to the constitution and knowing your rights, no one spells it out more clearly than constitutionalist KrisAnne Hall. As a former prosecutor for the State of Florida, author of six books on the Constitution and Bill of Rights, and host of The KrisAnne Hall Show, her knowledge runs deep. She is president of Liberty First University and teaches people about the constitution, while also fighting for people's rights in the courts.
In the KrisAnne Hall Daily Journal Episode 1132, Hall explains the "Rights of the People vs Govt COVID Authority." It is a must watch VIDEO.
Hall has also provided flyers for individuals and businesses pertaining to mandatory masks. A larger scale version can be downloaded here.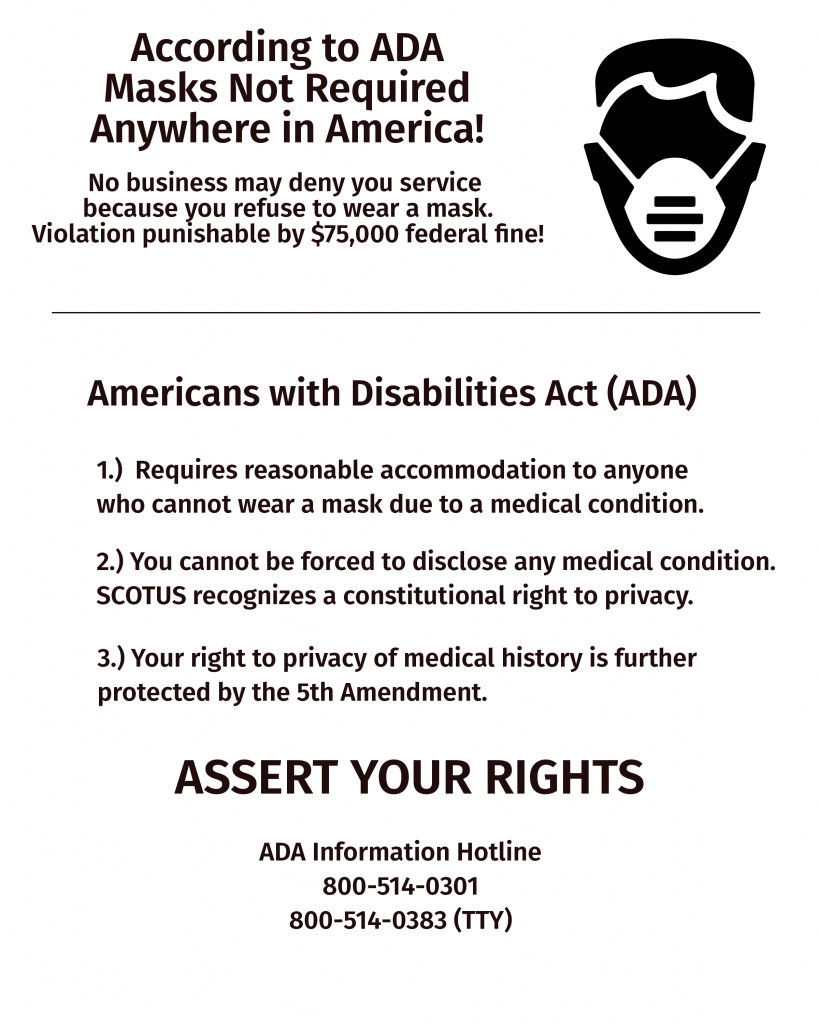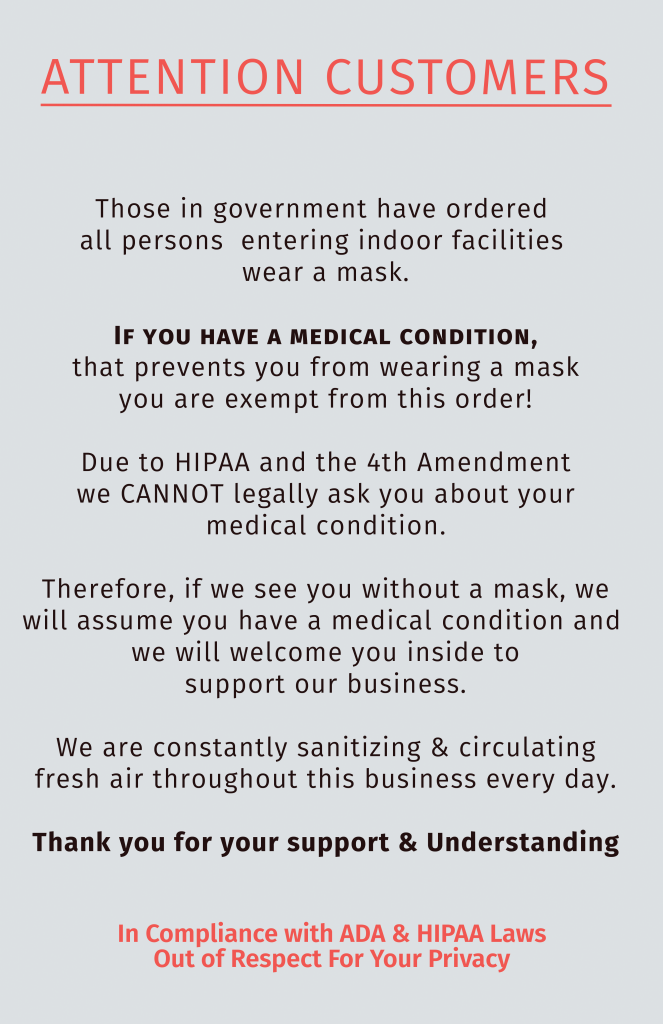 Another resource, the SSBAmerica website appears to provide some interesting legal templates and other resources that some may find helpful.
Stand Up For Your Rights or Lose Them
Corey's Digs recently published a report titled 'Let's Get Real Before Real Gets Us,' which is an important message, concluding that if we do not stand up for our rights now, we will give up all of our freedoms in the long run. This isn't about a health issue with a death rate of less than 0.05%, it is about a virus that has been politically weaponized to control the masses, strip away everyone's constitutional rights, and keep people in a state of panic and fear.
From day one, the Surgeon General told everyone that masks "are not effective in preventing general public from catching coronavirus." Many have forgotten this.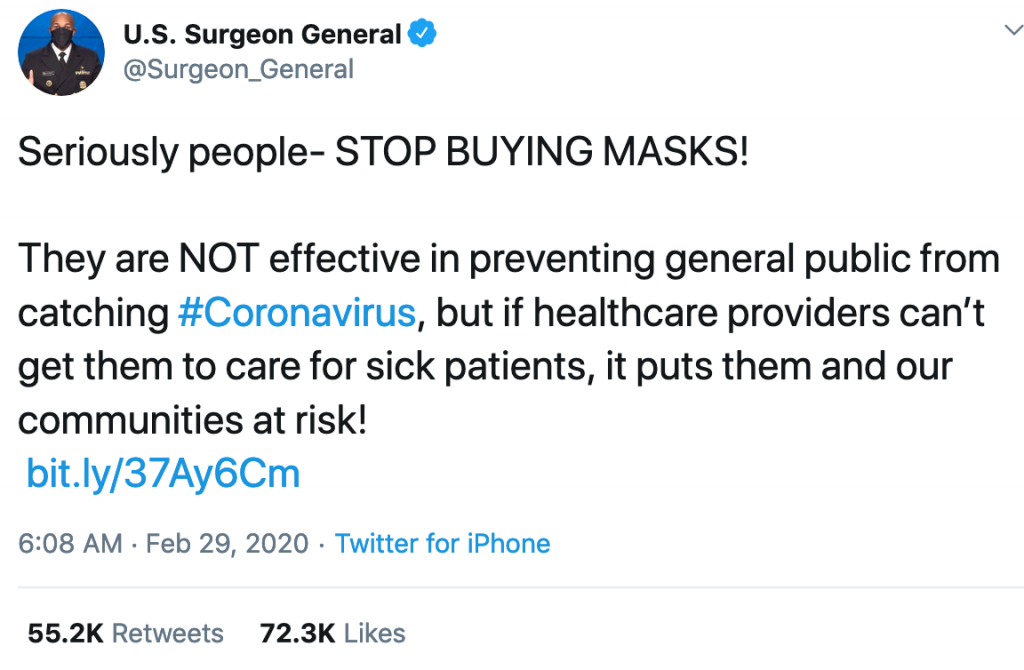 The CDC cannot even state that they have scientific proof that masks prevent the spread of COVID-19, and instead claim they could prevent spray and "droplets," which is why they state, "masks MAY help." Contrary to their "droplet" claim, Dr. Anthony Fauci said "there's no reason to be walking around with a mask. When you're in the middle of an outbreak, wearing a mask might make people feel a little better and it might even block "a droplet," but it's not providing the perfect protection that people think that it is. And often, there are unintended consequences – people keep fiddling with the mask and they keep touching their face." Even the World Health Organization stated that there is no evidence to show that masks prevent the spread of COVID-19. "In fact, there's some evidence to suggest the opposite in the misuse of wearing a mask properly or fitting it properly," executive director of the WHO health emergencies program said. The WHO later changed their tune when masks became a political agenda as riots ensued. So why are so many people buying into the fear tactics and unconstitutional mandates that governors are making?

The hypocrisy is so staggering, even the New York Times questioned why public health experts reversed course overnight to advocate for mass gatherings, after decrying the anti-lockdown protests as dangerous gatherings in a pandemic.
While churches still remain under restrictions and in the state of California no one is allowed to sing in church, even with their masks on, Black Lives Matter protests and riots are permitted to continue by the thousands. Bars, restaurants, small businesses, swimming pools and other outdoor activities still remain "non-essential" and a "threat to health" even though the curve has been flattened and the death rate remains lower than 0.05%.
Recently, Senator Dr. Scott Jensen, a family practice doctor of 40 years, came under attack by the political agenda surrounding COVID-19, and is now being investigated by the state's medical practice board for "spreading misinformation about the coronavirus." He spoke out about it on July 5, 2020.
It's time to speak loudly, stand up for your rights, and fight for your constitutional freedoms before they are completely taken away from you.