Measles, Masterminds & Millions Part 3
The measles "outbreak" is about a lot more than just measles. In Part I of this 6-part investigative report, we covered the masterminds behind the Vaccines for Children program, which was created by the Clintons back in 1994. Part 2 broke down the discrepancies and misrepresentations in reporting, as well as provided over 100 statistics extracted from the CDC, WHO and HHS reports. Part 3 will detail how the vaccine compensation program works, vaccine safety, Obama's involvement, and more staggering statistics.


• The group that controls the vaccine industry narrative is funded by pharmaceutical companies
• Obama signed the 21st Century Cures Act on December 13, 2016, which included several amendments to the National Childhood Vaccine Injury Act of 1986, by adding additional vaccines for pregnant women to the Vaccine Injury Compensation Trust Fund – for starters
• Between 2006 to 2017 over 3.4 billion doses of vaccines were distributed in the U.S., which is over 309 million doses per year – paid for by taxpayers


The Vaccine Compensation Program Has Doled Out $4.1 Billion and Obama Added More Vaccines To Government Protected List in Dec. 2016
In 1986 the government established a federal no-fault system to compensate victims of injury caused by vaccines after Congress passed the National Childhood Vaccine Injury Act (NCVIA). They created an excise tax, which supports this Federal program while relieving drug companies of liability for the side effects from vaccines. This translates to taxpayers picking up the tab on all petitions filed for injury or death from vaccines, and settlements agreed upon through the Vaccine Injury Compensation Trust Fund. To date, taxpayers have paid $4.1 billion in settled claims. Who oversees this?
• U.S. Department of Health and Human Services (HHS) hosts the Program, conducts medical reviews of petitions, and makes Court-ordered compensation payments;
• U.S. Department of Justice (DOJ) represents HHS in Court; and
• U.S. Court of Federal Claims (the Court) makes the final decision regarding whether a petition is compensated and the type and amount of compensation.
It is important to note that once an individual files a petition with the U.S. Court of Federal Claims, HHS has a medical staff review the petition to determine if it meets medical criteria for compensation. The DOJ then develops a report that includes the medical recommendation and legal analysis, and submits it to the court. It finally makes its way to a court-appointed special master, who decides whether the petitioner should be compensated, which generally takes place after a hearing in which both parties present evidence. The special master determines the amount and type of compensation, if awarded. In some cases where the petition is dismissed, they court (taxpayers) may pay attorneys' fees and costs. In short, it is a process that can take quite some time to reach finality.


In the 1989 Schedule of Present Federal Excise Taxes by The Joint Committee on Taxation, they broke down the fees on vaccines.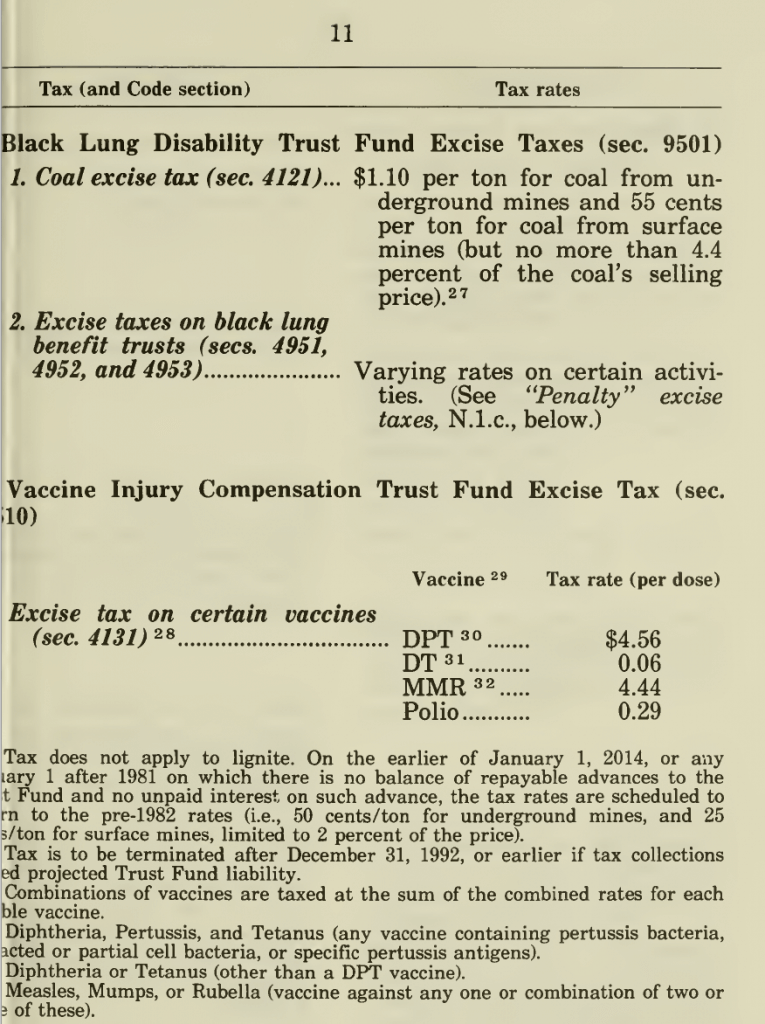 Tax Rate Per Dose:
DPT – $4.5
DT – $.06
MMR – $4.44
Polio – $.29
Here's what makes this so interesting. According to The New York Times article published on March 15, 1993, they stated the following:
While the excise tax accounts for almost half the price of the $10 whooping cough vaccine, it explains only 29 cents of a $9.91 polio shot; there is no excise tax on the new vaccines. The tax on each vaccine is determined by the predicted rates of serious side effects.
Let's repeat that: "The tax on each vaccine is determined by the predicted rate of serious side effects." Based on that rate structure, that would certainly give the impression that the whooping cough vaccine had once been determined to have a higher rate of side effects.
As of April 2019, the CDC's vaccine complete price list indicates five excise tax categories: $0.75, $1.50, $2.25, $3.00, and $3.75. Though, they state that "each dose" or "disease prevented" is taxed at $0.75, so the MMR II for example, has a $2.25 excise tax because it covers three diseases (mumps, measles, rubella).
In 2012, the CDC began recommending the whooping cough vaccine be given to pregnant mothers. They declare it is life-threatening to newborns and up to 20 babies die each year in the United States due to whooping cough. To put this in perspective, in 2011 the WHO claimed that 3.3 million babies die in the first four weeks of life, worldwide. In a 2017 press release from the CDC, they claimed that only 49% of pregnant women who delivered between fall 2015 and spring 2016 received the vaccine, and that five to 15 babies die from whooping cough in the United States each year. So is it "up to 20" or "five to 15"? More discrepancies.
The bigger question is, what compelled former president Barack Obama to enact The 21st Century Cures Act (Public Law 114-255) on December 13, 2016, just before leaving the White House? This act made several amendments to the National Childhood Vaccine Injury Act of 1986, which include:
• Expand the Vaccine Injury Compensation Trust Fund coverage to include new categories of vaccines that previously were not covered by the VICP: vaccines recommended by the CDC for routine administration to pregnant women (but not for routine administration in children) and subject to a federal excise tax. See Section 3093(c)(1) of P.L. 114-255.
• Make clear that vaccine-injury claims may be filed both with respect to injuries alleged to have been sustained by women receiving covered vaccines during pregnancy and with respect to injuries alleged to have been sustained by live-born children who were in utero at the time those women were administered such vaccines. See Section 3093(c)(2), (3) of P.L. 114-255.
*Source: Public Health Service Act – House Office of the Legislative Counsel (PDF – 4.3 MB)


Why was it important to add these vaccines to the list? This again, protects the manufacturer of the vaccines from liability and puts full responsibility on the government, otherwise known as taxpayer dollars. The CDC recommends pregnant women receive the whooping cough vaccine, flu shot, and possibly Hepatitis A or B or travel related vaccines. Back in 1989, they assessed the whooping cough to have a higher rate of side effects. That said, it brings into question if there could be any relation to the increase in mothers dying during childbirth – an issue often used by pro-abortion advocates to push their agenda. Ironically, while mothers are dying during childbirth, men have seen an enormous decrease in testosterone over the past 40 years, which has lead to a 50% decrease in sperm count, and scientists don't seem too interested in finding out why that is.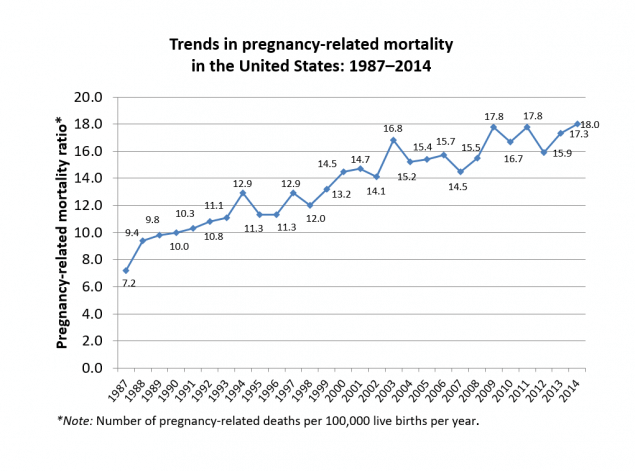 It should be noted that the 21st Century Cures Act that was enacted by the Obama administration on December 13, 2016 covers far more than the amendments listed above. It was an Act to accelerate the discovery, development, and delivery of 21st century cures, and for other purposes. It authorized $6.3 billion in funding, mostly to the National Institutes of Health (NIH).
The Health Resources & Services Administration has a "Vaccine Injury Table" which applies only to Petitions for Compensation Filed under the National Vaccine Injury Compensation Program on or after March 21, 2017. It is the most updated table, which was revised on March 21st. It states: Injuries, disabilities, illnesses, conditions, and deaths resulting from the administration of such vaccines, and the time period in which the first symptom or manifestation of onset or of the significant aggravation of such injuries, disabilities, illnesses, conditions, and deaths is to occur after vaccine administration for purposes of receiving compensation under the Program.



How Many Petitions Have Been Awarded Compensation?
According to the CDC, just from 2006 to 2017 over 3.4 billion doses of covered vaccines were distributed in the U.S. For petitions filed in this time period, 6,253 petitions were adjudicated by the Court, and of those 4,291 were compensated. This means for every 1 million doses of vaccine that were distributed, 1 individual was compensated.
Since 1988, over 20,522 petitions have been filed with the VICP. Over that 30-year time period, 17,772 petitions have been adjudicated, with 6,465 of those determined to be compensable, while 11,307 were dismissed. Total compensation paid over the life of the program is approximately $4.1 billion, which includes 483 claims of injury or death against the MMR vaccine. Download the full report. They also provide monthly reports of the vaccine injury trust fund through the TreasuryDirect site.



What Is The Vaccine Adverse Event Reporting System (VAERS)?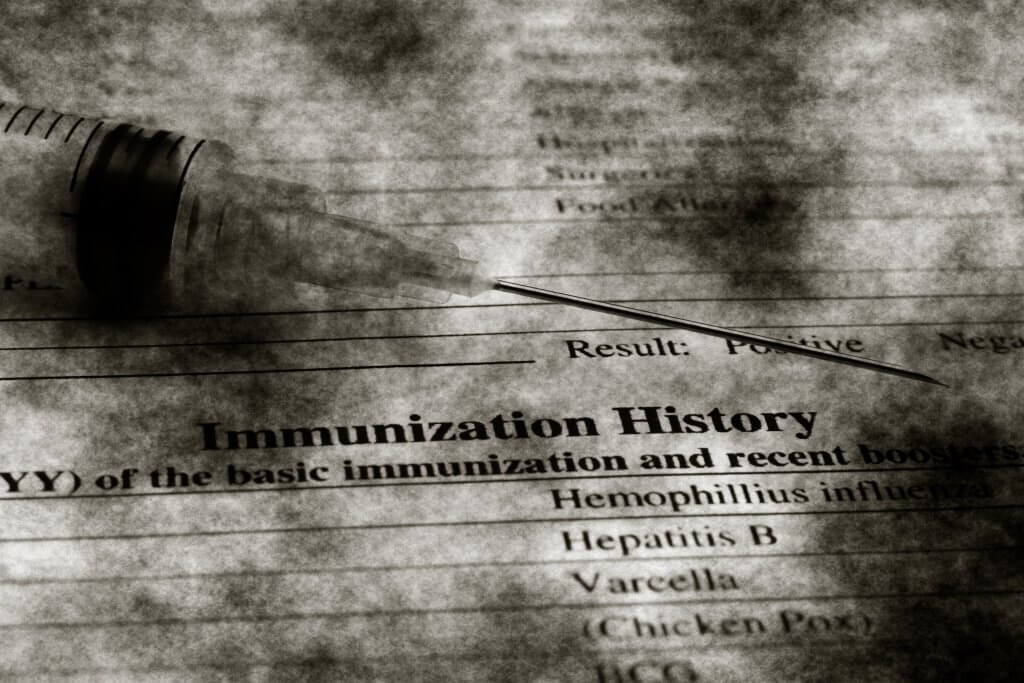 The Vaccine Adverse Event Reporting System (VAERS) database contains information on unverified reports of adverse events (illnesses, health problems and/or symptoms) following immunization with US-licensed vaccines. Reports are accepted from anyone that gives or receives a vaccine, and can be submitted electronically at VAERS. It was originally created in 1990 for the purposes of the U.S. to monitor increases in known side effects, identify patient risk factors, and assess the safety of newly licensed vaccines.


Some key facts about the VAERS System:
• It was created in 1990
• Healthcare providers are required by law to report any conditions on the RET to VAERS, and "encouraged" to report clinically significant or unexpected events following vaccination. The Reportable Events Table (RET) lists conditions believed to be caused by vaccines, which is used by the National Vaccine Injury Compensation Program, operated by the U.S. Health Resources and Services Administration
• Approximately 30,000 reports are received annually according to the CDC. According to NCBI, between 2011-2014, of the 30,000 reports 7% were classified as serious, healthcare professionals submitted 38% of reports, vaccine manufacturers 30%, patients & parents 14%
• A study on the VAERS system by The Agency for Healthcare Research and Quality concluded that between December 2007 and September 2010 less than 1% of vaccine related events were being reported to VAERS
• It is managed by the CDC and FDA
• According to the CDC, 85-90% of the reports describe mild side effects, and the remainder are classified as serious; hospitalization, permanent disability, life-threatening illness, or death
• There is a minimal amount of direct public reporting because not many people are aware of VAERS
An Example Search: The MMR + Merck & Co. as the only 2 items selected for displaying adverse reports, turns up 68,760 events. When running these searches, one can click on the "events reported" to have it display in descending order to see the highest number of similar reports first.
What happens with all of this information that is collected?



Oversight: The Vaccine Safety Partners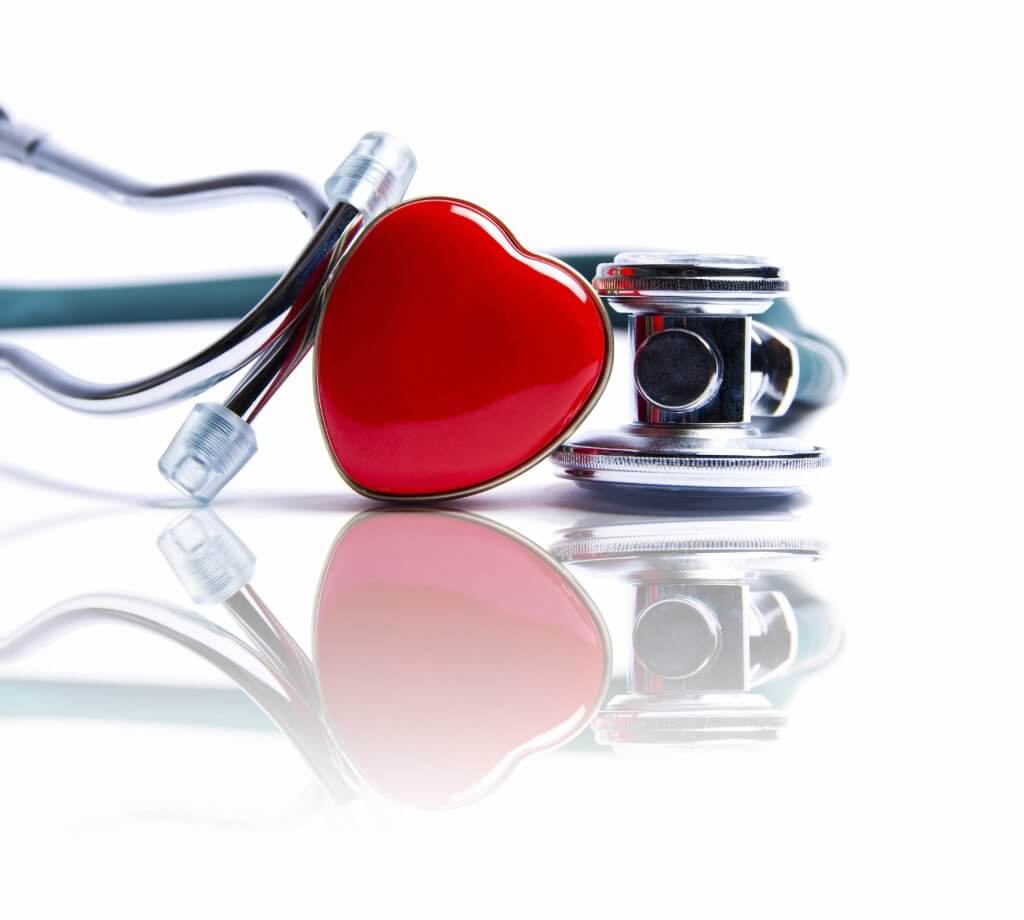 The CDC works in partnership with federal, state and local agencies, as well as private entities to monitor and communicate about the safety of vaccines.


Who Are The Partners and What Are They Responsible For?
• Food and Drug Administration (FDA) Center for Biologics Evaluation and Research: They regulate vaccine clinical trials, license vaccines, and monitor safety after public begins using the vaccine
• Health Resources and Services Administration (HRSA): They run the National Vaccine Injury Compensation Program and the Countermeasures Injury Compensation Program
• National Institutes of Health (NIH) Clinical Trials: They maintain ClinicalTrials.gov, a database of clinical studies involving people, including vaccine studies
• National Vaccine Program Office (NVPO): They coordinate and ensure collaboration among the many Federal agencies involved in vaccine and immunization activities
• Vaccine Safety Coordinators (VSCs): They serve as the "eyes and ears" for CDC on vaccine safety issues in their local areas
Two Non-government Partners:
• Immunization Action Coalition (IAC): They create and distribute immunization educational materials for health professionals and the public. They also facilitate communication about vaccines between patients, parents, health care organizations, and government health agencies
• Institute for Safe Medication Practices (ISMP): They provide resources and tools for preventing medication errors and promoting safe medication use


These groups all work together with the CDC's Immunization Safety Office (ISO), who is responsible for reporting to the Advisory Committee on Immunization Practices (ACIP). What is this committee responsible for? They develop the recommended vaccine schedule for children and adults in the U.S. They are in charge of considering the safety and effectiveness prior to making recommendations to the vaccine schedule, or making necessary changes to it. When determining the evidence for recommendations, the ACIP uses a 4-page framework of Q&As.
The ACIP's current Chair is José R. Romero, MD, FAAP from the Arkansas Children's Hospital Research Institute in Little Rock, AR. The Executive Secretary is Amanda Cohn, MD who is with the CDC. The members consist of 15 individuals from various universities such as Vanderbilt University School of Medicine, Duke University School of Medicine, and Baylor College of Medicine, to name a few. There are also Ex Officio members and liaison representatives which include physicians, health insurance groups, Sanofi Pasteur pharmaceutical manufacturer, the Canadian National Advisory Committee on Immunization, and Planned Parenthood, just to name a handful.
Merck & Co. makes vaccines for 9 of the 15 diseases the Advisory Committee on Immunization Practices recommends for children, which is more than any other company. They are also the exclusive manufacturer of the MMR II vaccine for measles, mumps, and rubella, that is generally distributed in two doses. Maurice Hilleman developed the MMR vaccine and it was licensed for use by Merck in 1971.
Merck & Co. recently pulled out of a long-term agreement to supply millions in RotaTeq vaccines for rotavirus to West Africa. Why? Because they are going to make 10 times that amount, selling their vaccines to China.
Who is the Immunization Action Coalition (IAC) that partners with the government? Based in Saint Paul, MN, the IAC launched in 1994, the same year the Clintons had launched the mandatory free Vaccines for Children program after campaigning on it. A member of the WHO-led project Vaccine Safety Net (VSN), and working closely with the CDC, it boasts three websites, hundreds of publications, and produces, updates, and distributes more than 250 separate educational pieces on vaccines. Their site receives more than 5 million downloads annually. Basically, they are in control of the narrative for the vaccine industry.
Who funds them? They are funded by pharmaceutical companies, pharmacies, health plans, hospitals, immunization coalitions, United Way donors, subscribers, and website visitors. In 2018, AstraZeneca, GlaxoSmithKline, Merck Sharp & Dohme Corp., Pfizer Inc., Sanofi Pasteur, and Seqirus were all donors.
Who is the other non-government nonprofit partnered with the U.S. government? The Institute for Safe Medication Practices (ISMP), located in Horsham, PA, with International locations in Canada, Spain, and Brazil, also officially launched in 1994 but had begun publications as early as 1975.
They claim to be the only 501c(3) nonprofit organization devoted entirely to preventing medication errors. They run the only national voluntary practitioner medication error reporting program, publish newsletters with real-time error information, and offer educational programs, tools, and guidelines. They provide resources and tools for preventing medication errors and promoting safe medication use to the "Vaccine Safety Partners" listed above.


Some Highlights:
• 1991 They created the National, confidential, and voluntary medication error reporting program (MERP) in coordination with the United States Pharmacopeia (USP) which was founded in 1820, is located in North Bethesda, MD, and has subsidiaries in India and Shanghai
• 1992 Their President Michael R. Cohen appeared on Dateline NBC to discuss fatal medication errors
• 1994 Officially incorporated, first global conference was convened, and the administration of error reporting program was transferred to USP and became the ISMP National Medication Errors Reporting Program (ISMP MERP)
• 1995 ISMP's website went live
• 1996 Became the founding member of the National Coordinating Council for Medication Error Reporting and Prevention (NCC-MERP)
• 1997 ISMP founded Medical Error Recognition and Revision Strategies (Med-ERRS) as a subsidiary that works with drug companies to predict problems with names, labels, and packaging
• 1999 ISMP staff met with President Clinton and participated in the White House press briefing to announce ISMP's partnership with the American Hospital Association (AHA) in a national initiative to help hospitals examine and improve medication safety
• 2008 Launched ConsumerMedSafety.org to alert healthcare consumers to specific drug safety issues
• 2012 Launched the ISMP National Vaccine Error Reporting Program (ISMP VERP) which submits all data to the VAERS system


Their VERP website states that it was developed in cooperation with the California Department of Public Health Immunization Branch and is operated by ISMP. This reporting is strictly for wrong dose, wrong vaccine, wrong patient, etc. – human error.
ISMP has a diverse group of donors from friends and patrons to the health and pharmaceutical industry.



In A Nutshell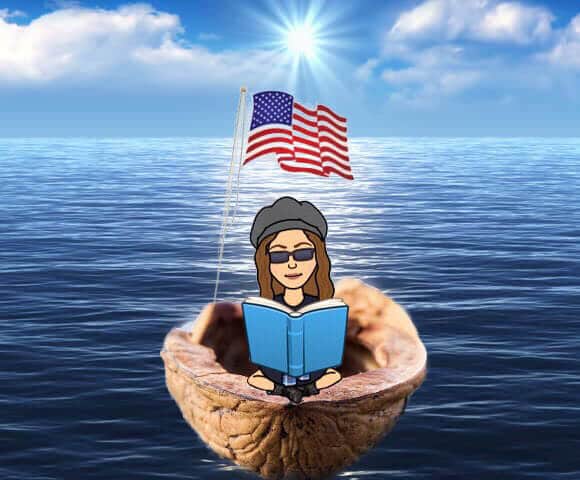 In a nutshell, taxpayers not only foot the bill for the vaccines, they also assume all liability for vaccine injuries and deaths while protecting the manufacturers, and the government simply manages our funds. The narrative is controlled by the pharmaceutical industry itself, which runs through a coalition working directly with our government. The VAERS reporting system is not widely known to the public and physicians may not be reporting all adverse events. The data that is collected and submitted to the vaccine safety partners, flows over to the committee who determines which vaccines should go on the "vaccine schedule." This committee is made of up MDs from universities, and many universities get paid to do vaccine research. That's the reality of how the vaccine industry works, which is why the battle for transparency, accountability, and additional safety measures has been an uphill battle, to say the least.
Here is a link to vaccine package inserts for most of the vaccines in the U.S., including Merck's MMR II, and this is a pdf of the physical package insert for the MMR II.

CLICK HERE for part 4: "The Clintons, Big Pharma and Government Taking It To The Bank"