Exclusive Film Premiere + Health Freedom Summit Relaunch June 10-13, 2022
You don't want to miss this FREE 4-day online event! If you missed the Health Freedom Summit with over 30+ fantastic speakers, now is your chance.
Kicking off the summit is the world premiere of Claire Dooley's film, Between Peace and War: An Insider Look at the People's Convoy, a movement-defining documentary highlighting the working class heroes of this modern day fight against medical tyranny.
Watch The Trailer
Free 4-Day Online Event – June 10-13, 2022
In a new age of bio-terrorism, what can we learn from WWII and the patriots that gave us Rosie the Riveter, The Manhattan Project, and Victory Gardens?
For starters, we must realize that evil is never defeated alone. This new war must be fought in collaboration with others—and know that the fighting spirit is just as contagious as any virus.
In the Health Freedom Summit, speakers like Dr. Peter McCullough, (the most published scientist on Sars-Cov-2) Dr. Pierre Kory, and Dr. Christina Parks reveal agendas within the medical-industrial complex and warn that decisions within the sacred patient/physician relationship can never again be politicized.
Robert F. Kennedy Jr., Jeff Witzeman, Thomas Renz, Mary Holland, Pam Popper, and Peggy Hall, share landmark lawsuits showing how they're successfully countering declared states of emergency.
I invite you to join me for a strategy event designed to inform and equip as many people as possible as we pass landmark legislation and take community action to ensure our rights are never turned into privileges again.
Day 1: Exclusive film premiere of Between Peace and War: An Insider Look at the People's Convoy
Day 2: Health & Science
Day 3: Culture & Mindset
Day 4: Strategy
Be sure to catch Corey Lynn and Alana Newman's discussion on day 4!
Incredible Lineup:
Dr. Peter McCullough
Dr. Pierre Kory
Robert F. Kennedy Jr.
Jeff Witzeman
Dr. Christiane Northrup
Del Bigtree
Dr. Craig Turczynski
Dr. Stephanie Seneff
Dr. Paul Thomas
Dr. Christina Parks
Eddie Stone
Naomi Wolf
Kevin Jenkins
Connor Boyack
Mary Holland
Peggy Hall
Anthony Luzcak
Alex Newman
Benny Wills
David Whitehead
Monica Smit
Kari Bundy
James Patrick (Planet Lockdown)
Dr. Robert W. Malone
Dr. Stella Immanuel
David Whitehead
Erin Elizabeth
Dr. Joseph Mercola
Bishop Athanasius Schneider
Pam Popper
Peter Breggin
Woody Jenkins
Ted Kuntz
Dr. Kathy Willis
Grab the complete Speaker Guidebook for detailed descriptions here.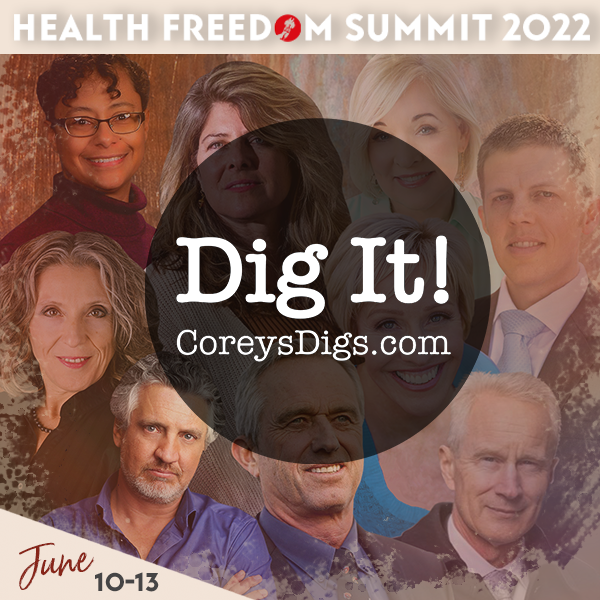 Subscribe to Corey's Digs so you don't miss a Dig!