Don't Let Your Mortgage Servicer "BlackRock" You with Verint's Scary ESG Survey + BlackRock Under Fire
It's no secret that BlackRock CEO, Larry Fink, has been the key driver in pushing financial institutions and companies into "changing their behavior" and how they operate so as to comply with the grand ESG scheme. Environmental, Social, and Governance are the buzzwords making their way into every major corporation, and some states aren't on board with this. More on that in a moment.
While this heated debate is transpiring, New York Community Bank just acquired Flagstar Bank, both whose top shareholder is BlackRock, and both of whom service millions of residential mortgages and multi-family lending for non-luxury apartments. Of course they want to work ESG into their new control model, so they brought on scandalous Verint to provide the framed "survey" intended to manipulate people into adopting their plan. The questions on the so-called survey, aren't questions at all, as seen below in this article. If there was ever an example of how BlackRock and other financial institutions and companies are trying to force this agenda, this is it.
The Banks
Flagstar Bank was founded in 1987 and established Flagstar Bancorp, Inc. holding company in 1993. They are headquartered in Troy, Michigan. They are the 7th largest bank originator of residential mortgages, the 5th largest sub-servicer of mortgage loans nationwide, and the 2nd largest mortgage warehouse lender nationally, based on total commitments. Flagstar operates 395 branches in nine states, while it's mortgage division operates nationally, working with a network of 3,000 third-party mortgage originators. They service 1.4 million accounts with $360 billion in unpaid principal balances.
Flagstar Bancorp Inc.'s top shareholders are BlackRock Fund Advisors at 13.62% and The Vanguard Group, Inc. at 10.37%.
New York Community Bank was founded in 1859 as Queens County Savings Bank and changed its name in 2000. In 1993 they became a public company and in 2000 began acquiring other banks and has $88.4 billion in assets and $66 billion of loans. They are the 2nd largest multi-family portfolio lender in the country and lead the industry in New York City. They specialize in rent-regulated, non-luxury apartment buildings.
New York Community Bancorp Inc.'s top shareholders are BlackRock Fund Advisors at 10.36% and The Vanguard Group, Inc. at 9.37%.
The Acquisition and The So-Called "Survey"
In April, 2021, Flagstar announced that New York Community Bancorp, Inc. was going to acquire Flagstar Bancorp, Inc. in an all stock strategic merger, giving the new company over $87 billion in assets with 400 branches in 9 states and 87 loan offices in 28 states. The new headquarters will be on Long Island, N.Y. with regional headquarters in Troy, MI.
On November 22, 2022, Flagstar sent out an email to all of its customers requesting they fill out a "short survey" that consisted of 23 questions about financial, environmental, social, and corporate governance issues (ESG). This framed survey was produced by Verint Systems, Inc., a scandalous company, whose top shareholders also consist of ESG-pushing BlackRock, in addition to Vanguard.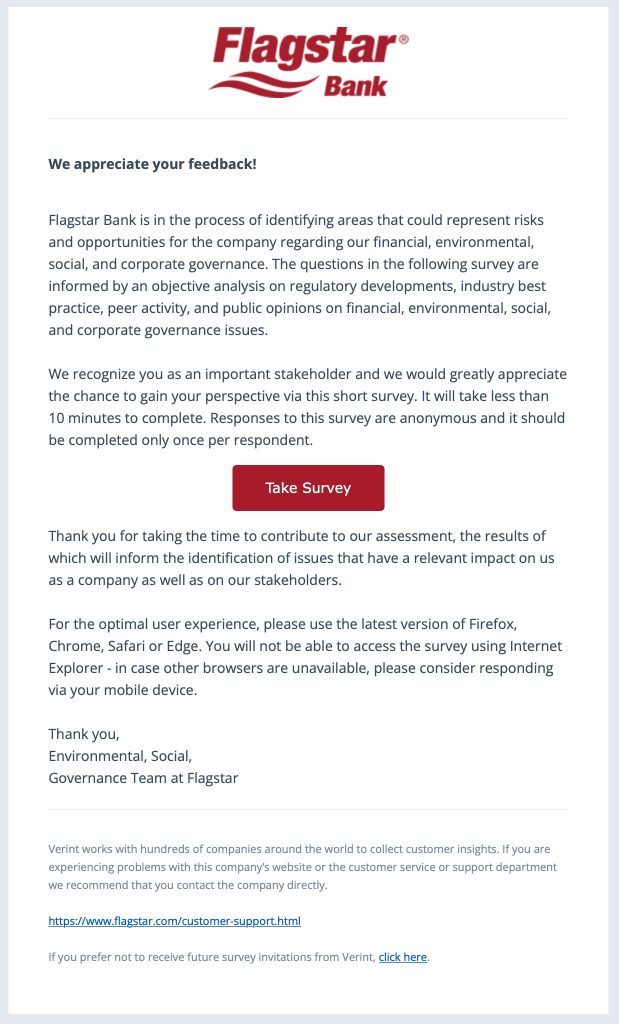 On December 1, 2022 Flagstar emailed all of its customers announcing that the acquisition went through and that New York Community Bank and Flagstar are now one.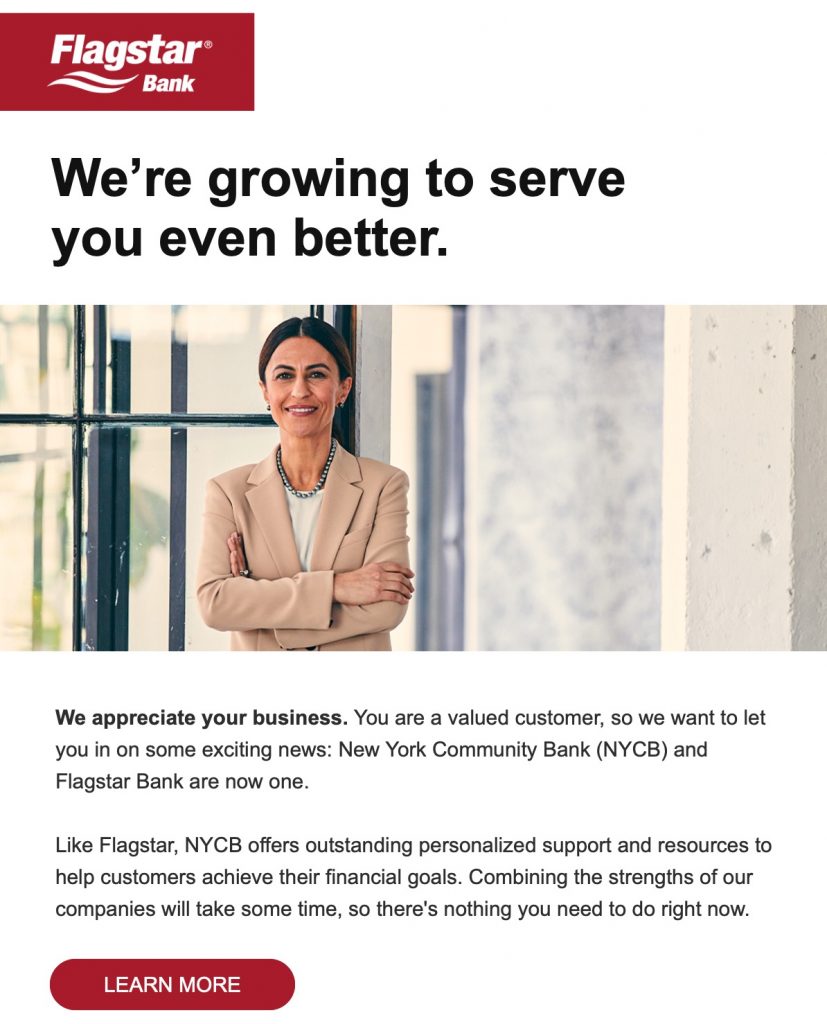 Verint Systems – The Producer of The ESG "Survey"
Verint Systems, Inc. is a public company headquartered in Melville, NY with over 40 offices worldwide. Verint incorporated in 1994, and was previously a subsidiary of Comverse Technology, a global technology company headquartered in the U.S., with about half of their employees in Israel. In 1997, Quantum Industrial Holdings, advised by George Soros through Soros Fund Management, partnered with Comverse Technology to invest in Israel-based technology companies. Soros later bought a stake in Comverse/Verint Systems in 2010. In 2013, Verint bought out Comverse Technology Inc.
Comverse and their subsidiaries were involved in a "backdating" stock options scandal, which allowed the CEO and others to operate a secretive stock options slush fund while earning huge profits and deceiving shareholders, resulting in the CEO Jacob "Kobi" Alexander serving time in jail for fraud, money laundering, and obstruction as a class-action lawsuit by employees followed.
According to a former commander of Israel's elite Unit 8200, which is the equivalent to America's NSA, the technology from Comverse and by extension Verint are "based on Unit 8200 technology." Furthermore, Comverse founder and CEO, Jacob "Kobi" Alexander is a former Israeli Intelligence officer. This Unit 8200 based Verint technology was instrumental in tapping the U.S. telecommunications grid for the NSA in their domestic spying scandal.
Verint products include speech analysis software, IP surveillance cameras, "smart" video surveillance systems with video analysis, biometrics and tracking as well as data mining and analytics. Their products are used by approximately 10,000 organizations, including most of the world's largest corporations, in 175 countries across government, financial, healthcare, technology, and utilities sectors. For example, Verint was subcontracted to provide video surveillance systems for U.S. airports.
The "commercial spyware" company has enabled intelligence agencies of oppressive regimes to target political dissidents. Verint claims that about a third of their yearly billion-dollar sales come from surveillance product sales – much of which are comprised of government contracts. Verint and their subsidiaries hold countless government contracts at the federal, state, and local levels. However, the company has disclosed very little about their surveillance product sales and U.S. defense and intelligence agencies have worked to obfuscate details regarding any Verint government contracts through FOIA requests.
Verint has worked with law enforcement agencies and national governments in the US, UK, Asia, European, and Pacific nations, providing millions of dollars in surveillance software and equipment.
Verint has several subsidiaries and spin-offs including Cognyte and Syborg, while having part ownership in startups like Bsightful. They also own Foresee, which often pops up on YouTube, and numerous other companies.
Cognyte
Cognyte, a spin-off of Verint Systems' Cyber Intelligence division, is an Israel-based company that provides "investigative analytics software that empowers governments and enterprises with Actionable Intelligence for a Safer World." Cognyte provides surveillance tools for more than 1,000 government and business customers in over 100 countries. The "Israeli cyber intelligence firm" is part of the "surveillance for hire" industry, which enables tyrannical regimes to target journalists and politicians all over the world. After conducting an internal investigation, Facebook banned Cognyte for exploiting social media platforms for the purposes of collecting intelligence.
Syborg Informations System
Syborg is a system for "collecting and analyzing intelligence from virtually all communications and sources," used by national security agencies, intelligence agencies and law enforcement in more than 100 countries. The company provides intelligence agencies and law enforcement with tools to record and analyze intercepted voices and data for the purposes of data collection and identity tracing.
Bsightful
Bsightful LTD is an Israel-based information technology company part-owned and backed by "one of the biggest surveillance vendors in the world," – Verint, according to a Forbes report. The report describes Bsightful as a "highly secretive startup" that targets mobile advertising in order to scoop up app user data including location. This data is then "packaged up into a software tool for government customers, allowing them to search whole areas or for individuals."
Verint's list of partners is quite extensive, including Rockefeller-funded Accenture, Amazon's AWS, Cisco, Microsoft, and dozens of others.
When Covid hit, Verint immediately began working on products to assist governments with data collection, from their Covid-19 Shield to their quarantine management systems.
After reading this very brief summary about Verint Systems, it should come as no surprise that Verint's top shareholders are also The Vanguard Group, Inc. with a 10.07% stake and BlackRock Fund Advisors at 6.39%, with Clal Pension & Provident Funds Ltd. at 8.75%.
The Framed ESG "Survey"
This is not a survey. This is a calculated indoctrination tool by Verint with the intention of feeding a stream of information to people that will compel them to feel responsible and shameful if they do not check the "very important" box, so that these banks can then utilize the data to make their ESG case and policies. They are not interested in "customer opinions." It is about using manipulative "nudging" techniques to coerce adoption of their plan.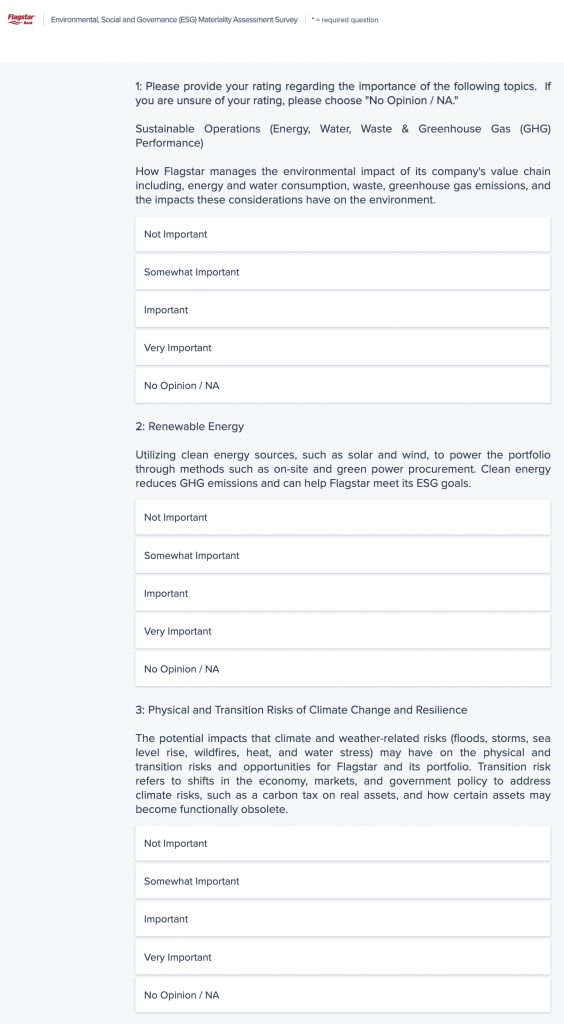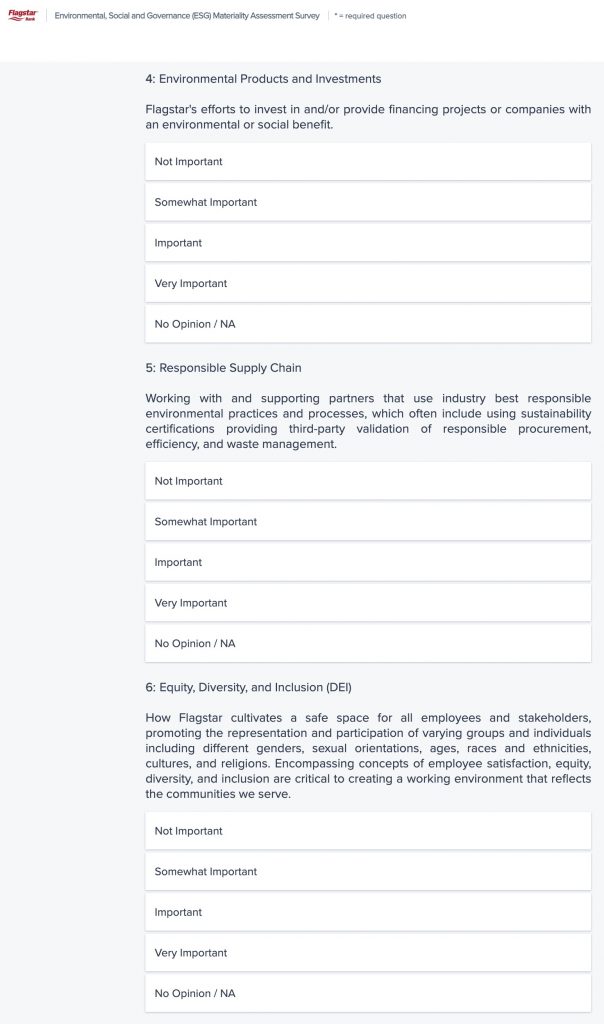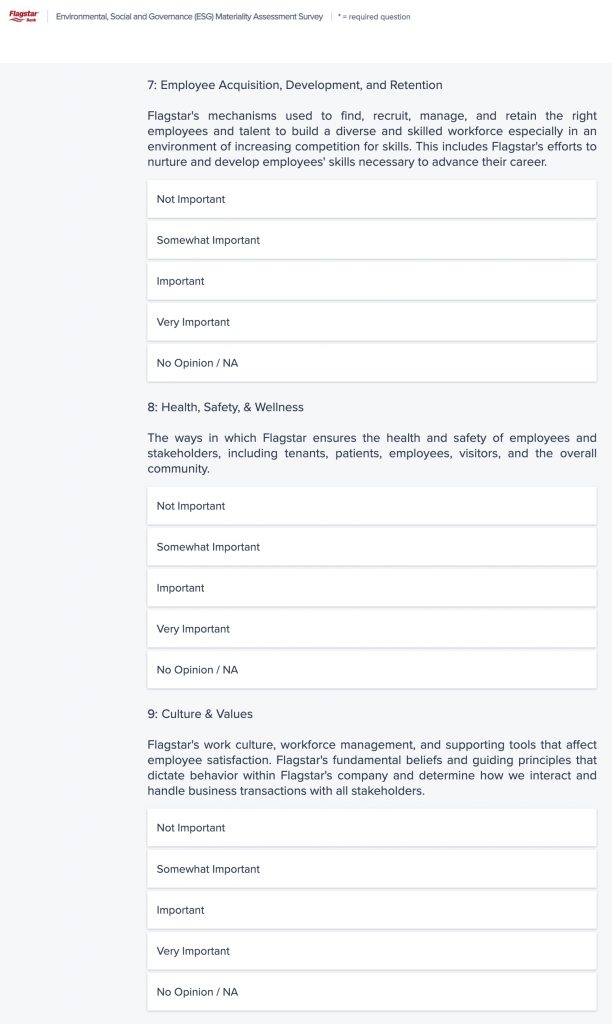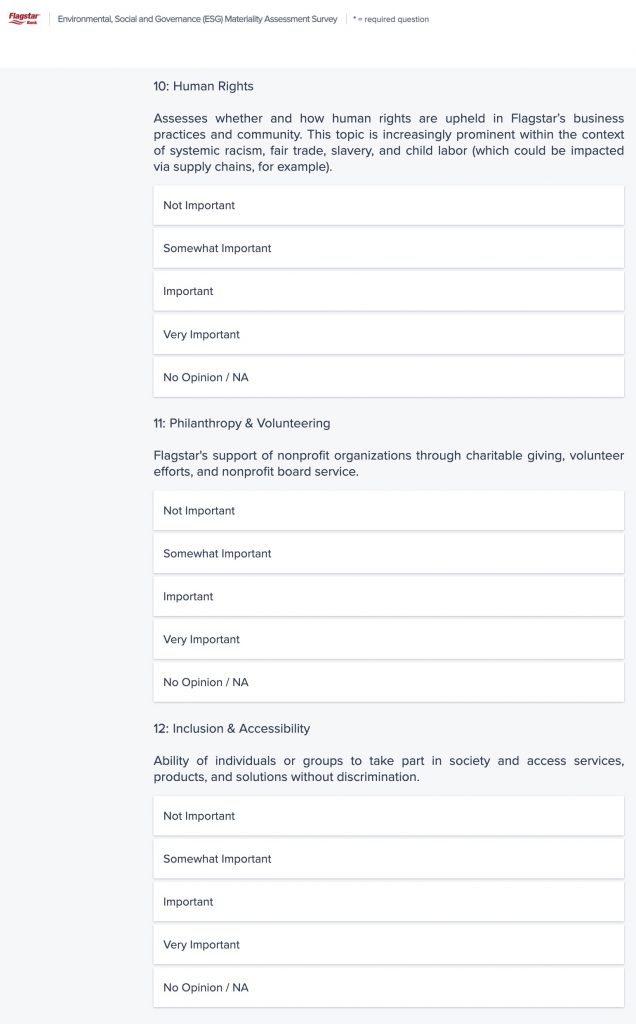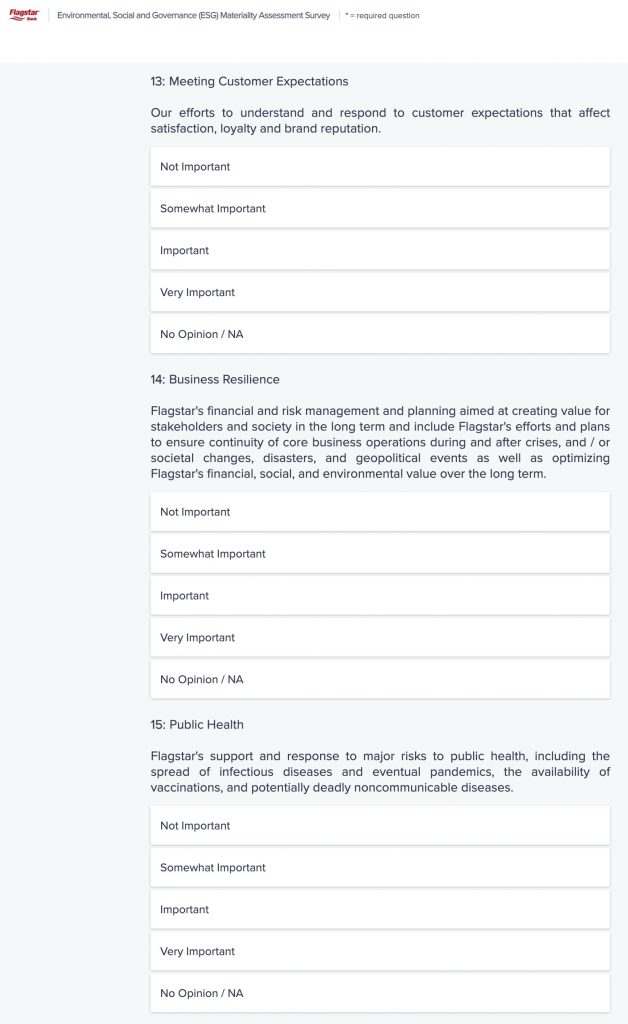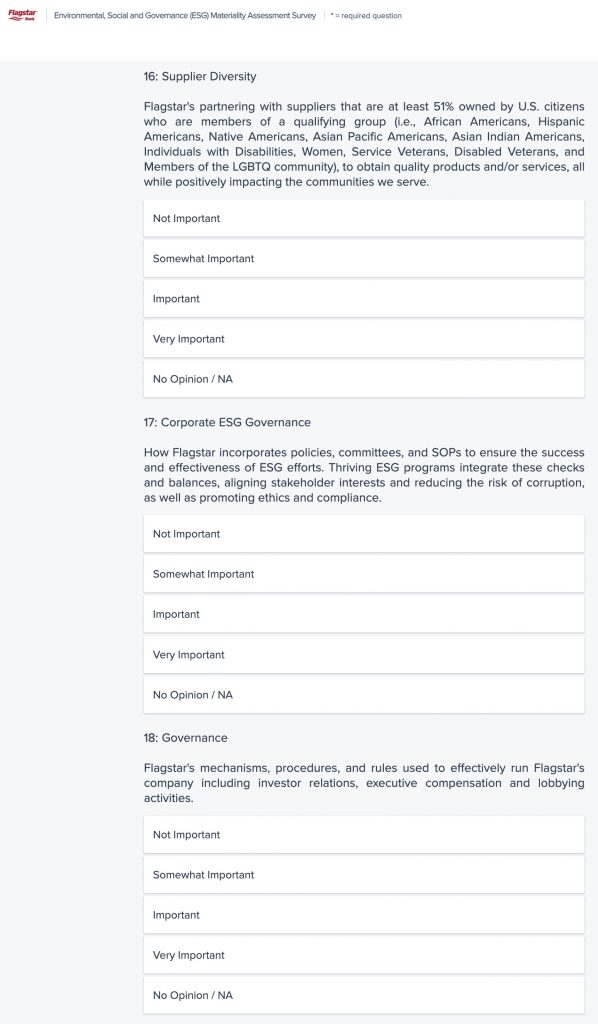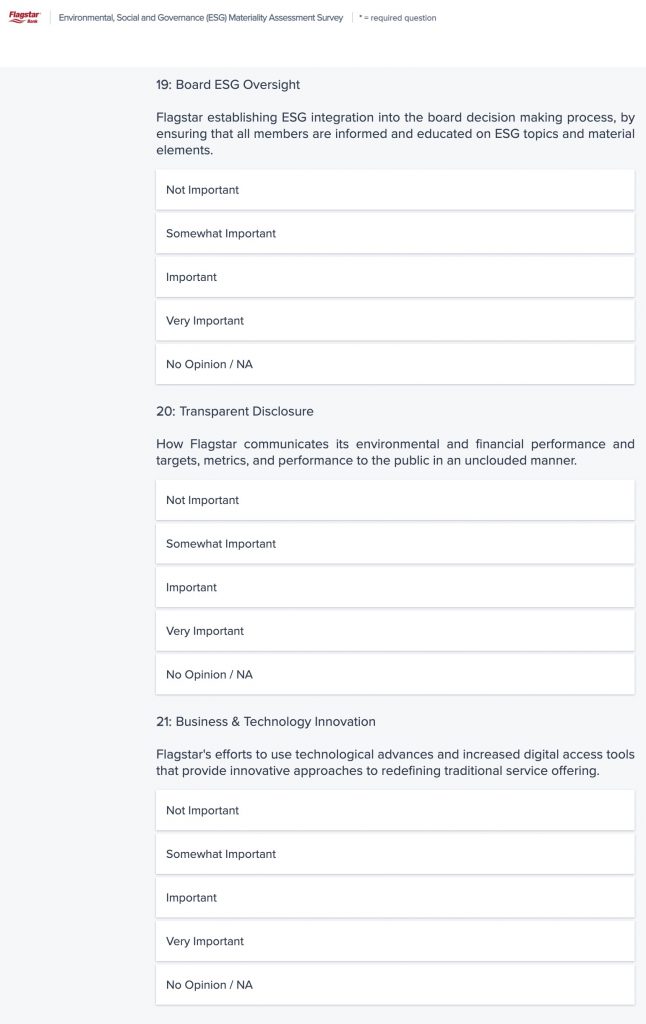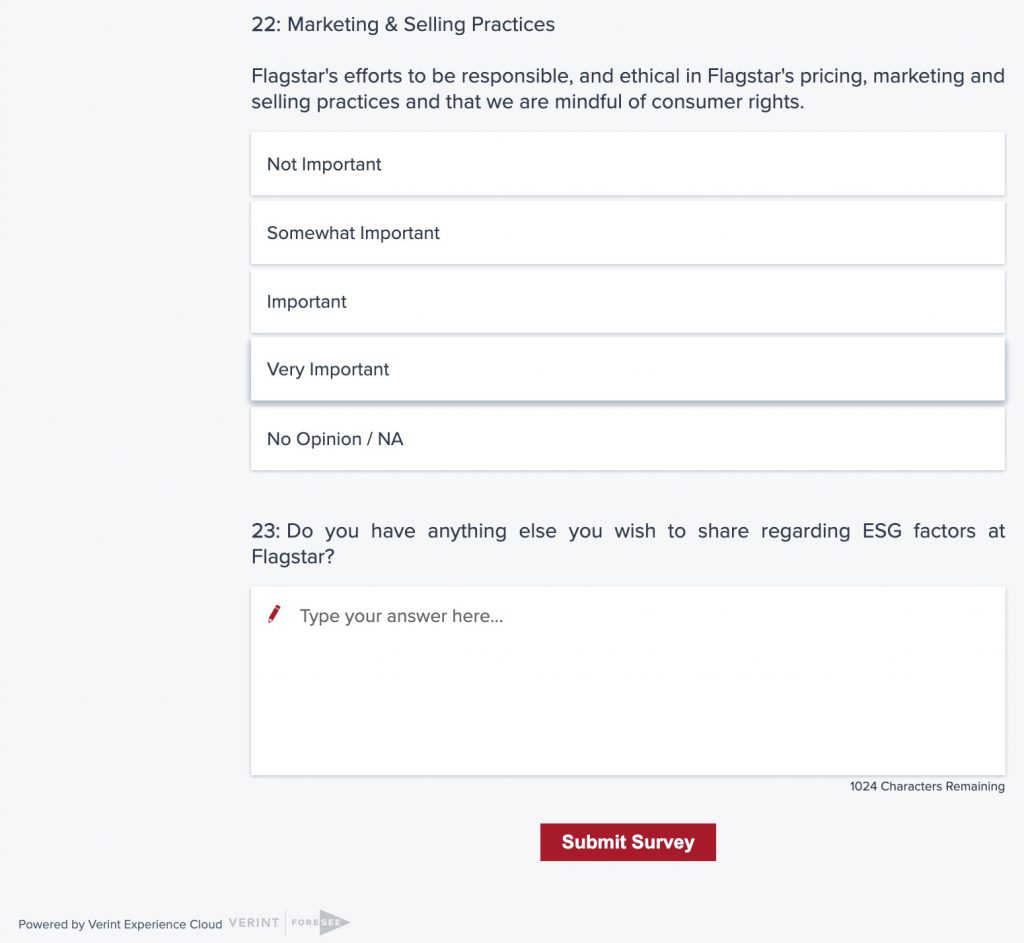 BlackRock Under Fire
If you have received a survey from a bank or financial institution, such as this, you've been BlackRocked and might consider who you are trusting with your finances or mortgage loan.
A lot of states are not on board with the ESG tactics that are being implemented to control industries, force "green energy," and monitor people's every move, decision, and spending so that banks, corporations, and big Gov can make decisions for everyone and control outcomes such as how one spends their money, if they have a high enough social score to get a loan or enter a grocery store, and what industries are allowed to prosper – certainly not fossil fuels.
BlackRock manages over $10 trillion in assets and is in the top two shareholder positions of nearly every major company. States are fed up with this blatant ESG scheme and have begun pulling funds from BlackRock's management: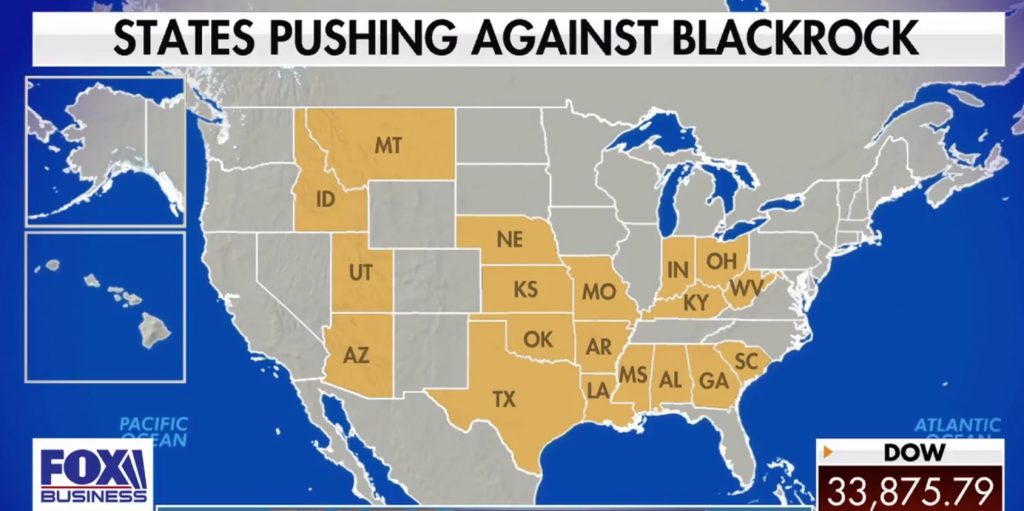 • On Tuesday, House Republicans launched an investigation to probe into climate groups spearheading the ESG movement, to determine if they are violating antitrust laws. A letter was sent to the executives of the Steering Committee for Climate Action 100+ demanding documents pertaining to the coalition's network of influence.
In March, Arizona Attorney General Brnovich published an op-ed in the Wall Street Journal, after his antitrust investigation into the Climate Action 100+ network. He described why this is an antitrust violation:
"Here's what is happening: The biggest banks and money managers seek to implement a political agenda, such as compliance with the Paris Climate Accord. Then a group mobilizes: Climate Action 100+, for example, comprised of hundreds of big banks and money managers that together manage $60 trillion. The group uses its coordinated influence to compel companies to shut down coal and natural-gas plants. The activism can include pushing climate goals at shareholder meetings and voting against directors and proposals that don't comport with the agenda, even if other decisions may benefit investors."
• In August, AG Brnovich led a coalition of 19 states who sent a letter to BlackRock warning the company about potential antitrust violations because of their push for ESG standards.
"BlackRock's actions appear to intentionally restrain and harm the competitiveness of the energy markets. These antitrust concerns are especially acute because BlackRock and other asset managers affirmatively tout their market dominance. BlackRock is the world's largest investment management company, with $10 trillion in assets."
• Florida has pulled $2 billion in an anti-ESG divestment, and Florida's CFO stated that they plan to completely divest from BlackRock's management in early 2023.
• Texas just subpoenaed BlackRock for documents relating to ESG investments because they believe BlackRock is "using Texans' money to force a narrow political agenda." In August, Texas prohibited BlackRock and other firms from doing business within state borders over their ESG drive.
• Louisiana pulled $794 million from BlackRock funds over their ESG push. "This divestment is necessary to protect Louisiana from mandates BlackRock has called for that would cripple our critical energy sector," said State Treasurer John Schroder.
• Missouri "sold all public equities managed by BlackRock, Inc., pulling approximately $500 million in pension funds from the investment manager" over prioritizing ESG initiatives over shareholder return.
• Utah pulled $100 million managed by BlackRock. "It's hard to trust an investment manager who has adopted more than one goal. When a manager is trying to achieve a dual purpose, there is the potential for returns to suffer or volatility to increase …. BlackRock is rewarded in China. They're making a boatload of money in China, and it's undermining national security, said Utah State Treasurer Marlo Oaks.
• West Virginia and Arkansas also pull funds from BlackRock over the ESG push.
Down with BlackRock and ESGs!
No one wants to be BlackRocked, unless of course you buy into this forced agenda that will leave you with no gas, no vehicle, no meat, no social life, no money, and a windmill on every block. Everyone should be careful of where they are investing their money, who they are trusting, and who they are getting loans from.
The good news is, people have the power to shift this and move their money out of the "woke" systems. Some states have already moved money out, but it's important that people of those states track exactly where that money is being reinvested, and speak up when you see the writing on the wall, because BlackRock is not the only danger out there, as we can see by the banks in this report.
Keep the heat on.
Related Reading:
Climate TRACE: A Framework for ESG Initiatives and Social & Climate Credit System
Take Action: Financial Takeover & Your Bank Account – BlackRock, Envestnet/Yodlee, and The Federal Reserve
BlackRock CEO Larry Fink's Family Tree Was A Mystery Until Now
17 Goals Toward Enslavement: Exposing The Real Agendas Behind The 2030 Agenda
Special thanks to The Sharp Edge for her assistance on this report.

Subscribe to Corey's Digs so you don't miss a Dig!