Shipwrecked on Ten Islands with Clintons & Branson: Part III
Who's at The Helm?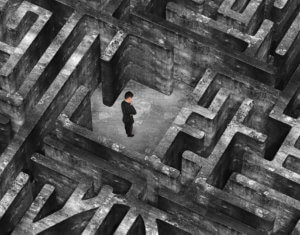 It's a bit of a maze, but based on the extensive 'Ten Island Challenge Project Document' filed with GEF/UNDP, they state that the management arrangements are the following: "The project will be executed under UNDP's NGO implementation modality. The project will be implemented by Rocky Mountain Institute (RMI)/Carbon War Room (CWR), in partnership with the U.S. Department of Energy (US DOE), with support from UNDP to the beneficiary countries."
The 'Product Document' recognizes the following people and organizations as "The Team":
Justin Locke, Director of Islands, Carbon War Room
Mark Grundy, Director of Communications, Carbon War Room
Roy Torbert, Manager, Rocky Mountain Institute
Kate Hawley, Senior Associate, Rocky Mountain Institute
Chad Nancarrow, Senior Program Manager, DNV GL
Blake Herrschaft, Energy Efficiency Specialist, DNV GL
Bruce Moreira, Community Engagement Specialist, DNV GL
They recognize the following as "Partners Organizations":
United States Department of Energy
Clinton Climate Initiative
If you ask Richard Branson, it was his idea. He claims that he and José María Figueres Olsen announced the radical idea pledging to get 10 islands in the Caribbean to stop using natural gas for energy and become fossil-fuel free, at the RIO+20 conference in June, 2012.
According to the Clinton Foundation's press release on September 1, 2015, they state that the Clinton Climate Initiative (CCI) is teaming up with Rocky Mountain Institute-Carbon War Room (RMI-CWR), and the International Renewable Energy Agency's (IRENA) Lighthouses Initiative to help island nations accelerate the deployment of renewable energy and transition away from fossil fuels. They refer to the small island developing states as (SIDS) for short. Not to be confused with SIDS (sudden infant death syndrome) most people are familiar with.
According to DNV GL, they are the technical partner and LEAD on this, and have already made huge progress on several of the islands. They state the "Caribbean energy market seeing a significant increase in direct foreign investment, changes in energy policies to allow IPPs to enter the market, and concrete, useful feasibility and grid studies that de-risk the development landscape. DNV GL sees increasing opportunities for renewable energy technology suppliers and vendors, geotechnical and electrical design services, construction contractors and development companies, transportation and logistics companies and ongoing project operation and maintenance service providers as the market matures and projects come online."
With all of these discrepancies, it's hard to tell who exactly is at the helm.
The Endless Treasure Trove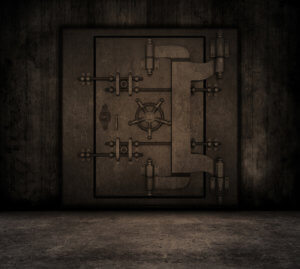 Funds are coming in from every direction
According to an article at Inside Climate News from 2016, they reported "Ultimately, their goal is to raise $300 million in private financing for transitioning a dozen island nations to 70 percent renewable energy by 2018."
Based on their GEF/UNDP 'Project Document', the project will bring in funding from in-kind and cash contributions, as well as the Dutch Postal Code Lottery. It will also work to leverage capacities of local and regional organizations, such as the CCCCC, CARICOM, CDB, and CARILEC will provide training and information sharing. They state, "Further to the application of the UNDP-GEF clean energy de-risking and market transformation approach in the context of the Caribbean, a pipeline of leveraged financing (current US$63 million estimate) and island-wide investments (85 MW expected in the region) is expected as a result of this project."
Ultimately the funds approved on April 29, 2015 by GEF through the implementing agency, UNDP, amounted to $306,376,484. It would also appear as though there is a GEF agency fee of $168,766 allocated. Screenshots were necessary since this page could not be archived for some strange reason.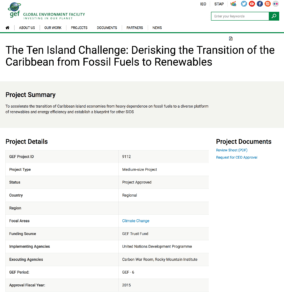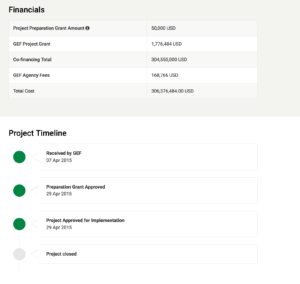 It's important to note that 'Overseas Private Investment Corporation' (OPIC), which is the overseas United States government's development finance institution that mobilizes private capital, was this biggest donor from this funding source. Though it is not reflected in the above screenshots, it is reflected below.
As shown on their 'Ten Island Challenge Project Document' under the funding chart, it breaks down as follows:
OPIC: $300,000,000
Rocky Mountain Institute-Carbon War Room: $4,350,000
GEF: $1,826,484
UNDP: (in-kind): $200,000
TOTAL: $306,376,484
This is the actual project approval document which contains many of the same pages that have been incorporated into the 'Product Document'.
None of this includes additional private donor sources, solar companies "donating" supplies, or the Norwegian Agency for Development Cooperation who donated $8,372,000. It also does not reflect what was received from the Dutch Postcode Lottery, unless that was strictly service related.
Oddly enough, Hillary says in a Clinton Foundation media advisory that "It is the first utility-scale renewable energy project on the island and is funded, owned and operated by LUCELEC."
So the question is, did the government of Saint Lucia put any funds into this solar farm? Did LUCELEC in fact invest any money into it? Aside from their free/donated solar panels and installation to the government buildings, was the entire solar farm paid for by all of the outfits above, including taxpayer dollars? Clearly if Rocky Mountain Institute-Carbon War Room are putting forth over $4.3 million, they must be getting one heck of a kick-back. Is there a payback loan drawn up with the government of Saint Lucia, because that isn't mentioned anywhere?
Who is GEF?
Global Environment Facility (GEF) was founded in 1992 after the Finance Minister of France proposed that the World Bank should be provided with additional resources to fund environmental projects. France offered an initial contribution of 900 million French francs over a three year period. Germany quickly jumped on board after reviewing the proposal to the Bank's Development Committee, and shortly thereafter 27 countries agreed to setup a pilot GEF program with approximately $1 billion for its first three years. Since its inception, GEF has provided $17 billion in grants and mobilized an additional $88 billion in financing. Yes, the funds flowing through GEF include taxpayer dollars.
GEF's focus is on climate change, biodiversity, ozone depletion and international waters. The facility was to be managed by three "implementing agencies": the United Nations Development Programme (UNDP), the United National Environment Programme (UNEP), and the World Bank.
To date, there are now eighteen institutions that act as GEF Agencies, adding fifteen to the original three, with the likes of the African Development Bank (AFDB), Asian Development Bank (ADB), and the World Wildlife Fund (WWF-US) to name a few.
The Clintons are all too familiar with the GEF program. During Bill Clinton's presidency, the Clinton Administration requested $300 million for the GEF in 1999, but the Senate passed a bill which contained only $47.5 million to go to the GEF and the House was recommending to reduce that to $42.5 million. Prior to that, in 1994, 34 countries pledged $2 billion to GEF-1 with the United States accounting for $430 million (21.5%), and another $430 million to the GEF-2.  By 1998 the Administration had pledged the United States to contribute over $1 billion to the GEF.
To put this in perspective, below is a screenshot of the Treasury International Programs FY 2018 Executive Summary of funds going toward Environmental Trust Funds. Below you can see that the funds going to the GEF have been reduced, while three other funds are being completely eliminated.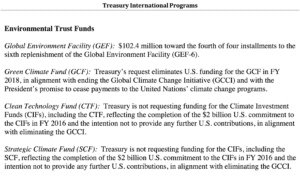 Below is a screenshot of the Summary of Appropriations and Request for International Programs FY 2016 – FY 2018. You can view the entire 33-pg pdf file here.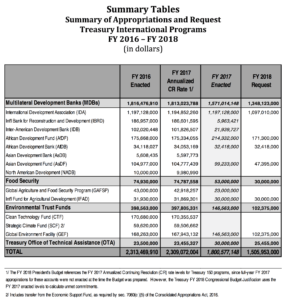 Since this article is nowhere near long enough (haha), just in case you are seeking additional information, here's a wealth of information from the 2015 ESMAP (Energy Sector Management Assistance Program) administered by the World Bank. Page 66 & 67 are a good read as well.
"No Person is an Island"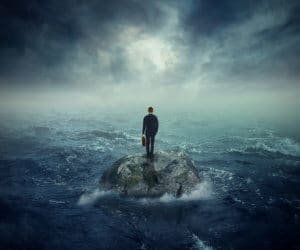 This is what the Clintons would have you believe, when they stated in a press release that "no person is an island", and strategic partnerships are important. Is this true? It sure seems that these "people" are in this for themselves, and in fact, many have indulged in purchasing their own island.
While they are sailing off to each island enticing the governments with free renewable energy infrastructures to all of their government buildings, and negotiating God knows what, drugs and children continue to be trafficked and abused on these islands and from these islands to the tune of nearly $32 billion a year in trafficking revenue alone. Add that to the very fact that the majority of these islands are located in the hurricane belt, and there is clear evidence of them being damaged from strong winds, one must ask – does any of this make sense?
If Hillary Clinton had it her way, based on her campaign promises, she would have had 500 million solar panels installed to generate enough renewable energy to power every home in America within 10 years of getting into office. She considers climate change to be an urgent threat and a defining challenge of our time. Just imagine the taxpayers forking the bill for that, along with all of the other gadgets, fixtures, and items that would need to be converted over, and you can bet your bottom dollar, it wouldn't have been by choice, but rather mandated. On top of that, she wanted to create a "Clean Energy Challenge" – sounds a bit like the "Ten Island Challenge" – which had $60 billion allocated for encouraging solar and energy efficiency investments in low-income communities. Somehow she managed to calculate that by implementing "smart pollution and efficiency standards", she would be saving 90,000 annual asthma attacks. Gosh, it would be interesting to see the scientific study on that, wouldn't it?
What is this 'Ten Island Challenge' really about?
• Are they negotiating for the islands' natural resources in exchange for providing solar power?
• Have they placed themselves in the drug and child trafficking beltway intentionally?
• With Richard Branson, Bill Gates, and numerous other billionaires and celebrities already owning islands, are they equipping the islands for a future plan for all of the 'elite' to scoop up an island for themselves?
• Are there some sort of nefarious actions and agendas taking place on these islands they have swooned into signing contracts with?
• Are they moving a lot of taxpayer/government money around so as to pocket it and take advantage of the renewable energy credits?
• How is it the Clinton Foundation is able to proceed with all of this when their foundation is currently under investigation?
What sort of pay-to-play scheme is taking place here? What exactly are their intentions and long-term goal with this agenda? So many questions.
All the while, the human trafficking epidemic continues to be a large-scale issue, and the Caribbean is infested with it. The majority of these people involved in the 'Ten Island Challenge', carrying out their "strategic partnerships" for the "good of the climate", have all claimed to have fought for combating human trafficking. If this were the case, it would seem they have their priorities way off course.
At a Clinton Global Initiative annual meeting, former President Barack Obama spent 22:31 minutes addressing their fight against human trafficking, as well as commending the Clintons in their efforts:
"Our fight against human trafficking is one of the great human rights causes of our time, and the United States will continue to lead it — in partnership with you. The change we seek will not come easy, but we can draw strength from the movements of the past. For we know that every life saved — in the words of that great Proclamation — is 'an act of justice'; worthy of 'the considerate judgment of mankind, and the gracious favor of Almighty God'."
If only these words were delivered by someone who speaks truth, perhaps they would have meaning. As for the others on this ship, their words do not align with their actions, and a thorough investigation should be done into their true agenda and activities on these islands.